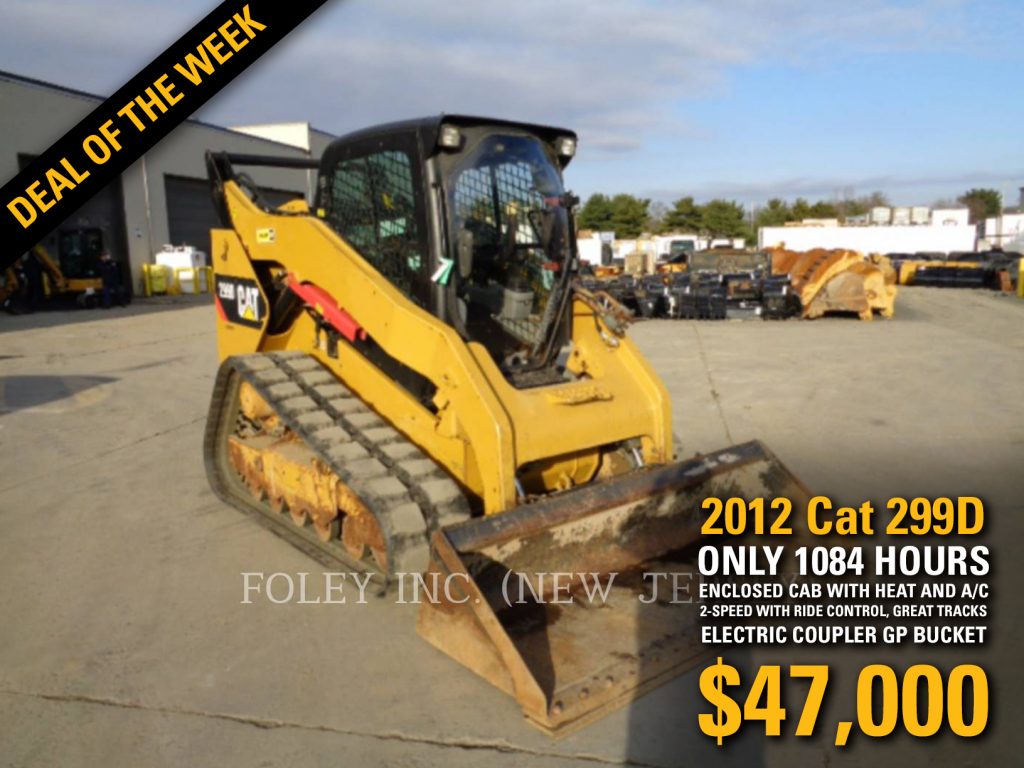 2012 Cat 299D
Only 1084 hours
$47,000
Cab w/ heat & AC
2-speed with ride control
Great tracks
Electric coupler GP bucket
 For more information:
Jared Briesch
732-885-3027
JBriesch@foleyinc.com
---

0% for 60 Months* Skip 4 payments per year. Plus 3 year Powertrain & Hydraulic Extended Warranty. Please contact your local sales representative for details. Browse our equipment here.
*Offers subject to credit approval. Valid until December 31, 2017.
---
Special Savings with the purchase of any new Cat

®

320 or 323 Excavator during the Rise to the Challenge Excavator Offer!*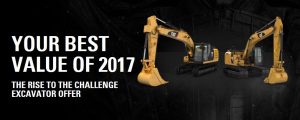 An Offer as Easy as 1, 2, 3…
Explore all the ways this bundle can add value to your excavator purchase:
1. Insurance
Cat EPP Premier (2 year/2,000 hours) gives you the highest level of comprehensive protection available for powertrain, hydraulic and structural components.
2. Maintenance
Preventative Maintenance 1-4 (first 1,000 hours) ensures that vital filter changes get done on time and protect excavator performance.
3. $3000 Work Tool or Technology Credit
Available when you add:
an additional work tool such as a coupler or hammer (Cat 320 or 323)
GRADE with Assist technology (Cat 323)
Use All Three and get a $1000 Rebate
Take advantage of Insurance, Maintenance, and a Work Tool or Technology Credit and you'll get a $1000 Cat 360 Advantage Rebate.
Cat 360 Advantage Terms and Conditions
---
0% on Cat® Work Tools
Having the right tools for the job is important. Having a quick and easy way to pay for those tools is how Commercial Account helps you manage your business. Use your account to pay for anything offered at any Cat dealer or Cat Rental Store in the U.S.
For a limited time, receive 0% financing for 24 months on Cat Work Tools when you use your Cat Financial Commercial Account.*
Call 1-732-885-3000 to speak to a machinery equipment consultant about this offer.
Offer Details *Terms subject to change, offer valid through December 31, 2017. Subject to credit approval. Certain restrictions apply
---
Section 179 and Bonus Depreciation Benefits
Through the Protecting Americans from Tax Hikes Act (PATH Act), you may qualify for significant tax
advantages in 2016. These include: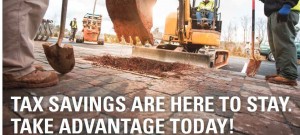 » Section 179 expensing levels are set at $500,000 for 2016. Taxpayers can expense up to $500,000 in
purchases for 2016, as long as total purchases don't exceed $2 million and certain taxable income
limitations are met. Once businesses exceed $2 million in purchases, a dollar-for-dollar phase out takes
effect and the deduction is eliminated completely at $2.5 million. New and used equipment is eligible
for expensing. Until further notice, Section 179 is permanent at the $500,000 level.
» Bonus Depreciation is in effect for new equipment purchases this year, allowing 50% bonus depreciation
in addition to normal depreciation. Equipment must be purchased and placed in service during 2016 to
qualify. This provision has been extended to 2019 (at 50% through 2017, 40% in 2018 and 30% in 2019).
Contact your tax adviser to determine if you qualify. Visit section179.org for more details, qualifying property
information and a Section 179 calculator.