2/1/2012 – Whirl of A Ride
Whirl of A Ride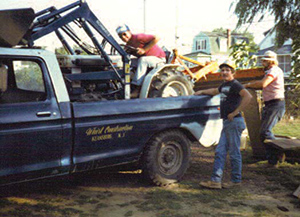 Almost 30 years ago, after installing a few "whirl" merry-go-rounds at a playground, founder Jim Davis, Sr., decided to call his company Whirl Construction. While the name indicates the type of equipment the company installs, it also describes Whirl Construction's history. Over the years, the company has been on a whirlwind of a journey. Son Jim Davis, Jr., explains it best: "Our company logo was designed and drawn in two minutes, on a piece of paper in a T-shirt shop 30 years ago. Just an example of how some things change and some things remain the same.
Constructing anywhere from one to 10 playgrounds a week, Whirl specializes in park construction with an emphasis on playgrounds. Along with play equipment, the company installs safety surfaces, concrete borders, drainage systems, pavers, retaining walls, shelters, gazebos and other site amenities, as well as providing snow removal services. Based in Port Monmouth, N.J., it serves the entire state of New Jersey, as well as five boroughs in New York, the Lower Hudson Valley and Long Island. Jim Davis, Jr., is vice president, Jim Davis, Sr., president, and his wife, Terry, is secretary of the company, which has 20 employees, including Jim's brother-in-law, Dave Guzman, a field leader.
Although each job is site specific, building a playground on top of a building is a unique expertise of Whirl. "Transporting equipment to a rooftop takes place either by crane or the service elevator," says Davis, Jr. "You have to be very cognizant of the weather, in particular the wind. Standing up metal piping and expanded metal decking without taking proper precautions can lead to trouble."
Whirl crews are trained on safety first, especially on rooftops, and take necessary precautions to ensure that the membrane of the roof is not penetrated to avoid water damage anywhere below the work area.
From playgrounds to rooftops — wherever whirls can be installed — Davis is willing to take on the challenge. "There is nothing like getting a package in the mail from a school and the envelope is flooded with thank you cards and pictures from children. That is what makes our job rewarding."
High-volume playground construction demands efficient and reliable equipment to keep pace. Whirl was first introduced to Caterpillar in 2000, and the fleet has grown to include a Cat 236 skid steer, two 257 multi terrain loaders, a 302.5 mini-excavator, a 420 backhoe, a 904B wheel loader and a CB14 roller. "We cover a lot of territory in New Jersey," says Davis, Jr., who was first introduced to Cat through Tom Alfano (Foley equipment consultant). "When we arrive at a jobsite, we need to know that our equipment is reliable and will perform the work that needs to be completed. Cat equipment is always up to the task. Since our first machine in 2000, we have had a strong belief that this is the type of machine, and Foley is the type of company, we like to work with."
Davis feels that accessibility to his Foley account representatives is key to success. "When we first saw the Cat machine we were impressed," he says. "We valued Tom's opinion, bought our first Cat and the rest is history. Later we worked with Jon Musicant, (Foley equipment sales consultant). Jon has been great to do business with. He is always a phone call away and willing to do whatever he can to lead us in the right direction." Davis also credits his Foley Rental Account Manager Dewey Cardoso as being helpful and accommodating with equipment rental needs.
For his part, Musicant holds the Davis family in incredibly high regard. "The quality of our service or product is not what we put into it, but what the customer gets out of it. Working with Whirl, my goal is to make sure they are able to perform their business as efficiently and productively as possible. Over the years we have developed a great working relationship and I enjoy providing them with the best equipment for their changing needs. They will be in this business another 30 years."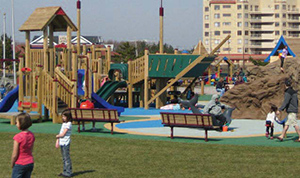 Another valued player on Whirl's Foley team is Compact Construction Technician Tony Verdi. Davis knows he can count on Verdi to answer questions and help maintain equipment in top running condition. "Tony has showed us the ins and outs of our track machines," says Davis." His knowledge is top notch and he is always willing to help." Verdi recalls that he worked with Whirl when he was stationed at the Foley facility in Monroe, N.J., and the relationship has only grown stronger with time. "Jim will call me sometimes to pick my brain or ask questions about tooling or the machines," says Verdi. "I am always happy to hear from him and help out. They are well-informed and conscientious customers, and their machines and trucks are kept in impeccable shape. It's a pleasure working with them." Adds Musicant,"Having a Compact Construction Technician who is able to cater to customers when they have a question on smaller equipment is one of the advantages that Foley provides the customer."
"The machines' versatility, quality and power speak for themselves," concludes Davis. "The support that Foley offers is second to none. Knowing that we are dealing with a company that is willing to help and respond to our needs in a timely manner is something that we cannot put a price tag on."
Although Jim Davis, Sr. may not have realized what he was creating in that T-shirt shop 30 years ago, the "whirl" concept has stuck, and Foley has been along for the ride.