6/18/2012 – Cali Buys First CAT CT660 Vocational Truck
Cali Buys First CAT CT660 Vocational Truck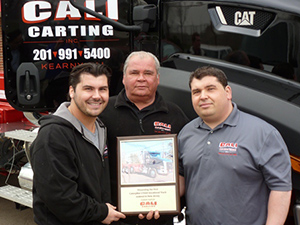 Cali Carting Inc. a full service solid waste and recycling company located in Kearny, N.J., that offers commercial, industrial and residential waste and recycling services throughout New Jersey, was the first company to purchase the new Caterpillar CT660 vocational truck from Foley Inc.
"At our company we pride ourselves on service," said John Cali Jr., president of Cali Carting and the company's founder. "For 30 years our goal has been service. It is critical for us to have a dependable truck on the road."
"We heard about [the Cat CT660] and saw some of the preliminary advertisements that it was coming down the line. We had a lot of questions on it. When things are new, people get a little nervous…people don't like change," John Cali III, operations manager, said.
Representatives from Caterpillar, including designer Gary Blood and Stephan Downing from the corporate office in Peoria Illinois, joined Bobby Dauigoy, Foley Inc. vocational truck sales specialist for the on highway division, and Bill Connolly, on highway sales manager, at Cali Carting's offices to discuss the new truck.
"We sat in the office for a couple of hours and we asked every question we could possibly think of," Cali III said. "They were proud to have a GPS integration in the cab, but we wanted to know if that GPS unit had truck routes. They didn't have it in the beginning, but they assured that by the time they started production the only GPS units that were going in there were truck routes. Sometimes if you give a truck driver car routes, he goes under a low bridge, or through a residential neighborhood and that is not helping us. They made that adjustment."
Cali Carting also hosted a "demo day" at their facility in Kearny. They invited some of their industry friends in to see the new truck first hand and provide their input. The overall feedback was extremely positive.
"CAT took notes and really listened to what the end users want in a truck. They took some of it back and before they were done with production they made some adjustments to try to accommodate what real users need in a truck," Cali III said.
Special Features
In a roll-off application, the truck needs to hold up in both landfills and on construction sites, according to Cali III.
"We are working in the street in tight areas or by heavy machinery on construction sites. We are riding over different items; we are hauling not just waste but concrete, dirt, asphalt, etc. So these loads can get extremely heavy. We used the extra heavy-duty hoist and we spec our truck to be more on the heavy-duty side. We make sure we have the heavier rears, the heavier frame reinforcements and suspension."
According to Cali III, this is the first truck that Caterpillar mounted with the heavy-duty hoist, so the roll-off unit company, Omaha Standard, had to make some adjustments to the way they were configured.
Another feature the Cali's liked is the tear away bar on the bumper.
"The truck has a certain bumper with a tear away bar that if the driver somehow catches the front bumper, the tear away bar is designed to break, and the front bumper bends instead of the whole thing ripping off. It will allow you to bend it back and replace the tear bar rather than having to get a whole new bumper," Cali III said.
The CT660 also is driver friendly, according to Cali III.
"CAT has a real good idea of what the driver wants," he said. "Even the door handle is very friendly to open. The buttons on the dash are very wide, so if the driver has a work glove on, they can push the buttons. The position of the steering wheel is optimal so you can see the gauges…it is very user friendly."
Service
Cali Carting also is pleased with the service from both Caterpillar and Foley Inc.
"When a truck is down you are not only losing money but you are not able to service your customers. We are sure that Caterpillar is going to stand behind the product. A company like Foley or Caterpillar, is not going to risk having someone call us and say, 'how is that truck?', and get a negative response. I have a lot of confidence in it, obviously, because we already purchased our second truck. We have the first one and the second will be here in a few weeks" Cali Jr. said.
Another feature they like is the on-road service technicians.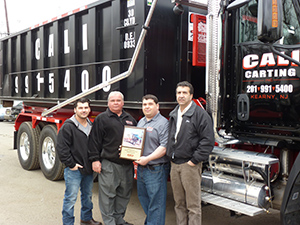 "Within 24 hours they get someone out here. That is very important," said Cali III. "Their technicians are highly trained; they are top guys. We feel like with Foley, because of how well trained their technicians are, that they will be able to diagnose problems and get them fixed."
On Highway Sales Manager Connolly said, "We hit it off right from the start. The Cali family says what they mean and they mean what they say, and we like that. Both of our companies are family owned and operated and both would agree that trust and respect are at the core of our partnership. The Foley family will not let the Cali family down. We will do whatever it takes to make sure we continue to earn their trust and respect."
About Cali Carting
Cali Carting started out with one municipal waste collection contract, Kearny, and in 30 years has grown to include 11 municipalities, according to Cali Jr.
"We go out about 25 to 30 miles in municipalities; the furthest is Fair Lawn N.J. We cover Elmwood Park, Hoboken, Guttenberg, Fair Lawn, Fairview, West Caldwell, Caldwell, Kearny, Harrison, North Arlington, and Lyndhurst.
"We do roll-off containers for construction projects, residential clean-outs, and compactors. We also have both rear-load and front-load commercial routes. We are running approximately 37 trucks every day, including six roll-offs."
John Cali Jr.'s career in the solid waste business began 35 years ago when he became general manager of Allstate Carting Inc. While managing the day-to-day operations for Allstate Carting, Cali Jr. successfully completed several municipal contracts and gained valuable insight and knowledge. He went into business for himself as Cali Carting Inc. in 1983.
John Cali III joined his father at Cali Carting Inc. in January of 2001. He is currently the operations manager and has been implementing systems throughout all aspects of operations directly resulting in increased productivity and growth.
Jeanine Cali Iorio is the most recent addition to the management team at Cali Carting Inc. She is the office manager and oversees all office functions. Iorio added a new perspective, which has streamlined processes from billing to customer service.
Watch a video of the CT660 Delivery!
For more information on Cali Carting, call 201/991-5400 or visit www.calicarting.com