416F2 Backhoe Loader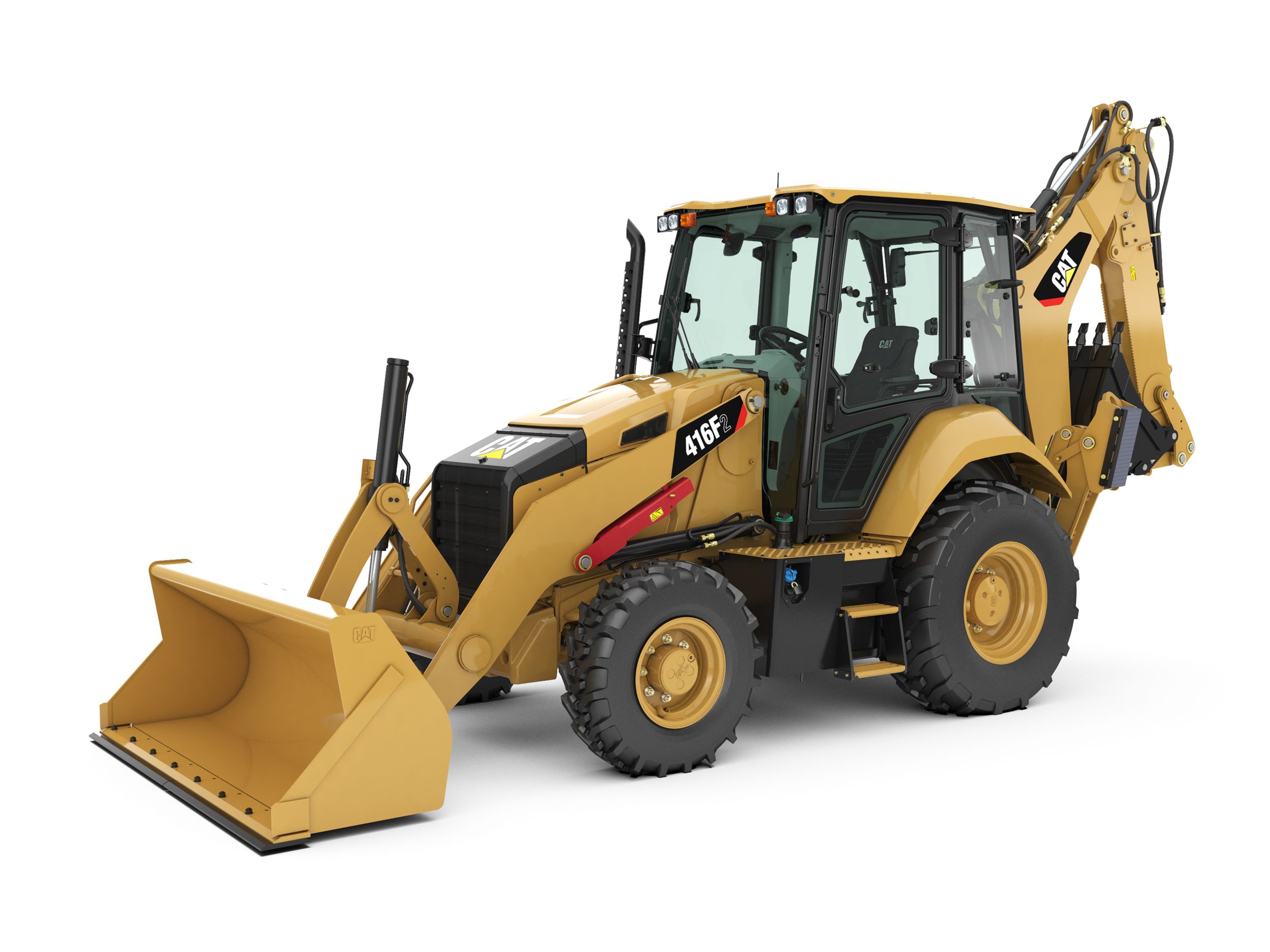 Net Power

87 hp

Net Power

87 HP

Bore

4.13 in

Bore

4.13 in
Net Power

87 hp

Net Power

87 HP

Bore

4.13 in

Bore

4.13 in

Stroke

5 in

Stroke

5 in

Displacement

268 in3

Displacement

268 in³

Engine Model

Cat® C4.4 ACERT™

Gross Power

95 hp

Gross Power

94 hp

Rated Net Power

87 hp

Rated Net Power

88 hp

Rated Net Power

88 HP

Net Peak Power

106 HP

Net Peak Power

107 HP

Net Peak Power

107 HP

Net Torque Rise

56%

Engine Model

Cat® C4.4 ACERT™

Gross Power

94 HP

Gross Power

95 HP

Rated Net Power

88 HP

Net Power

87 HP

Note

Engine meets U.S. EPA Tier 4 Final emission standards.

Net Peak Torque

323 ft-lb

Note

Engine meets U.S. EPA Tier 4 Final emission standards.

Rated Net Power

87 hp

Rated Net Power

88 hp

Rated Net Power

88 HP

Rated Net Power

87 HP
Operating Weight

24251 lb

Operating Weight

24251 lb

Cab

359 lb

Cab

359 lb

Four Wheel Drive

392 lb

Counterweights

255 lb

Air Conditioning

101 lb

Counterweights

255 lb

Operating Weight

15904 lb

Operating Weight

24251 lb

MP Bucket

1642 lb

Extendible Stick

659 lb

Counterweights

530 lb

Counterweights

530 lb

Counterweights

1015 lb

Counterweights

1015 lb
Dig Depth

14.3 ft

Dig Depth

17.9 ft
Pump Type

Variable Flow, Axial Piston

Pump Type

Variable Flow, Axial Piston

Type

Closed Center

Pump Capacity

35 gal/min

System Pressure

3336 psi

System Pressure

3336 psi

Pump Capacity at 2

35 gal/min

Type

Closed Center
Power Shuttle Transmission

3.4 mile/h

Power Shuttle Transmission

5.5 mile/h

Power Shuttle Transmission

12 mile/h

Power Shuttle Transmission

23 mile/h

Power Shuttle Transmission

3.4 mile/h

Power Shuttle Transmission

5.5 mile/h

Power Shuttle Transmission

12 mile/h

Power Shuttle Transmission

23 mile/h
Service Refill Capacities
Fuel Tank

42 gal

Engine Oil with Filter

2.3 gal

Hydraulic System

23.8 gal

Cooling System with Air Conditioning

5.8 gal (US)

Diesel Exhaust Fluid

5 gal (US)

Transmission

4 gal (US)

Transmission

4 gal (US)

Rear Axle

4.4 gal (US)

Rear Axle

0.4 gal (US)

Front Axle

2.9 gal (US)

Front Axle

0.2 gal (US)

Engine Oil

2.3 gal (US)

Fuel Tank

42 gal (US)

Hydraulic System

23.8 gal (US)

Hydraulic Tank

10.6 gal

Note

Requires ultra-low sulfur fuel less than or equal to 15 ppm fuel sulfur.

Note

* Must meet the requirements outlined in ISO 22241.

Hydraulic Tank

10.6 gal (US)
Front Axle

50582 lb

Rear Axle

50582 lb

Front Axle

50582 lb

Front Axle

20233 lb

Front Axle

20233 lb

Rear Axle

20233 lb

Front Axle

50582 lb

Rear Axle

50582 lb
Type

Front Wheel

Power Steering

Hydrostatic

Bore

2.6 in

Stroke

4.7 in

Rod Diameter

1.4 in

Axle Oscillation

11°

Turning Circle

26.8 ft

Turning Circle

36 ft

Type

Front Wheel
Choice 1

Front: 11L-16 (12 ply) F-3; Rear: 19.5L-24 (12 ply) R4 ATU

Choice 2

Front: 12.5/80-18 (12 ply) 1-3; Rear: 19.5L-24 (12 ply) ATU

Choice 3

Front: 12.5/80-18 NHS (12 ply) 1-3; Rear: 21L-24 (16 ply) R4 ATU

Choice 4

Front: 340/80R18; Rear: 19.5L-24 (12 ply) R4 ATU
Cab

SAE J1040 MAY94; ISO 3741 1994

Cab

SAE J/ISO 3449 APR98 LEVEL II and ISO 3449: 1992 LEVEL II

Cab

ANSI/SAE J1166 OCT98 is 79 dB(A)

Cab

SAE J/ISO 3449 APR98 LEVEL II and ISO 3449: 1992 LEVEL II

Cab

SAE J1040 MAY94; ISO 3741 1994

Cab

ANSI/SAE J1166 OCT98 is 79 dB(A)

Brakes

SAE J/ISO 3450; ISO 3450 1996

Brakes

SAE J/ISO 3450; ISO 3450 1996

Exterior Sound

SAE J188 JUN86 is 76 dB(A)

Exterior Sound

SAE J188 JUN86 is 76 dB(A)
Feature

Regeneration is passive and does not require any input from the operator or disrupt work.

Feature

Three-ring pistons made of lightweight, silicon/aluminum alloy for strength and maximum thermal conductivity.

Feature

Forged chrome/molybdenum-steel crankshaft with salt bath nitrocarburized pins and journals.

Feature

Front and rear crankshaft oil seals are "lip" type Viton and PTFE designs featuring an integral dust lip.

Feature

For durability, inlet valves are nitrided, martensitic chrome silicon steel.

Feature

For durability, exhaust valves are nitrided, austenitic chrome manganese-nickel steel.

Feature

Cylinder block is high strength, cast iron alloy of deep skirt, monobloc design for increased strength and long life.

Feature

Cylinder head is high strength, cast iron alloy construction with extra duty wall and deck thickness.

Feature

Cylinder head's intake and exhaust ports are precision cast to promote optimum gas flow.

Feature

Direct injection fuel system provides accurate fuel delivery and efficiency.

Feature

Dry-type axial seal air cleaner with integral precleaner, automatic dust ejection system, and filter condition indicator.

Feature

Direct electric, 12-volt starting and charging system with 880 CCA Group 31 maintenance free battery.

Feature

Standard glow plug starting aid system for efficient cold weather starting.

Feature

High contact ratio/gear train, peripheral fixed isolation top cover and open deck block design reduce bare engine noise.

Feature

Higher low end torque for better engine/machine performance.

Feature

Engine is equipped with electric fuel priming pump.
Feature

Brakes meet the following standards: SAE J1473 and ISO 3450 requirements.

Feature

Self-adjusting, completely enclosed and sealed.

Feature

Foot operated brake pedals can be interlocked for roading.

Feature

Parking/secondary brakes are independent of the service brake system.

Feature

Parking brake is mechanically applied through an adjustable hand lever located on the right console.
Air cleaner
Alarm, back-up
Alternator, 150 amp
Audible system fault alarm
Backhoe controls, mechanical two lever
Battery, maintenance-free, 880 CCA
Battery disconnect switch
Battery remote jumpstart
Boom transport lock
Brace, lift cylinder
Brake, secondary parking
Brakes, hydraulically boosted, oil disc, dual pedals, interlocking
Bucket level indicator
Canopy, ROPS/FOPS
Coat restraint
Coolant/antifreeze, extended life
Counterweight, bumper
Dome light (cab only)
Diagnostic port for engine
Differential lock, loader joystick
Drink holders, two
Engine, Cat C4.4 ACERT (Direct Injection Turbocharged), meets U.S. EPA Tier 4 Final emission standards, selective catalyst reduction, diesel oxidation catalyst (DOC)
Engine enclosure, sound suppression removal panels
Face seals, O-ring
Fan, suction and guard
Fast reversing shuttle, all gears
Fenders, rear
Filters, spin-on: fuel, engine oil, transmission oil, water separator
Filters, bowl and cartridge: hydraulic fluid
Flashing hazards/signal lights
Floor mat
Fully hinged front grill for cooling package cleaning access
Gauge cluster: coolant temperature, fuel level, torque converter temperature, DEF level
Ground level fuel fill and DEF fill
High ambient cooling package
Hood lock, inside cab
Hydraulic hose, XT™
Hydraulic oil cooler
Hydraulic oil level sight gauge
Hydraulic valve, hydrostatic steering
Hydraulic valves, loader 2 function
Hydraulic valves, backhoe 4 function
Hydraulics, load sensing with variable displacement piston pump
Indicator lights: Eco mode active, water in fuel, remote dial throttle active, engine warning, warning lamp, emissions module malfunction, AESC active, low battery/charging system warning, high hydraulic oil temperature; LCD warnings: engine oil pressure, machine locked (if equipped), service due, air filter blocked, high coolant temperature, auto idle shutdown, high torque converter temperature, hydraulic filter bypass
Instrument panel lights
Key start/stop system
LCD screen: engine speed, hour meter, gear/direction, battery voltage, hydraulic oil temperature, torque converter temperature, coolant temperature, trip totals (fuel and hours), lifetime totals (fuel and hours), operator settings (units, brightness, programmable hoe auxiliary flow), service mode diagnostics, oil life reset, DPF force regeneration, maintenance intervals, ECM/system info
Lights, working (2 front, 2 rear)
Loader, self-leveling, return-to-dig and transmission disconnect switch
Loader, single tilt
Mechanical two lever controls
Mirror, rearview
Open circuit breather
Power receptacle, 12 volt, 2 internal, 1 external
Power steering, hydrostatic
Seat belt, retractable, 51 mm (2 in)
Socket, two roof
Stabilizer shoes, street
Steering knob
Seat, air suspension, fabric or vinyl cover, with armrest
Starting system, glow plugs
Steering, hydrostatic
Storage compartment, lockable
Storage tray
Stop and tail lights
Swing transport lock
Tilt steering column
Tires
Toolbox, external, lockable
Torque converter
Throttle, hand and foot, electronic
Transmission, four speed, syncromesh
Transmission neutralizer switch
Transport tie-downs
Two Wheel Drive
Vandalism locks
Warning horn, electric
Backhoe controls, pilot joysticks
Battery, additional, 880 CCA
Cab, standard
Cold weather fuel (–30° C/–22° F)
Cold weather package, including additional battery, engine block heater, radiator antifreeze (–50° C/–58° F), cold weather fuel (–30° C/–22° F) and mounting for an ether bottle
Counterweights, 115 kg (255 lb), 240 kg (530 lb) or 460 kg (1,015 lb)
Fenders, front with integral steps
Four Wheel Drive
Guard, boom protection plate
Guard, stabilizer, rock
Hydraulic valves, loader (3rd valve for GP, MP or Quick Coupler)
Hydraulic valves, backhoe (5th and 6th function)
Hydraulic lines, combined function auxiliary
Product Link, satellite, PL631E
Product Link, cellular, PL641I
Quick Coupler, hydraulic, dual lock
Quick Coupler, manual, dual lock
Quick Coupler, pin lock
Radio and CD player
Radio and CD player, Bluetooth
Ride Control
Rotating beacon, magnetic mount
Seat belt, 75 mm (3 in)
Security system keypad
Stabilizer pads, grouser type
Stabilizer pads, reversible
Stick, extendible
Storage box
Vandalism protection, gauge cover
Work Tool Attachments such as buckets, forks, material handling arms, augers, hammers, brooms, cold planers and vibratory plate compactors. See your Cat dealer for more information.