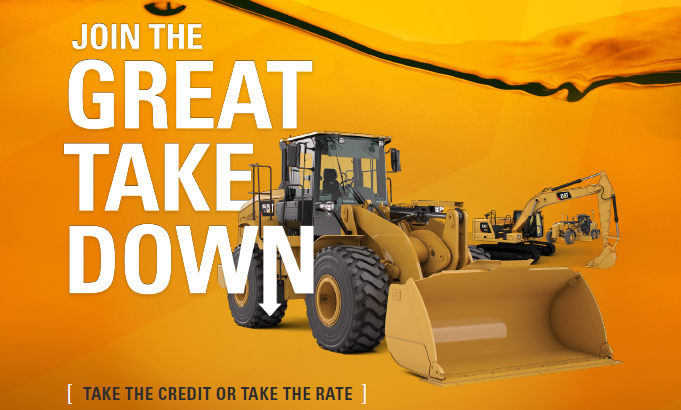 Ready to take down your costs — and the competition?
You can do both when you take advantage of this special offer on select new Cat® machines.
Choose from two great options:
FUEL PAYBACK CREDIT
Get account credit for the first 1500 hours or
24 months of fuel, whichever comes first.
PRODUCT SUPPORT CREDIT
Reduce your costs further with additional credits.
We'll help you customize a plan.
FREE CONNECTIVITY
Monitor your assets remotely and save even
more with 24 months of VisionLink®.
– OR –
3.99% FOR 48 MONTHS
Lower your payments and  free up cash with this special financing rate,
available on dozens of eligible new models.
FREE CONNECTIVITY
Monitor your assets remotely and save even more
with  24 months of VisionLink.
JOIN THE COST CUTTING CELEBRATION TODAY – Contact us for more details about the Great Take down, including  a complete list of eligible models, or visit cat.com/greattakedown.
Offer good for qualifying customers from January 1, 2019 to June 30, 2019 on select new models at participating Cat dealers. Not all buyers will qualify. Financing is subject to credit application and approval through Cat Financial. Financing offer is available to qualifying customers in the USA and Canada only. Financing offer is based on a monthly payment frequency on an installment sale or conditional sale contract with no skips. See your participating dealer for details. Additional terms and conditions may apply.
© 2018 Caterpillar. All Rights Reserved. CAT, CATERPILLAR, LET'S DO THE WORK, their respective logos, "Caterpillar Yellow", the "Power Edge" trade dress as well as corporate and product identity used herein, are trademarks of Caterpillar and may not be used without permission.