Foley Rents: Your Source for Aerial Equipment for Rent in New Jersey, eastern Pennsylvania, northern Delaware, and Staten Island
We have provided the tristate area businesses with quality Cat®, JLG®, and Genie® heavy-duty and compact equipment for nearly sixty years and offer a full range of vehicles and tools to address your particular needs.
View Cat Rental Store Inventory
If you are performing work in New Jersey, eastern Pennsylvania, northern Delaware, or Staten Island, and your company is in need of aerial equipment, Foley Rents is here to help.
Contact Us About Our Aerial Rentals
Telescopic Handlers
Telescopic handlers — also known as telehandlers — are dynamic machines. They offer the merged capabilities of a forklift and a boom lift and are a smart choice for organizations working in material handling, utility work and construction that feature a growing need for productivity. Take advantage of the telehandler's boom for attaining heights while using its forks for moving pallets, crates, and other heavy materials.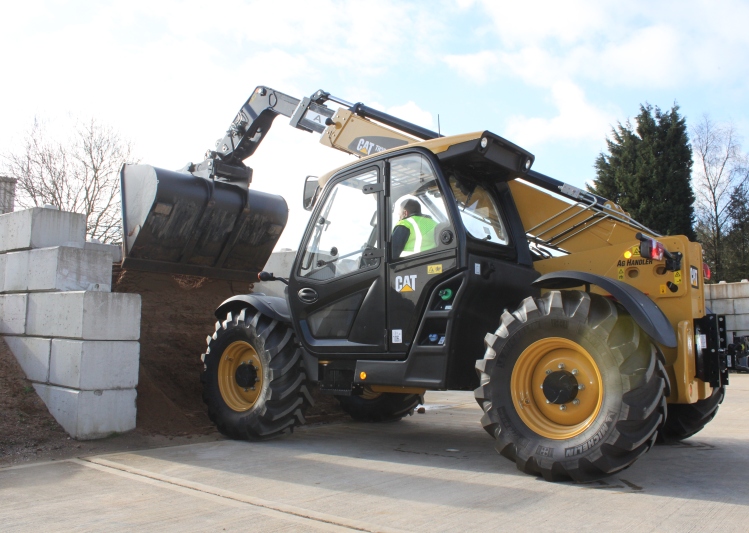 We offer nine different Cat telehandlers in a variety of sizes and power ranges to suit your particular needs. Select from the TL642, generating 99 horsepower and offering a 20,240-pound weight capacity, all the way up to the 210.10, which pushes out 196 horsepower and offers a 60,400 weight capacity.
In addition, Foley Rents offers two Cat rotating telescopic handlers, offering added flexibility for projects with unique challenges. Choose between the Cat 50.21, offering an 11,000-pound capacity and a 67' maximum lift height, and the 40.25, offering an 81' maximum lift height and a 9,000-pound capacity.
We offer 24-7 on-site emergency repair services for our telescopic handler rentals and flexible rental options, allowing you the opportunity to change equipment mid-project to suit your needs.
Boom Lifts
If you need a boom lift, Foley Rents is your rental solution. We offer JLG, Genie, and Skyjack brand booms lifts appropriate for construction projects, utility companies, and more.
Here are just a few options to choose from:
JLG Models
The 1350, a strong 100,000-psi steel and a dual 1,000 / 500 lb capacity to give you stability and capacity
The 450 AJ Series II, an articulating boom offers flexibility in a crowded jobsite with horizontal outreach of 25 feet
The 600AJ, has an optional articulating jib gets you into hard-to-reach places
The 660SJ, the best selling 60 foot telescopic lift offers far reach and top performance
The 800AJ, an articulating boom with a maximum horizontal reach of 51.84 ft in.
The 860SJ, a telescopic boom that reaches full elevation in less than 70 seconds
SkyJack Models
The SJ63, an articulating boom with 360° Continuous turret rotation and a horizontal reach of 39 feet
The SJ66T, a telescopic boom with a working height of 72 feet
Genie Models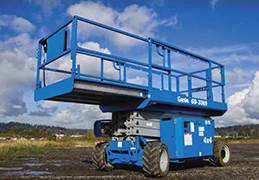 The S40, a simple rough-terrain machine offering a maximum lift height of 40'
The Z45/25, a machine with a diesel power generator offering a maximum lift height of 51'
The S80x, a rough terrain lift offering an 80' reach
The Z80/60, the Genie® Fast Mast™ system lowers the platform to the ground without having to lower the secondary boom. Working height 84 feet, horizontal reach is 60 ft.
The S125, a rough-terrain lift offering a maximum height of 125'
The Z135/70 Boom Lift, has a new X-design drive chassis extends and retracts to provide stability and a narrow profile. Working height of 141 and lifting capacity of 600 lbs.
Both two-wheel and four-wheel drive capabilities are available, and we offer straight telescoping and articulating machines designed to address your project's particular needs.
Renting a boom lift from Foley Rents is a smart choice for a variety of reasons. First, we can assist your organization's staff with equipment set-up and provide training on your worksite to ensure your employees know your rental unit inside and out. Next, we make sure to keep our units fully maintained to minimize the risk of failure during your rental. Should you need service, our 24-7 mobile emergency team will be dispatched to your facility to address any issues.
Scissor Lifts
If your company takes on work that entails material moving or if your staff needs a machine to elevate them to address above-ground projects, Foley Rents can set you up with a JLG, Skyjack or Genie scissor lift rental that fits your task needs and budget. Our scissor lifts will help your company increase productivity, encourage safety and reduce operating costs, a trio of positive developments sure to provide value during the life of your rental.
We offer 18 different scissor lifts. Choose from the JLG 3394RT, a rough terrain scissor lift with an elevated platform height of 33', or one of our Skyjack's like the rough terrain scissor lift with a working height of 56', or tthe SJIII 4740, an electric scissor lift driveable at full working height of 45'. We also offer many Genie models including the Genie 1930 ES, an electric unit with a 19' maximum height; the GS3369 RT, a diesel/DF-powered machine with a 33' maximum height; or the 53' max-height GS5390 RT. Our units are appropriate for both indoor and outdoor use.
Our scissor lift rentals qualify for our 24-hour, 7-days-a-week emergency repair service. Should your lift experience malfunction during your rental, call us and our mobile maintenance team will head out to your facility to fix it, ensuring minimal interruption to your project. In addition, our staff will be happy to work with you to determine which of our machines best suit your particular project.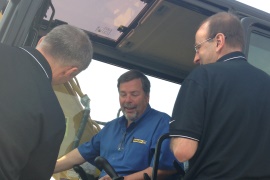 Why Rent Aerial Equipment?
Oftentimes, an equipment purchase may be less sensible than a rental. Maybe your company is performing a one-time project and does not need to make a long-term investment in a new machine, or you want to rent it to try it before committing to a purchase.
Need To Rent Aerial Equipment? Contact Foley Rents Today
If you're in need of a dependable aerial equipment rental solution in New Jersey, eastern Pennsylvania, northern Delaware, or Staten Island, contact Foley Rents today. We are happy to work with you to determine which of our machines can best suit your company's projects.
Request Additional Information or a Quote