Fast Service On All Makes & Models
At Foley, Inc., we are excited to offer hydraulic hoses-while you wait at our Piscataway & Bensalem locations! For all makes and models. We also offer quick service if you want to pick up your hose parts the next day.
WE HAVE COMPLETE COMPATABILITY WITH:
Cat® hoses are not just for Cat machines. They offer unrivaled performance and durability for all brands, including:
| | | | |
| --- | --- | --- | --- |
| Hitachi | JCB | Volvo | Komatsu |
| Doosan | John Deere | Takeuchi | AND MORE! |
An advantage to using Cat hoses, is that we only need a single part number located on a metal tag on factory-installed hoses. This number identifies all the needed components and build specifications.
When you choose other hose shop options, it may take valuable time to identify the type of hose and the type of service that your equipment demands. Through the years, we've created and adopted systems that help us be the fastest Cat hydraulic hose shop in the region.
You can either stop by one of our locations, call in this number to our parts department, or order it online via the Parts.Cat.Com, and we can have a replacement ready in no time. Get your equipment back up and running as quickly as possible, and get back to being productive by choosing Foley, Inc.
Available while you wait at the following locations:
Or Call by 3:30 PM for next morning hose delivery to any of our 21 parts drops!
Cat® Hoses Built Right, Built Clean and Built Fast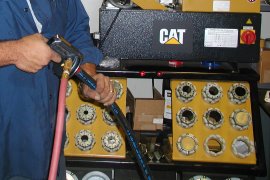 Hoses are essential to the successful operation of heavy-duty equipment. Most importantly, hoses allow for equipment's hydraulics to work day after day in harsh industrial environments. But even the most durable equipment needs maintenance from time to time, and it's likely that your equipment will eventually need replacement hoses.
When you need a replacement hose for any machine, give Foley Parts a call to get your part ready quickly. We strive to offer Cat hoses and other hose options that meet the highest quality standards, and we'll always deliver your new hoses as quickly as possible. We're confident that you'll find our quality, capabilities and speed to be superior to other hose shops.
Quality Cat Hydraulic Hoses
We have a wide range of in stock hydraulic hoses available as well as custom built hose options. Building a quality hose assembly starts with quality hose products. When you choose Foley, Inc. for quality Cat hydraulic hoses, you enjoy the following benefits:
Large inventory: We stock a large inventory of Cat hose products that exceed industry standards. This large inventory will ensure that you always have access to the exact type of hose that you need for your equipment. We have hoses and couplings for all makes and models.
Custom Hoses: We can custom manufacture hoses to suit your unique customer requirements using Cat fittings and Cat hydraulic hose material. Whatever fleet you're working with, Foley, Inc. can help build precision hydraulic hoses to keep your equipment running.
Superior materials: Cat hoses feature superior materials, higher temperature tolerances and less liner swell than industry standard hoses. Through impulse and other testing, Cat hoses have been engineered to exceed industry requirements. It's the high-quality nature of these smaller materials that helps Cat create hoses that perform reliably under difficult conditions.
Various couplings: It's not enough to stock a large inventory of Cat hoses. At Foley, Inc., we also carry a wide variety of couplings, enabling us to build quality assemblies for all brands of mobile equipment. When you choose Foley, Inc. as your hose shop, you'll enjoy access to a team that can complete almost any hose-related maintenance or repair task.
Cleaning You Can Count On
We also take every precaution to minimize the presence of harmful contaminants in your hydraulic system. We keep our bulk hose capped, and we cap each hose after it's built. And during assembly, we use an air-propelled foam projectile to remove newly-introduced contaminants — a service most hose shops don't provide.
At Foley, Inc., we always strive to go above and beyond expectations, no matter the service we're providing. That's just one of the reasons we provide comprehensive service on Cat hydraulic hoses that includes the use of an air-propelled foam projectile.
Our broad line of Cat hose and couplings is also conveniently available. We can make assemblies so you can get your machines back up and running quickly and reliably. We know that downtime is lost productivity and lost money in many cases, which is why we aim to be the fastest Cat hydraulic hose shop in New Jersey, Pennsylvania, Delaware and Staten Island.
Using Parts.Cat.Com
Parts.cat.com is your one-stop shop for ordering needed cat hoses and other equipment. You'll find an unmatched inventory of products when you visit parts.cat.com, and you'll discover that the inventory is easy to navigate and manage. When you use the site, you'll be able to quickly identify the perfect part to fit your needs, and ordering will be fast and easy too.
West Chester Machinery – Authorized Cat Hose Reseller
West Chester Machinery has been serving the construction industry for over 36 years.  Located in Flanders, NJ, they are a family owned and operated business that is also an authorized hose reseller for Cat hoses as well as a heavy Parts Drop location for Foley parts customers.
Why Choose Foley, Inc.?
Since 1957, Foley, Inc. has been providing high-quality equipment and outstanding service to clients and customers in Delaware, New Jersey, Pennsylvania and Staten Island. Through many decades of service, we've gotten to know our customers' most important needs. That's why we've developed a thorough collection of products and services that respond to those needs, including our shop that works on Cat hydraulic hoses.
We also strive to provide products and services as quickly as possible. When you rely on heavy-duty equipment for your day-to-day work, you can waste days or even hours on equipment downtime. We see your equipment needs as urgent needs, which is why we'll work with a sense of urgency to provide the required products and services. We have 21 convenient local parts drop locations to pick up hoses. Hose parts are delivered daily in the mornings to our parts drop locations.