Service You Can Rely On
Whether you work in construction and landscaping or industrial and material handling, broken-down equipment can lead to costly downtime and diminished productivity. When your business relies on heavy equipment, engines and power systems to make progress possible, having access to a complete range of equipment maintenance and repair services is a major advantage. Foley is a full-service dealership offering a comprehensive selection of machine services for New Jersey, eastern Pennsylvania, northern Delaware, and Staten Island to meet your diverse needs.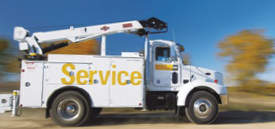 As an authorized Cat® dealership, Foley provides exceptional service and product knowledge to match the quality equipment we represent. From regularly scheduled basic maintenance to repairs of critical components, we're your one-stop-shop for construction equipment, power systems and Cat truck engines. Our experienced and skilled technicians are equipped and ready to help keep your equipment up and running.
Service When You Need It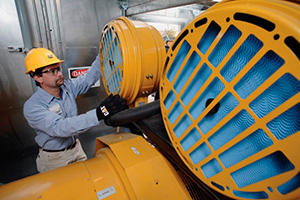 Every moment your fleet isn't operating at its full capacity, it can negatively impact your bottom line. Foley offers responsive equipment repair shop and field service to all of our customers when you need it to ensure your business has the support it needs to meet its goals. An entire fleet of heavy-duty service trucks and lube trucks are waiting to respond to your every service need at your location.
Whether there is a minor malfunction that needs a quick fix or a more complex system shutdown, our service technicians are up to the job. We use the latest tools and technology to perform fast and efficient maintenance and repairs on all makes and models of machinery. From around-the-clock emergency services to cost-effective equipment management solutions, we offer everything you need to manage your fleet.
About Our Equipment Maintenance & Service Offerings in PA, NJ and Beyond
We provide a wide variety of machine service solutions to our customers, including:
Construction: Your construction equipment can take a beating. Foley, Inc. has extensive repair capabilities to keep your machines on the job and in peak operating condition. We can perform certified rebuilds that meet the high Caterpillar standards, as well as engine rebuilds, track repairs, welding, painting, fluid testing and more. Field and in-shop service are both available to meet the unique repair and maintenance needs of every customer.
Power systems: We offer a full complement of services for your power generation equipment, such as natural gas and diesel generators, switchgear and automatic transfer switches. Examples include load bank testing, building load testing and starting system service. We can also repair and maintain marine engines and cooling systems. We also provide a complete line of rental equipment for your temporary power generation and temperature control requirements.
Cat truck engines: As a full-service equipment repair shop, Foley, Inc. can handle everything from preventative maintenance to complete engine overhauls — whatever it takes to keep your trucks on the road. Understanding the need to adhere to the increasingly stringent government and environmental regulations, we can also provide on-highway emissions solutions to help you stay compliant. And with our Extended Service Coverage, you can get protection against those unexpected repair bills.
Rentals: Renting equipment can provide a more cost-effective solution than buying in many situations. You'll quickly find the right machine to supplement your fleet, replace a unit that's out of service for repairs or help you meet the demands of a special project or sudden surge in business. All of our rentals are late-model, low-hour units that are expertly maintained and ready to perform at your jobsites.
Online services: Our suite of internet-based equipment services can save time and make your job much easier. The online Cat Parts.Cat.Com allows you to order the parts you need for equipment repairs and upkeep on a 24/7/365 basis. The Cat VisionLink system enables you to monitor the location of your machines in the field remotely and obtain valuable information regarding their condition. SOS services can assist you with oil, coolant and fluid sample testing. You can even browse our inventory of high-quality used equipment from your web-enabled computer or mobile device.
Special offers: We offer an assortment of ongoing sales and promotions that can make equipment service even more cost-effective for your company. Get savings on essential parts and components such as oil and coolant. You can also find excellent deals on used equipment, as well as financing options for new machines featuring lower interest rates.
Stay Productive With Field Service and Repairs
It's not always possible to bring your equipment into a Cat service center. In some cases, it doesn't make financial sense, either. The solution? We bring our expertise to you.
Foley is proud to provide on-site construction equipment repair services in NJ, PA and DE. Our mobile service vans feature a full set of diagnostic and repair tools, and our technicians can access your service history remotely.
Fast field service is essential when a critical machine goes down in the middle of a big job. But it's also important for scheduled maintenance. Often, preventative service gets ignored when work is in progress. By coming to you and working around your schedule, however, we can ensure your equipment receives the maintenance it needs to stay healthy and productive.
Maintain Equipment Health With Exclusive Diagnostic Programs
As a Cat dealer, we have access to technologies and tools other construction equipment repair service providers in NJ, PA and DE don't. One great example of this is the S•O•SSM fluid sampling program. Here's how it works:
Collect a sample of oil, coolant, diesel fuel or any other fluid you want to test. We'll provide a container as well as detailed instructions for how to obtain the sample safely
Drop the sample off at one of our service locations. We'll perform the initial analysis to determine baseline levels of trace metals and other contaminants.
If everything looks normal, regular monitoring will alert our technicians to any deviations which could indicate a problem. Your results and history are available online and accessible at any time.
Scheduled fluid sampling is just one example of the benefits of working with an authorized Cat service center. NJ's Foley is proud to provide a full range of preventative maintenance programs that will help you maximize your investment and keep your fleet running at its best for years to come.
Economical Parts for Every Client
When it comes to Cat equipment, a repair job is often only as good as the parts that go into it. The fact is, precision-engineered Cat machines require equally high-quality parts.
To meet the budgets of all our clients, we offer several parts options:
New OEM parts: With newer equipment, new parts are the smart choice. OEM Cat parts deliver the precise fit and reliability you expect from Cat.
Used OEM parts: For older machines, save money without sacrificing quality by going used. Our used parts undergo extensive inspection and testing to ensure they will deliver years of reliable performance.
Remanufactured parts: Often, remanufactured parts offer the best compromise between new and used. We can fully restore engine, transmission and hydraulic components to like-new condition at a fraction of the cost of buying new.
Check out our current inventory and shop online at Parts.Cat.Com, or contact our service desk for more information about your options.
Summary of the Benefits of Selecting Foley for Your Equipment Repair, Service and Maintenance Needs
When you choose Foley for construction services in NJ, PA and DE, you'll also benefit from:
Customer service agreements and equipment management solutions
Power system capabilities ranging from load bank testing to switchgear service
Complete overhauls, remanufacturing services and emissions solutions for Cat truck engines
Access to a wide variety of new and used parts
Customer care and ongoing technical support dedicated to your total satisfaction
Contact Foley for Construction Equipment, Power Systems and Truck Engine Services
Foley, Inc. has been delivering premium equipment service to companies like yours throughout our operating territory for more than 60 years. We serve New Jersey, eastern Pennsylvania, northern Delaware, and Staten Island with reliable, cost-effective service solutions. Contact us for more information on our complete service offerings and to request a free quote today.
Don't hesitate to call 24hrs/day 7 days/week, a service representative will be there to field your call.