Fluid Analysis Testing
Fluid analysis is one of the most useful and important, proactive maintenance support programs available. As you perform scheduled maintenance, fluid analysis allows you to see what's going on inside your engines and machines to predict potential problems before they become major failures.
Foley Fluids Lab is located in Bensalem, PA. We utilize the industry's latest technology to analyze over 160,000 oil, fuel, and coolant samples each year; with most results available the next day if received in our lab by 11am
What Is Fluid Analysis?
Fluid analysis testing entails the assessment of vital machine fluids such as oil, coolant and fuel to ensure that they're doing their job and not damaging the equipment. The process involves taking fluid samples from the machine and sending them to a lab for analysis. Foley, Inc. has an on-site lab that can handle all the testing and deliver quick results in a format that's easy to understand. You'll have a better understanding of the overall health of your fluids, which directly impacts the condition, performance and longevity of your machines.
As an authorized Cat® dealer, Foley, Inc. is pleased to offer Cat® S.O.S (Scheduled Oil Sampling) Fluid Analysis Services to our NJ, PA, DE, and Staten Island customer base. S.O.S fluid analysis is a routine sampling program developed by Caterpillar® that enables you to identify trends that can help detect changes in the health of your machine fluids over time. We can provide the following testing services at our fully equipped fluid analysis lab:
Oil: We can test the oil in all your equipment's lubricated systems, such as engines, hydraulics, transmissions and differentials. The testing can help you detect signs of wear metals that can cause significant damage, as well as contaminants such as water, dirt and glycol.
Coolant: Coolant testing and analysis can determine whether the fluid has the appropriate chemical balance required for maximum performance and efficiency. We offer two levels of coolant analysis: routine and in-depth.
Diesel fuel: Our diesel fuel analysis process will check for acceptable levels of quality in areas such as microbial growth and contamination, which are primary causes of engine valve and piston ring damage.
Why Is Fluid Analysis Testing Important?
Our fluid analysis service can provide a host of benefits for your company, including:
Minimized risk of mechanical failures: Fluid analysis is a crucial preventative maintenance step that can save money. You'll be able to detect an issue before it leads to failure, which can significantly reduce your equipment repair costs.
Increased productivity: Healthy, contaminant-free fluids can improve the performance of parts and components, which will make your machines more productive.
Shorter repair times: You'll know when to perform routine repairs that don't take a lot of time instead of waiting for a serious problem to occur that could put your equipment out of commission for several days, weeks or longer.
Added equipment value: Helps obtain a higher resell value when selling to second owners.
How Does Fluid Analysis Testing Benefit Your Bottom Line?
Regular fluid analysis testing can have a positive impact on what matters the most: your company's bottom line. You'll end up spending less money on repairs, and you'll also extend the lifespan of your equipment and lengthen the time between replacements. Along with the increased productivity, you'll notice a difference in the profitability of your business.
Our full-service, Caterpillar-certified lab offers: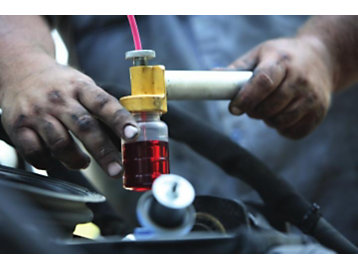 Infrared and Gas Chromatography Oil Condition Analysis
Contamination Control Testing
Viscosity Testing
Physical Tests
Diesel Engine Cooling System and Coolant Analysis
Elemental Analysis
Diesel Fuel Analysis (including bulk samples)
And others, please inquire
Our lab uses American Society for Testing and Materials (A.S.T.M.) approved methods. We have proficiency testing performed annually to ensure our testing methods are the highest quality, so our customers trust they are getting accurate results.
Foley, Inc. will work with you to create a Fluid Analysis Program tailored to your specific application and needs, and help you proactively manage your equipment. Our lab management or your Parts and Service Sales Representative can help you establish this goal.
Our Fluids Analysis Lab specializes in not only Cat® equipment, but also all makes of construction equipment; including marine, industrial, engine power and on-highway engines. Be assured Foley Fluids Lab will provide you with the most reliable and accurate test results for your equipment.
How to Request Our Fluid Analysis Services
Our state-of-the-art ISO 9001 Certified fluid analysis lab is ready to assist you with your testing requirements. Contact the Fluids Analysis Lab at 215-245-2833 or Fluids-lab@foleyinc.com to learn more about how to collect and send your sample. You can also fill out and submit the contact form found on this page for more service and pricing information.
To access your sample results online, click one of the links below: