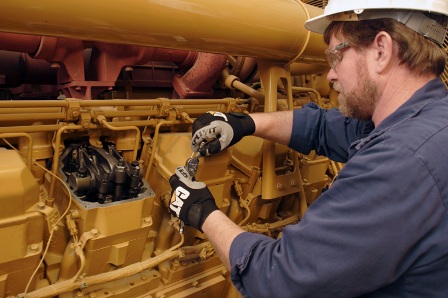 Valve components play a vital role inside your engine. Internal combustion engines feature camshafts that provide different clearance levels as the temperature inside the engine changes. The valve lash exists to deliver maximum opening when the camshaft lobe reaches its high point and to fully close the camshaft lobe at its low point. Valve lash adjustments are needed to ensure that these important components are operating appropriately.
At Foley, Inc., we provide valve lash adjustment services on power systems and marine equipment. Are you in need of a valve lash adjustment in New Jersey, Pennsylvania, Delaware or Staten Island? If so, the team at Foley, Inc. is ready to help.
Why Valve Lash Adjustment Is Important
Valves within a power system are relied upon during internal combustion. Intake valves regulate airflow entering the cylinder, and exhaust valves regulate the exhaust leaving the cylinder. These valves need to open and close fully during the combustion process, or else the engine will not operate properly.
A valve lash adjustment is needed to ensure that this opening and closing (and the combustion process in general) takes place without issue. Valve lashes cannot be too loose or too tight without causing damage to the engine. When you choose a valve lash adjustment, you'll be able to avoid this damage, and you'll also allow your engine to reach its full power and operate at its peak potential.
The Benefits of Valve Lash Adjustment
A quality valve lash adjustment unlocks a number of benefits. When you start to experience valve lash symptoms, such as noticeable clicking noises at startup or significant losses in power, an adjustment will help with the following:
Maintaining proper engine operating temperature
Maintaining optimal fuel economy
Reducing oil consumption
Maintaining rated horsepower output of the engine
Extending the life of the engine
At Foley, Inc., our team of technicians can provide the valve lash adjustments that your power systems need to keep working at their peak.
When Do You Need a Valve Lash Adjustment?
Do you have new equipment? Your first valve lash adjustment should take place when you get your first oil change, which typically occurs after 250 to 1,000 hours of operation. After that initial valve lash adjustment, keep an eye and ear out for valve adjustment symptoms like the aforementioned clicking noise at startup and noticeable losses in power. Moving forward, valve lash adjustment should be a part of any regular maintenance procedure, taking place somewhere between 1,000 and 3,000 hours after that first adjustment and at the same intervals from then on.
Valve Lash Adjustment Recommendations From Caterpillar®
If you need valve lash adjustment on Caterpillar equipment, also lean on your operating manual for specific guidance. Follow the rules of thumb mentioned above (getting valve lash adjustment at your first oil change and at intervals of 1,000 to 3,000 hours afterward), and you can always rely on Foley, Inc. as your source for expert advice when it comes to servicing Cat® equipment.
Get Your Valve Lash Adjustment at Foley, Inc.
At Foley, Inc., we've proudly served customers in New Jersey, Pennsylvania, Delaware and Staten Island since 1957. In addition to our valve lash adjustment services and other equipment maintenance and repair offerings, we provide access to equipment purchase and rental as well as parts and service. Our customers rely on all sorts of equipment for their day-to-day work, and we're passionate about helping them keep their equipment in full working condition. We can provide a comprehensive valve lash adjustment on your engine to ensure that it will work at peak efficiency and reliability.