We feature pre-owned generators for sale by Cat®, the worldwide industrial power equipment leader. Buying a used Cat generator is a cost-effective alternative for any company in need of a dependable power source that won't break the operating budget.
Providing the Critical Power Supply Your Business Can't Do Without
A reliable power source is paramount for today's continuous manufacturing processes, as well as for information technology-based operations such as data centers, educational institutions and government entities. The Cat line of generators provides reliable service for your prime and backup power needs. Cat pre-owned industrial generators are up to the challenge, regardless of the type of operation or the heavy demand placed on the power supply. They provide the peace of mind that comes with knowing you are fully protected against surges, brief interruptions or a total power outage.
Why Buy Pre-Owned?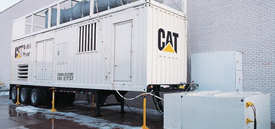 Buying a used Cat generator is perfect for anyone who wants to take advantage of legendary Cat quality at a fraction of the cost of new. Cat equipment can be counted on to deliver years of reliable service — a well-maintained pre-owned model may actually be a better investment than a new generator by an allied brand.
Many of the used generators for sale from Foley are sourced from our rental fleet and have been maintained to the highest standards possible throughout their service life.
Your Local Power Partner
With the best selection of used Cat generators for sale in New Jersey, eastern Pennsylvania, northern Delaware, and Staten Island, Foley can match you with the right unit for your needs. We can also provide installation support and ongoing service to ensure your purchase continues to deliver the reliability and low operating costs associated with Cat equipment. We offer 24-hour emergency service, preventative maintenance plans and more.
Contact the Pre-Owned Industrial Generator Leader to Learn More!
Foley can provide an affordable power solution for your company. Browse our inventory of pre-owned generators for sale or call John Holland at 732-261-6403 for further details.