Cat® Batteries—Greater Starting Power—Lower Maintenance— Longer Life
The reliability of your equipment begins with a reliable battery. With Cat batteries you will know that your equipment every time, even in the most adverse environments and extreme temperatures. We offer three different types of batteries that are manufactured to Caterpillar's high quality standards.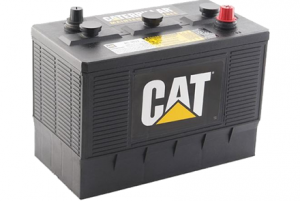 Cat Premium High Output (PHO) Batteries
Cat PHO options are used in all Caterpillar® Machines and Engine Gen-Sets. They are designed to meet stringent Caterpillar design specifications, which provide industry leading cold cranking amp (CCA) capability and maximum vibration resistance. Maintenance Free or low maintenance designs are available in wet and dry configurations.
General Service Line Batteries
Cat GSL batteries are available in Maintenance Free or low maintenance designs and in wet or dry configurations. Wide selections of BCI group sizes are available for automotive, light truck, bus, industrial, agricultural, marine, recreational and valve regulated (VRLA-AGM & Gel) applications.
Uninterruptible Power Supply (UPS) Batteries
Cat UPS options are designed to provide power instantly in order to protect your sensitive computer or manufacturing equipment against possible damage from surges or dips in voltage or current. Cat UPS options can also power essential hospital or mission critical loads during a power outage, assuring that you meet NFPA 110 standards. Do your "Best Business Practices" include installing Cat UPS options for your vital equipment?
Why Choose Cat Batteries?
What makes Cat batteries your best option? Battery options from Caterpillar are known in general for their starting power, low maintenance requirements and longer lifespans. The Cat name stands for quality, and each battery manufactured and offered by Cat meets stringent design specifications to ensure high-quality standards. You'll find both wet and dry configurations that support low maintenance as you use your Caterpillar battery over the long-term. When you choose a low-maintenance option, you'll be able to spend more time on what's important — doing your very best work.
Power-wise, Cat batteries are known to deliver outstanding power output even under harsh conditions. Heavy-duty equipment is expected to do difficult work, which means different equipment demands tough battery options that can withstand the day-to-day grind of industrial environments. Cat battery options offer vibration resistance that's five times the industry standard, and various Cat battery options deliver reliable cold-cranking amps. In the selection of battery solutions from Caterpillar, you'll find various models, so you can pair the perfect battery solution with the equipment you're using.
When you're searching for batteries for your equipment, you'll find a range of options, but no one knows equipment better than Caterpillar. When you choose Cat batteries for sale, you're choosing a source of knowledge, experience and excellence, which means you're getting a product you can trust to perform as needed over the long-term. Make sure you're getting the best battery to meet your needs by choosing to buy Cat batteries.
Get Your Batteries at Parts.Cat.Com
When you need to buy Cat batteries, visit parts.cat.com. There, you'll find a range of high-quality options to choose from, allowing you to match the perfect battery to the type of equipment you need to power. At parts.cat.com, you'll find general options that fall into the three broad categories mentioned above:
General service line
Premium high output
Uninterruptible power supply
Within each broad category, you'll find myriad options that allow you to browse for and secure the ideal battery for your equipment. When you order from parts.cat.com, you'll have the dependable battery you need in no time flat. For all your parts and equipment needs, trust Caterpillar and trust that you're getting quality.
More information on Cat battery specs, applications, accessories, part number, etc.
About Foley, Inc.
At Foley, Inc., we're pleased to connect you with battery options available at parts.cat.com, and we're honored to offer equipment products and services in New Jersey, Pennsylvania, Delaware and Staten Island. Since 1957, we've been delivering outstanding products and dependable services to customers and clients who need heavy-duty equipment for their day-to-day work. Our presence throughout the region means that you'll always have access to helpful, knowledgeable technicians and high-quality products.
After you browse Cat batteries for sale at parts.cat.com, call on us when you have service needs. Our teams can provide engine and battery maintenance and repairs that will ensure your equipment performs at its peak potential, helping you to do your best work as efficiently as possible.
Have questions about batteries or anything else related to equipment? Contact us for solutions and expert guidance as you consider your battery options and seek to get your equipment operating at its very best.