Used Equipment for Sale
Proudly Serving New Jersey, Eastern Pennsylvania, Northern Delaware & Staten Island
If you're looking for high-quality, low-hour equipment at competitive prices, explore the used equipment for sale at Foley, Inc. We sell equipment from Caterpillar and several other leading brands prized for their reliability in construction, mining, agriculture and more.
Whether you're looking for a used excavator, skid steer loader or another machine, Foley, Inc. has a model that will work hard at your job sites without overextending your budget. Our used equipment costs less upfront and over time to maximize your investment. We partner with construction professionals in New Jersey, eastern Pennsylvania, northern Delaware and Staten Island.
Browse All Used Equipment Inventory
Our Broad Used Compact and Heavy Equipment Inventory
The used equipment for sale at Foley, Inc. includes a wide range of options:
Compact equipment: Foley, Inc. has compact-sized equipment for small-scale job sites and projects, including mini excavators, skid steer loaders, compact track loaders and more.
Heavy equipment: We have a vast range of heavy equipment for various industries and applications. Our options include backhoes, dozers, excavators, motor graders, track loaders, wheel loaders and other construction machinery.
Power equipment: Foley, Inc. is your source for used power generation equipment. Our used diesel generators, air compressors and other equipment are dependable electricity sources for job sites and facilities.
Job site equipment and tools: Our used construction equipment enhances your performance and productivity. We have air compressors for powering pneumatic tools, telehandlers for material handling and reach, concrete trailers for transporting machines, and more. We also have an inventory of attachments for Cat® machines to equip them for a wide range of jobs.
Foley, Inc. is an authorized Cat dealer, so we have a range of used equipment from this internationally renowned brand. We also sell machines from other reputable manufacturers such as Bobcat, CASE, John Deere, Komatsu, Kubota and more.
Between Caterpillar and our other brands, you'll find these types of compact and heavy equipment:
You can count on our used equipment for high-quality components and dependable performance. When we add a used machine to our fleet, we gauge its quality and safety by completing a thorough inspection, completing any necessary repairs and ensuring its maintenance needs are met. Upon purchase, we'll provide the machine's complete maintenance history.
Why Buy Used Equipment?
Purchasing equipment is an important investment in your business, and browsing used machinery instead of new or rental options can be advantageous in several circumstances. The benefits of buying used equipment include:
Lower prices: Used equipment typically costs less than new machinery. You can pay less for like-new quality and service and use your saved money to further invest in your business.
Low-hour, inspected machinery: Our used equipment has low service hours, and our experts have inspected each model. You can be confident you'll receive a high-quality machine when you buy from Foley, Inc.
Reduced cost of ownership: Between factors like its lower purchase price and reduced insurance premiums, used machinery has lower total ownership costs. Additionally, since used equipment retains its value better than new machines, you may get a better return on your investment if you sell the used machine in the future.
More inventory available: Used equipment inventories tend to be larger than rental and new selections, and they may include specialized models. With the wide variety available, you'll likely find the manufacturer, model and features you're looking for.
Easy buy and resell opportunities: With its low purchase price and lessened depreciation, used equipment can be a sound investment for projects requiring specialized equipment. A new model may be too costly if it won't be used when the project is complete, and an extended rental period may be cost-prohibitive.
Sustainable for the environment: Buying from the used equipment market reduces the number of new machines manufactured. Less manufacturing means less steel and iron, industrial waste, and carbon emissions from factories. Opting for used equipment also ensures the machine is used to the end of its service life.
Benefits of Buying Used Equipment From an Authorized Cat® Dealer
Foley, Inc. is the only authorized Cat dealer in our service area, so we are your local source for Cat equipment and value-added services. Cat equipment is reliable and versatile for a low cost of ownership. When you buy used Cat equipment from Foley, Inc., you'll gain these benefits for a lower cost:
Tool compatibility: Cat used equipment is compatible with various attachments. These work tools let you enhance its performance and productivity, which is simpler and more cost-effective than buying new equipment.
Safety features: Cat models have standard safety features, including LED displays, audible warnings, nonslip surfaces and enhanced operator visibility. Your workers, operators and job site can stay safer with used Cat equipment.
Accessible operator controls: In addition to safety, Cat equipment is designed with operator comfort in mind. The operator controls are accessible and ergonomic to keep operators alert and productive and projects on time.
Some of our used equipment for sale is designated as Cat Certified Used. This distinction means the machinery is lightly used and has undergone a rigorous inspection by our factory-trained service technicians. The machine must pass strict standards set by Caterpillar to merit the Cat Certified Used label. These options offer benefits such as:
Reduced costs compared to new models.
A higher return on investment thanks to the like-new components and low service hours.
Immediate availability to keep your projects on time.
Warranty protection from the included Equipment Protection Plan (EPP).
Peace of mind that your equipment purchase will provide the productivity and performance you need.
Visit Our Used Equipment Sales Center in Monroe Township, New Jersey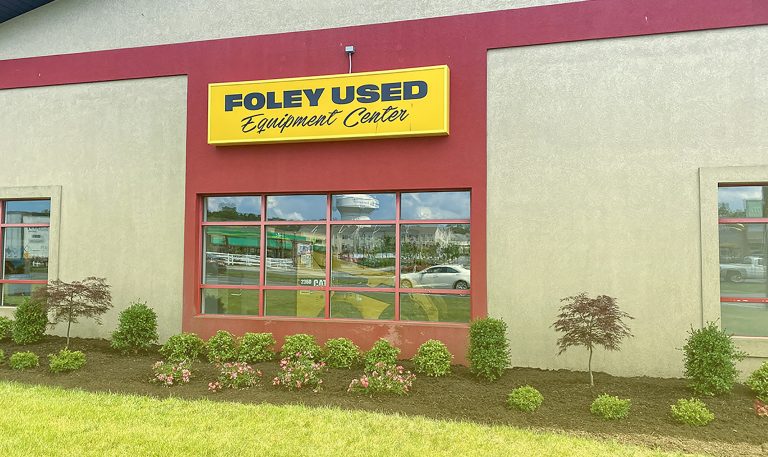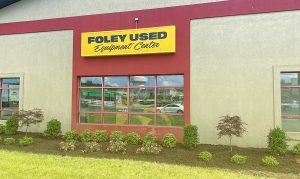 Foley, Inc. has a used equipment sales center in Monroe Township, New Jersey, near the New York Metropolitan Area. This location specializes in used equipment, so visit us to get a competitive price on the used machine you need.
You can view our used inventory in person to see what the various equipment models look like up close and gain confidence that each model will exceed your performance expectations. You can also browse our new additions before they're posted to our website, giving you the first chance to get equipment and tools.
When you visit our Monroe Township location, you'll find equipment like:
Attachments and work tools
Backhoe loaders
Compaction machines
Compact track loaders
Excavators
Paving machines
Skid steers
Telehandlers
Wheel loaders
And more!
During your visit, you can talk with our sales representatives and technicians about your various options. We will learn more about your industry and applications, then help you find the best machine for your work. We are ready to answer any questions you have, from the equipment and its features to our flexible financing plans. Our team is here to make sure you feel confident in your purchase.
Looking to Sell Your Used Equipment?
Foley, Inc. buys used equipment from any brand, in any condition, at any location. See which machines we are buying now and complete our equipment sales form to get started.
Request a Quote for Used Construction Equipment Today
Partner with Foley, Inc. for all your used equipment needs. Browse our used equipment inventory online to see our current selection. Our sales representatives can help you find what you're looking for or source your desired model from our nationwide dealer network. Our options change regularly, so check back often.
You can also contact us for more information or to request a quote for our used equipment listings. We are happy to answer all your questions and provide a no-obligation quote.
Visit one of our locations to see our used equipment inventory in person in New Jersey, eastern Pennsylvania, northern Delaware and Staten Island.