Short-Term and Long-Term Rental Solutions
Proudly serving New Jersey, eastern Pennsylvania, northern Delaware and Staten Island!
Many businesses rely on the rentals of compact and heavy equipment to maximize productivity on the job site. When you have a temporary need for a skid steer loader, hydraulic excavator, compact track loader, or other types of construction machines, it pays to partner with a reliable source.
Cat® equipment is an essential ally to construction, mining, paving, and many other industries like these around the world. When you need to rent Cat construction equipment in New Jersey, eastern Pennsylvania, northern Delaware, and Staten Island, trust the region's only authorized Cat dealer for all your needs. Foley Rents offers short-term rentals, long-term rentals, and rent-to-own agreements. We maintain hundreds of current model Cat machines in the rent-to-rent fleet, including tractors, loaders, scrapers, compactors, dozers, motor graders, backhoe loaders and hydraulic excavators.
We partner with industries ranging from construction, contracting and landscaping to road maintenance, demolition and governmental to deliver solutions for temporarily supplementing your fleet. Our Cat equipment rentals provide an economical way to access machines featuring the latest productivity and safety technology without the considerable expense of purchasing new. It's the ideal solution for businesses:
Operating on a restrictive spending budget
Experiencing a busy season or period of growth
Focused on lowering owning and operating costs
In need of an emergency replacement
Faced with a one-time job or short-term application
Click here to view our Full Product Line Brochure
Foley Rents Piscataway, NJ 888-417-6464
Foley Rents Bensalem, PA 215-244-3850
Long-Term Construction Equipment Rentals
While renting is the obvious choice for any short-term equipment need, many don't realize it can be worthwhile for extended periods of time, too. Rental costs show up differently on your company's balance sheet, allowing you to free up credit and capital resources that can be reallocated to hire new staff, purchase materials and more. If you're in the market for an extended Cat equipment rental near you, please contact Foley Rents for long-term rental details.
Why Rent?
Maintenance and transportation remain two of the largest day-to-day expenses when working with heavy equipment. Foley's daily, weekly and monthly rates include all normal repairs. Each unit is maintained and repaired in accordance with the manufacturer's recommendations by experienced factory-trained technicians. We also offer fully maintained rental contracts tailored to meet your company's needs.
If your team has been awarded a contract in the NJ, PA and DE areas, renting Cat heavy equipment from Foley can reduce costs associated with moving your equipment to the job site — contact our rental department for more information about transportation fees.
Try Before You Buy With Foley
Renting Cat construction equipment is an excellent way to test out a potential new addition to your fleet in real-world conditions before making a commitment. With Foley's try-before-you-buy program, we'll put a portion of your rental fees towards a down payment if you decide to purchase. If not, simply return your unit and let our staff help you find something better suited to your needs.
Construction Equipment Rental in PA, NJ, DE and Staten Island
Foley Rents stands among the most respected and established sources of rental equipment in Pennsylvania, New Jersey, Delaware, Staten Island and Bermuda. For your convenience, we provide multiple locations to rent throughout our territory that are fully equipped to meet your heavy equipment requirements. Visit our locations page to find Cat equipment rentals near you.
The Benefits of Cat Equipment Rentals
Construction and earthmoving equipment manufactured by Caterpillar offer advanced technologies and the durability to perform in the toughest jobsites and conditions. Our late-model Cat equipment rentals feature innovative and comfortable operator stations that reduce driver fatigue and distractions and improve precision performance and efficiency. Cat dozers, motor graders, telehandlers and other models offer easy-to-master operator controls and are compatible with a full range of Cat work tools and attachments for excellent versatility.
Additional benefits of renting equipment manufactured by Caterpillar include:
Powerful and fuel-efficient engines meeting most U.S. EPA requirements
Excellent visibility for a safer and more productive job site
Available onboard and remote equipment monitoring technologies
Service and support from your local authorized Cat dealer
Allied and Other Manufacturer Brands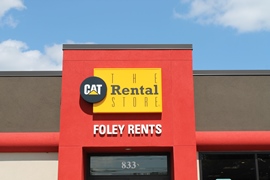 In addition to Cat equipment, we offer all types of allied products, such as air compressors, light towers, trenchers, wood chippers, heaters,  small compaction equipment and more. You'll find utility vehicles for moving people and materials around outdoor jobsites and industrial facilities and water trailers and trucks for commercial or governmental use. Whether you need a stump grinder equipment rental in Staten Island or lift truck rentals in DE, the units you're looking for are always just a call or click away.
Contact Foley Rents for More Information
If you're considering heavy equipment rental companies near your area, trust Foley for the right combination of quality, selection, value and service. We'll be happy to assist in analyzing your projects and requirements to identify the products that make the most sense for your business.
Contact our dedicated rental team for more information regarding our variety of rental solutions. Give us a call, submit an online contact form or visit us in person at the Foley Rents location in your area to reserve your construction equipment rentals in DE, PA, NJ and Staten Island.