Air Compressor Rentals From Foley Rents
Browse our inventory by clicking the link below or contact our head office to speak with a rental representative directly.
View Cat Rental Store Inventory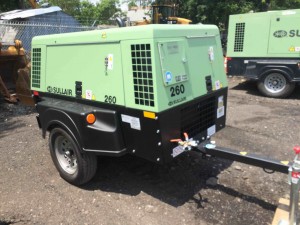 Having a powerful and reliable compressed air supply at your construction and work sites is critical. Without an air compressor, many of your tools can't function and your crews will fall behind schedule. Air compressors are hard-working pieces of equipment that require expert service and maintenance to ensure they fire up and run all day without problem.
At Foley Rents, we offer a range of rental air compressors that give you the flexibility and reliability you need. We take care of the service and maintenance of all of our rental equipment, meaning you don't have to waste your time. You simply take advantage of a durable, high-quality air compressor when you need it and return it to us when you're done.
Our Impressive Air Compressor Rental Inventory
Foley Rents is the go-to source to rent air compressors with a complete selection of top-quality equipment in stock and ready to perform. We carry models of equipment from leading manufacturers, like Sullair and Atlas Copco, that provide the productivity and versatility to tackle all different residential and commercial applications. When you choose one of our air compressor rentals in Staten Island, New Jersey or parts of Delaware and Pennsylvania, you can rest assured you're getting a compact and portable machine offering maneuverability, smooth operation and professional performance.
Our selection of air compressors for rent is an ideal solution for powering tools and processes in general construction, maintenance and many other industries. You'll find models in a range of sizes and PSI pressures to match your equipment to the tasks at hand. Our rental machines are all expertly maintained by experienced technicians and come available with a selection of air compressor work tools and attachments.
Various Types of Compressor Rentals in PA, NJ and Throughout Our Operating Territory
We feature towable air compressors for rent that offer the benefit of mobility. Tow them with your trucks to and from your jobsites, or use your UTVs to transport them around the site with ease. All units are in ready-to-use condition, which saves time and eliminates hassles. We feature diesel-powered models from Atlas and Sullair, notable brands that will deliver reliable, long-lasting performance.
Our air compressor rentals range from 185 to 1,127 CFM and PSI capabilities from 100 to 125. You'll find the perfect machine to meet your specific requirements. If you need something in a different size, configuration or capacity, just let us know, and we'll tap into our vast network to locate it for you quickly.
A Rental Air Compressor for All Situations
When you need a particular model or type of equipment, purchasing new or used isn't always the most efficient solution. An air compressor rental from a reliable source is a cost-effective way to increase the flexibility and versatility of your fleet. By renting, you eliminate the significant expense of buying your own machine while reducing maintenance and storage costs. We want to be your partner for all of your heavy-duty construction rental needs.
Having the choice to rent an air compressor is appealing in many situations including:
If you don't need an air compressor every day, purchasing one ties up your investment dollars, which is especially difficult for smaller companies with other investment needs.
If your current equipment breaks down, is being serviced or being used on other projects. A rental air compressor can be a lifesaver and is available whenever you need it.
If you don't usually require an air compressor but have a temporary use for one. This can be a big plus for your customers and can allow you to offer extra services you can't otherwise perform.
If you need emergency power at your work site or garage after a storm or power outage. Our reliable diesel-powered air compressors can run even when the power is out.
There are many situations where a rental air compressor can save the day. Purchasing equipment that you don't use on a regular basis can really cut into your profitability. Let Foley Rents help you meet your temporary or occasional needs for an air compressor.
The Advantages of Partnering With Foley Rents
With over 60 years of experience serving hard-working businesses throughout the region, we are the reliable source for air compressor rentals in NJ, PA, DE, Staten Island and Bermuda. As the only authorized Cat® dealer in the area, we offer the quality, service and advanced technical capabilities you've come to expect from one of the most respected names in the industry. From short and long-term rates to rent-to-own agreements, we offer solutions that fit your budget and your project requirements. We even provide a try-before-you-buy program that lets you experience an air compressor unit in action while putting a portion of your rent price toward a potential down payment.
Foley Rents offers additional benefits and features including:
Competitive prices and discounts available on some multi-unit and extended period rentals
Fully-maintained rentals to suit your particular requirements
Convenient in-store pickup with fast delivery options to your job site
We also understand the need to get an air compressor rental quickly. Our streamlined renting process will ensure you'll be able to keep your projects on schedule and within budget, which will give you an edge in today's highly competitive marketplace.
Dispelling the Myths About Renting Equipment
There are many misconceptions about compressor rentals and other types of equipment. For example, there's the belief that you can only rent older machines, which means they might not be reliable or productive. Some company owners also think they can only rent equipment for a longer term or that they won't get any service or support from the rental provider.
At Foley Rents, you won't experience any of these situations. We feature late-model, low-hour machines that are in peak operating condition. You can also choose the term that meets your requirements, whether you need a unit for a day, a week, a month or longer. And we'll always be there to provide prompt repair service for as long as the compressor rental is in your possession.
Air Compressor Rentals Near You
Having a rental equipment supplier near you is essential for ensuring you get the items you need quickly. PA, DE, NJ and Staten Island businesses are able to find the temporary equipment solutions they're searching for at our local Foley Rents locations. We provide multiple rental stores throughout our territory for your convenience. We have two stores in NJ, two in PA and one in DE that are ready to serve you. The staff at each location will do whatever it takes to make you a satisfied air compressor rental customer.
Whether you contact us online or stop by to see us in person, our knowledgeable team will help you find everything you require. We can also help you make the perfect match between the machine and the task at hand, whether you're looking for an air compressor rental for one of the following jobs or something else:
Sandblasting objects to prepare them for painting, powder coating or other finishing processes
Providing the power for cleaning equipment or surfaces with greater speed and efficiency
Powering pneumatic tools for removing and installing lug nuts or inflating tires in automotive shops
Visit our locations page to find the store nearest you.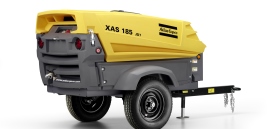 Rent Air Compressors in NJ, Staten Island, Eastern Pennsylvania, Northern Delaware and Staten Island
Check out our online listings to review our current inventory of air compressor rentals. We provide information on the make and model, compressor weight and maximum system air pressure so you can choose the model that best suits your application. If you don't see the units you are looking for, let us know, and we will help find a solution that fits your needs as well as your budget.
Rent All of Your Equipment From Foley Rents
Besides air compressors for rent, Foley Rents can provide a wide range of heavy equipment solutions. Because we're a Cat dealer, we can also offer a variety of hard-working Cat construction and earthmoving machines like bulldozers, excavators, compact track loaders, skid steers, backhoes and more. We can even meet your power generation needs with an assortment of natural gas and diesel generators for rent, as well as switchgear and automatic transfer switches. Other options include aerial lift equipment, machine attachments and much more.
Fill out our handy contact form for more info, or give us a call at (888) 417-6464. We'll get you the rental air compressor you need and let you get back to work with the performance and savings you want.