Construction Equipment For Sale
Having access to the industry's largest fleet of high-quality machines at the right price is what it takes to keep a project on time and budget. Foley, Inc. wants to help your business succeed every day – by ensuring you've got the right machine for the job, making parts readily available, giving you the work tools you need and providing expert service. When you're in the market for construction equipment for sale in New Jersey, eastern Pennsylvania, northern Delaware, and Staten Island, Foley carries a complete range of solutions to help your business succeed.
As the authorized dealer in the region, we offer the full line of Cat® construction products known for legendary power, performance and reliability. Our exclusive inventory of construction equipment manufactured by Caterpillar consists of over 300 machines that serve all industries. From compact machines like skid steers and mini excavators to heavy equipment like pavers or large wheel loaders, we have the largest selection in the industry.
Why Buy Cat® Construction Equipment?
There's peace of mind that comes with buying construction equipment built by the worldwide leader. Our complete selection of Cat construction equipment for sale features machines that are manufactured to deliver exceptional productivity with reduced downtime and maintenance expenses. Whether you work in commercial construction, agriculture, and farming, forestry, mining, road paving or any other rugged industry, you're sure to find equipment built to handle your specific applications.
With Cat construction equipment, you'll also benefit from: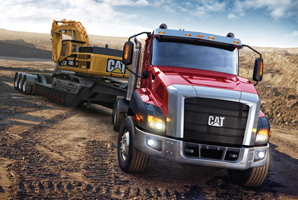 Eco-friendly engines and lower emissions to meet local regulations
Quick and easy maintenance with longer service intervals
Cutting-edge productivity and safety technology
Advanced equipment monitoring capabilities
Industry-leading support through your local Cat dealership
Our New Location in Monroe Township, NJ
Make sure to visit our new Used Equipment Sales Center location in Monroe, NJ!
For our clients looking to expand their fleet with used equipment, Foley, Inc. is proud to announce the opening of our brand-new location in Monroe Township, NJ. With close proximity to the New York Metropolitan Area, we invite business owners to stop by for all various model and manufacturer machines. Our Monroe Township location specializes in used offerings to make sure businesses like yours can get competitive pricing on genuine Cat machines.
Foley, Inc. understands that no two construction jobs are exactly the same, so we allow clients to see machines in person, assuring our equipment meets and exceeds performance expectations. Our used heavy equipment in Monroe Township makes it easy to take on new responsibilities thanks to our friendly staff members, who are happy to answer any questions. This new location opened in June 2020, so you now have a one-stop shop for used Cat sales with access to our latest additions even before they're added to our site.
Comprehensive Construction Equipment for Sale
In order to provide the best price point options for our NJ, PA and DE contractors, we have new, used, rent-to-own, lease and rental options available. Browse through the product line of construction equipment and let us know how we can help you today. Our experienced team will help you analyze your needs and identify the equipment that represents the most effective and cost-efficient fit.
Foley makes it easy to buy construction equipment by offering impressive selection and availability backed by customer service and product support dedicated to your complete satisfaction. From competitive prices on new and used machines to complete parts, services, and work tool attachments, you'll benefit from partnering with a local dealer with full-service capabilities.
For complete product specifications and to browse our current inventory, contact Foley to learn more about our Cat construction equipment for sale. Our knowledgeable and attentive representatives will be happy to answer all of your questions and provide a free, competitive quote.
New Construction Equipment
As a Cat dealer, we carry both new and used machines from across the legendary manufacturer's product lines. When it's time to expand your fleet, buying new is the best way to get the equipment you need and maximize your investment.
Today's Cat equipment is more advanced than ever, with precision engineering and innovative, integrated technology that delivers increased performance, improved efficiency and other critical benefits. A new Cat skid steer or excavator will provide years of reliable performance. At the end of your equipment's service life, the Certified Rebuild program gives you the option of returning it to like-new condition at a fraction of the cost of replacement.
These advantages make Cat a clear value leader in new construction equipment. When you're ready to buy, contact Foley for assistance. We know Cat construction equipment better than anyone in our region and we can help you find the best model for your needs.
Used Construction Equipment
When it comes to getting the job done on a budget, nothing beats used Cat construction equipment. Buying used gives you all the legendary reliability of Cat at a fraction of the cost of buying new. And because construction equipment depreciates most in the first few years after purchase, you'll still get a valuable asset that can be resold in the future if your needs change.
The key to buying used is to purchase from a dealer you can trust. That's where Foley comes in. We're not the only place to buy used construction equipment in NJ, PA or DE, but we're the only authorized Cat dealer serving those states.
Our factory-trained technicians inspect all used units and provide a detailed condition report. Most of our machines have low hours and all are in great condition for their age. As a result, you can shop with confidence at Foley, knowing there will be no surprises when the work begins.
Work Tools and Accessories
Whether you buy new or used, Cat work tools will help you get the most out of your investment and increase your productivity on the job. The company manufactures a comprehensive selection of buckets, augers, hammers and more — effectively allowing a single machine to do the work of many and reducing your transportation and maintenance costs as a result.
Work tools are only one of the ways Cat machines increase your productivity. Cat Connect technologies provide data-driven insights into your equipment and operations, remote condition monitoring and more. With Cat Connect enabled, you'll have the tools you need to maximize production, reduce costs or improve safety, right at your fingertips.
Financing and Warranty Support
Foley provides comprehensive support for new and used construction equipment sales. It starts with matching you with the right machine and the right financing plan, if necessary. Once you receive your purchase, we'll be around to provide ongoing support via preventative maintenance and field service.
Want to reduce your ownership costs and minimize uncertainty? Consider looking into one of our equipment management solutions. Contact a representative for more information.
Stop by one of our convenient locations near you today: