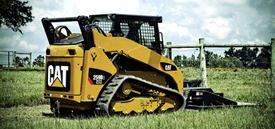 Skid Steers for Rent in New Jersey, Pennsylvania, Delaware and Staten Island
Browse our inventory by clicking the link below or contact our head office to speak with a rental representative directly.
View Cat Rental Store Inventory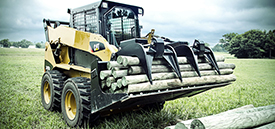 When it comes to earthmoving equipment that offers optimal versatility in a wide range of applications and underfoot conditions, nothing beats a skid steer loader. As the authorized Cat® dealer for the region, we provide direct access to a complete selection of skid steers for rent capable of helping you maximize productivity while reducing overall costs.
Whether you need a solution for general construction, road maintenance, governmental or many other industries, Foley Rents is the trusted source for skid steer loader rentals in NJ, Staten Island, DE and PA. From the 226D model with a C2.2 CRDI engine to the turbo-charged C3.8 DIT engine-powered 272D2 XHP, we'll help you find the skid steer for rent suited to your specific project requirements. Our team will work with yours to find the most affordable and efficient heavy equipment solutions to help grow your business.
Shop our selection of skid steers for rent online, and get in touch with us for more information. If you don't see the models you need, let us know, and we will help find a solution suited to your specifications.
Advantages of Cat Skid Steer Loader Rentals
Earthmoving equipment manufactured by Caterpillar® is known around the world for its quality construction and advanced technologies. When you rent a skid steer loader from us, you're getting a machine designed to provide the power, flexibility and efficiency you're looking for to perform in the most challenging tasks and conditions. We have a variety of different sizes, models and operating capacities available with a wide range of work tool attachments.
Our inventory of Cat skid steers for rent delivers the right combination of performance, safety and efficiency. Models are available in vertical and radical lift configurations and feature industry-leading operator comfort, electronically controlled, EPA-compliant engines and high-performance powertrains with high-flow hydraulic systems. From air ride seats and adjustable joystick controls to torque management and ride control features, we carry rental machines capable of helping operators of all skill levels work safer and smarter. You'll always find a complete selection of low-hour, late-model rental skid steers in stock and ready for delivery direct to your job site.
Why Rent a Skid Steer From Foley, Inc.?
Purchasing new or used equipment isn't always the best solution for growing businesses. When you choose a skid steer rental from Foley, you're able to utilize productive and reliable Cat equipment without compromising the budget. Our New Jersey, eastern Pennsylvania, northern Delaware and Staten Island skid steer rentals give businesses of all types and size the flexibility to take on bigger jobs and a more diverse range of applications. You only pay for the equipment you need when you have a use for it and also reduce the costs of storing, maintaining and transporting additional heavy equipment.
Our skid steers for rent make sense for businesses:
Replacing a piece of equipment undergoing repairs
Lacking the space to store a large permanent fleet
Expanding capabilities for the busy season
Cutting costs relating to maintenance and transportation
Tackling a unique job or one-time application
Renting Skid Steer Loaders From Foley Rents
It's our mission to make it as easy as possible to rent a skid steer loader in the northern half of NJ, Staten Island and Bermuda. We offer flexible daily, weekly, monthly and longer-term rates, along with the ability to switch out rental models based on your changing project requirements. From easy ordering and exceptional availability to live support, emergency service and an extensive selection of work tool attachments, we're the one-stop for all your needs.
When you choose us as your rental partner, you benefit from over 60 years of experience serving hard-working businesses across the region. We follow factory-recommended maintenance intervals and carefully inspect all of our skid steer loaders to ensure they're primed to perform in like-new condition. As a full-service Cat dealer, we provide a complete selection of products and services to help you get the most out of the machines you rent.
Additional benefits and features of renting skid steer loaders from us include:
Short term rentals by the day, week or longer based on your particular project specifications
Extended duration contracts for an economical way to expand capabilities without purchasing a new machine
Special deals and discounted rates on some orders of multiple pieces of equipment
Rent-to-own agreements and try-before-you-buy program
Comprehensive maintenance contracts covering all service and repairs of your rentals

Skid Steer Rentals in DE, PA, Staten Island and NJ
Whether you need a skid steer loader rental for a planned project or as an emergency replacement, it pays to have a reliable local source. Our dedicated team will quickly find the units you require as quickly as possible to get you back to work sooner. We offer multiple full-stocked locations to rent skid steer loaders throughout the area for your convenience. Visit our locations page for a complete list of rental stores and to find the Foley Rents nearest you.
Get in Touch to Rent a Skid Steer in New Jersey, Eastern PA, Northern DE or Staten Island
Skid steer rentals provide the reliable earthmoving machines you require to make progress possible. Whether you have a short or long-term need, Foley Rents delivers the flexibility to take advantage of every work opportunity that comes your way.
Contact us by phone, online or in person at our Piscataway, NJ location or the Foley Rents in your area for more information. We'll be happy to answer all your questions about our rental equipment and provide a free quote.