Hydraulic Excavator Rentals From Foley Rents
Instead of investing your precious capital in new equipment, consider choosing a quality excavator rental from Foley Rents.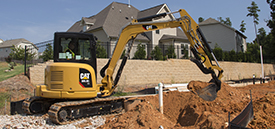 View Cat Rental Store Inventory
Proudly serving New Jersey, eastern Pennsylvania, northern Delaware and Staten Island
A hydraulic excavator is a welcome addition to most construction sites. When you have deep digging to do, the reach and power of a hydraulic excavator make quick work of your holes and trenches.
Choosing rental equipment gives you all of the performance and dependability of new equipment without the need for investment — especially appealing if you only need temporary or intermittent use of a hydraulic excavator. Browse our inventory by clicking the link below or contact our head office to speak with a rental representative directly.
Why Rent Through Foley Rents?
 We're proud to offer a great selection of rental hydraulic excavators here at Foley Rents We offer a variety of models with diverse performance and features to cover all different needs. To make your rental easier, our team:
Creates helpful online listings with details on the make and model of each hydraulic excavator. We include a picture as well as details on the power, weight, and dig depth so you can select the model or models that meet the requirements for your typical excavator needs.
Verifies, inspects and maintains every excavator in our inventory. We know that when you rent construction equipment, you're looking to put it to work right away. All service and maintenance items are taken care of before delivery or pick-up, meaning your excavator is ready to go.
Is ready to answer any questions you might have. Our friendly, knowledgeable team members are passionate about heavy-duty equipment and understand your need for reliable information on the history, options, and features of our rental excavators.
Let us help you find the quality rental hydraulic excavator you need to get the job done. You don't have to purchase to get a high-performance, dependable excavator. More and more customers are enjoying the value and savings of our rental lineup here at Foley Rents.
Check back often, as we're constantly adding excavators to our rental catalog. We do our best to provide the best mix possible of models, with a range of sizes, dig depth and engine power. Don't settle for just any hydraulic excavator — equip your company with the right performance characteristics and find out just how useful a rental excavator can be!
Whether you need a hydraulic excavator for a few days or an extended period, renting from Foley Rents gives you the best mix of choice, value, and affordability.