Portable Light Towers for Rent in New Jersey and the Surrounding Territories
Proudly serving New Jersey, eastern Pennsylvania, northern Delaware and Staten Island
Light towers are critical equipment for a broad range of local businesses and industries. Foley Rents provides access to a complete range of premium-quality industrial lighting solutions available on demand. Our experienced team will help you find the temporary lighting rentals you need that efficiently fit your project requirements. Browse our inventory by clicking the link below or contact our head office to speak with a rental representative directly.
View Cat Rental Store Inventory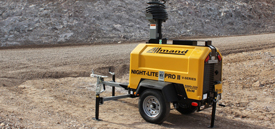 Light Tower Rentals From Foley Rents
At Foley Rents, we carry a wide range of rental light towers that are the perfect companion for any job site and will provide all the light you need, wherever you need it. Whether it's a construction site, a concert or an outdoor wedding, our trailer-mounted light towers offer superior portability, effortless performance, and exceptionally low operating costs.
Adequate lighting at your construction site is critical for the quality and safety of your work. When your crews are working in low-light conditions (at dusk, dawn or night, and in tunnels or other sheltered spaces) they need ample lighting from a reliable source. Our temporary lighting rentals are incredibly maneuverable even over soft terrain and bumpy ground for improved job site flexibility.
Portable light towers are also useful for a variety of other uses, such as outdoor events (including concerts, shows, and weddings), temporary traffic control situations and emergencies. Whether you're hosting a charity event or sporting contest or setting up a security checkpoint or central command, we have a temporary lighting solution that meets your needs efficiently.
How to Choose a Light Tower
When you're looking to add portable light to a work site or construction zone, there are several factors to consider:
Transportability: Available in different sizes, our light towers can be towed behind a vehicle for fast and easy transportation. The two-wheel construction and tongue jacks make maneuvering these light towers into position and installing them fast and easy.
Lighting performance: Choose your rental light tower according to the number and power of the individual lights. Most models include four bulbs for high intensity and a wide lighting pattern, and offer up to 5000 Watts of power for maximum lighting.
Distance and direction: The key to adequate lighting at your site or location is having the right height and orientation of your mast. Our rental light towers fold up for transportation and are easy to deploy so you can get the lights directed exactly where you need them.
Power source: We carry diesel-powered light towers, which allow for long running times and ease of refueling. Our well-maintained rental light towers have diesel engines that will offer reliable performance and economy.
Equipping your business with multiple light towers gives you the flexibility to light different areas or different locations. They're compact and can be transported and positioned with little effort. When you need temporary or occasional lighting, don't tie up your investment dollars in purchasing a light tower. Instead, opt for renting the equipment you need when you need it.
Genie Light Towers at a Glance
Foley rents the RL4000 light tower by Genie, a leading global manufacturer of light towers and a variety of other types of material handling and lift equipment. The RL4000 is a highly portable, diesel-powered unit designed to provide bright, reliable lighting in any situation. These powerful and efficient portable light towers are capable of illuminating seven and a half acres, while a center pointing lifting bracket and forklift pockets ensure smooth and stable transportation and use. Notable features of the RL4000 include:
Four metal halide lamps providing a total 4000 watts of illumination
An efficient 13.6 horsepower Kubota diesel engine delivering 60 hours of lighting on a single tank
30-foot height at full extension; 360-degree non-continuous power rotation
A compact design that makes it possible to move as many as 10 towers on a single truck, saving you time and transportation costs
71 dBa sound level at 23 feet, making the RL400 suitable for use in locations where noise bylaws are a concern
For more detailed specs about the RL4000, contact the Foley team today.
Why Rent Light Towers?
Portable light towers for rent are the ideal short-term solution for businesses and industries across the region. Our daily, weekly and monthly rates provide the flexibility for your business to take on more work and a broad range of applications without having to purchase new equipment. Portable field light rentals are ideal in situations where you have a unique, one-time task, have a sudden increase in demand or need an emergency replacement for a damaged tower. Foley Rents also offers a try-before-you-buy program that lets you see how a model performs on the job while putting a portion of your rental fees toward the purchase price.
If you have long-term light tower needs, renting may not seem like the best option compared to buying outright. However, renting offers a number of advantages, including freeing up capital and credit that can be used for other expenses. Renting also saves you money on storage, maintenance and upkeep costs, as all our light tower rentals come fully serviced and ready to go.
When you rent a light tower from New Jersey, Pennsylvania and Delaware's Foley, you can benefit from on-site installation support, 24-hour emergency assistance and a number of other value-added services. Find out more by speaking with a rental representative today.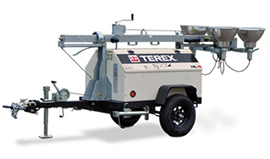 Portable Light Towers for Rent in Staten Island, NJ, PA and DE
Foley Rents is proud to provide multiple convenient locations for portable light tower rentals throughout our service territory. Whether you contact us online, on the phone or in person, you'll receive the same exceptional customer service and technical expertise that has helped us successfully serve our customers for nearly 60 years. All of our rental stores are fully equipped to meet your requirements fast and efficiently.
Partnering With Foley Rents
As a Cat® dealer, we offer state-of-the-art products and services including the most advanced technical capabilities in the industry. We are a total solutions provider offering a variety of short-term, long-term and rent-to-own agreements as well as all of the tools, attachments and related equipment needed to get the most out of your rentals. Additional advantages of choosing us for temporary lighting rentals include:
Full-service contracts for maintaining and repairing the products you rent
Massive inventory in stock serviced by factory-trained technicians
Simple and secure ordering with available on-site delivery, setup and training
Recognized dealer offering exceptional customer service and support
Contact Us to Reserve Your Light Tower Rentals
Don't let your business get caught in the dark when your local source for lighting solutions is just a call or click away.