Foley Rents is a full service authorized Towmaster dealer.
We have the ability to build you any trailer, plus we stock various models for your immediate needs. Whether its hauling a scissor lift or a 349,  we can get you in the trailer that fits your business. Contact us today and see why Towmaster Trailer has been a leader in the industry for over 40 years.
Explore some of the models we stock below. For specific information, please contact your Foley Rental Rep or give us a call at 888-417-6464.
T-9DT, T-10DT & T-12DT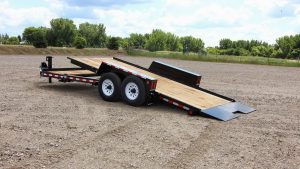 Towmaster's drop-deck tilt trailers are the most popular tilt- bed trailers on the market. There are no ramps to hassle with; simply tilt the deck and drive on or off. This trailer is built on our cold-formed I-beam tongue and main frame for tough durability. The tilt deck trailer features a single lever twin-latch system, long approach plate, rubber-ride axles and adjustable hitch. A deck cushion cylinder eases the deck back into transport position and prevents it from slamming onto the frame when loading.
T-14D, T-16D, T18D & T-20D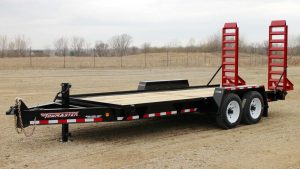 The Towmaster T-series large drop-deck trailer is designed for hauling mid-sized to large equipment. This model is built on a stout cold-formed I-beam tongue and main frame and features a 3-inch lip around the deck. The oak wood deck is supported by 3-inch I-beam crossmembers and Dexter Torflex rubber torsion axles provide a smooth tow. This trailer includes a bolt-on parking jack, LED lights, sealed wiring harness, pringassist ramps, and a solid bar ramp hold-up.