We want to thank you for being our valued customer.  Our goal is to provide astonishing customer service and Create Customer Experiences that Create Customers for Life.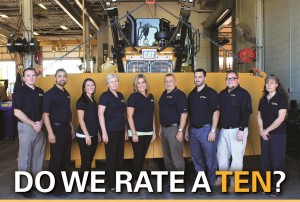 In order to make sure we are achieving this goal, we survey customers on the phone following their parts, service and rental transactions weekly.  We ask you to rate us from 1-10 on questions such as:
Overall how satisfied were you with Foley?
How likely are you to go to Foley for future work?
How likely would you be to recommend Foley to another person?
From our perspective, any score below a 9 is considered to be a failure on our commitment to provide astonishing customer service. When this occurs, a notification is triggered to the manager and we will reach out to you to discuss the issue and identify how, to the best of our ability, we can correct it or improve in the future.
We would love to hear from you! Please feel free to share your story, recognizing those at Foley who have provided the extra effort toward a great customer service experience.
Have to give "Joe" a big kudos! Nobody answers a call 5 minutes before they close. Joe did. Not only did Foley in Bensalem have the parts I needed, but were willing to drop them at the closest drop box. We realized a slight problem with that and we were able to pick up our prepaid parts through the night guard. I've been to places before where they don't go the extra mile. Joe did! You know the saying " your emergency is not mine?" Foley's employee took superior care of us.
Etr Reuter
Very much appreciate the follow up our company receives from Charles. His willingness to lend assistance with the projects we are working on for Foley customers is very refreshing in this industry today. He consistently keeps our company informed on the quotations we have submitted and insures we receive our purchase in short order once repairs approved by Foley customer.
Charles Dreese
Electric Motor & Supply
Scott provided me with some CAT engine information critical for my use in evaluating the model C176-16 genset against a competitor's model. His response was very timely and the information exactly met my need. I really appreciate this one to one level of technical assistance -- something not commonly provided anymore by many equipment manufacturer's in this age of "look it up on our website" response.
Hank Postrozny
CH2MHILL-JACOBS
We had some questions regarding our invoice and had the GREAT fortune of having Diane Rodriguez take are of us! Not only did she fully explain our questions, but also helped us to grasp how our billing cycles will run for the future. Not only is Diane excellent at what she does, but she also is a wonderful person to talk to, very friendly and efficient... a pleasure to do business with! Thank you for taking the time to read our comments, and thank you for caring enough about your customers to hire people like Diane Rodriguez!
Tammi & Glenn Huff
Precision Excavating, Inc.