Cat® Batteries—Greater Starting Power—Lower Maintenance— Longer Life
The reliability of your equipment begins with a reliable battery. With Cat batteries you will know that your equipment every time, even in the most adverse environments and extreme temperatures. We offer three different types of batteries that are manufactured to Caterpillar's high quality standards.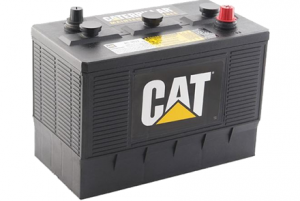 Cat Premium High Output (PHO) Batteries
Cat PHO batteries are used in all Caterpillar® Machines and Engine Gen-Sets. They are designed to meet stringent Caterpillar design specifications, which provide industry leading cold cranking amp (CCA) capability and maximum vibration resistance. Maintenance Free or low maintenance designs are available in wet and dry configurations.
General Service Line Batteries
Cat GSL batteries are available in Maintenance Free or low maintenance designs and in wet or dry configurations. Wide selections of BCI group sizes are available for automotive, light truck, bus, industrial, agricultural, marine, recreational and valve regulated (VRLA-AGM & Gel) applications.
Uninterruptible Power Supply (UPS) Batteries
Cat UPS batteries are designed to provide power instantly in order to protect your sensitive computer or manufacturing equipment against possible damage from surges or dips in voltage or current. Cat UPS batteries can also power essential hospital or mission critical loads during a power outage, assuring that you meet NFPA 110 standards. Do your "Best Business Practices" include installing Cat UPS batteries for your vital equipment?
More information on Cat battery specs, applications, accessories, part number, etc.