Cat® Hoses Build Right, Built Clean and Built Fast
When you need a replacement hose for any machine, give Foley Parts a call to get your part ready quickly. We're confident you'll find our quality, capabilities and speed to be superior to other hose shops.
Built Right
Building a quality hose assembly starts with quality hose products. We stock a large inventory of Cat hose products that exceed industry standards. Cat hoses feature superior materials, higher temperature tolerances and less liner swell than industry standard hoses. Through impulse and other testing, Cat hoses have been engineered to exceed industry requirements. And, we carry a wide variety of couplings, enabling us to build quality assemblies for all brands of mobile equipment.
Built Clean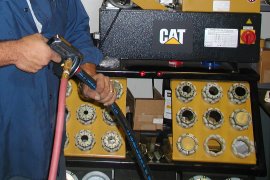 We also take every precaution to minimize the presence of harmful contaminants in your hydraulic system. We keep our bulk hose capped, and we cap each hose after it's built. And during assembly, we use an air-propelled foam projectile to remove newly-introduced contaminants—a service most hose shops don't provide.  Our broad line of Cat hose and couplings is also conveniently available. We can make assemblies so you can get your machines back up and running quickly and reliably.
Built Fast
Another advantage to using Cat hoses, is that we only need a single part number located on a metal tag on factory-installed hoses.  This number identifies all the needed components and build specifications. You can either call in this number to our parts department, or order it online via the Parts.Cat.Com, and we can have a replacement ready in no time.