Why buy a new truck when you can overhaul your Cat® Engine?
When it comes to the new versus overhaul decision, there's no one solution that applies to every company.  Foley continues to perform more and more overhauls on Cat engines each year, which raises our technicians' expertise to an even higher level.  This allows our service team to provide efficient diagnoses, the highest quality service and excellent turnaround time.
Cat® certified Engine Overhauls provide you "like new" engine performance without the price of a new engine.
Our Engine Overhauls:
Are Cat certified
Provide you with "like new" appearance and operation
Are performed by Cat certified technicians
Adhere to rigid Cat quality standards and specifications
Identify critical engineering updates
Use genuine Cat parts
Have a full Cat parts warranty
Offer extended warranty options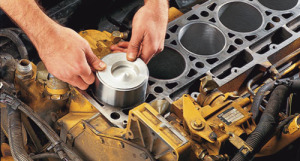 Precious Metals Overhaul Kits
For those fleet owners and owner/operators who want another million miles out of their engines, Foley also offers Cat's Precious Metals in-frame overhaul kits. An overhaul is a great way to get your Cat engine running as good as new.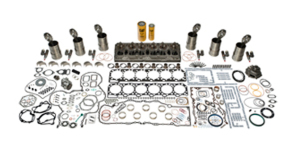 We offer four levels of truck engine overhauls:
GOLD LEVEL OVERHAUL
The Gold Level Overhaul Kit components are pictured in the included brochure. The Gold Kits come with 1 year ESC warranty – no injectors/turbo buy up options.
PLATINUM LEVEL OVERHAUL
The Platinum Level Overhaul Kit is also pictured in the brochure included. The Platinum Kit contains all the parts needed to perform the overhaul, including the injectors, oil pump & water pump. The Platinum Kit qualifies for FREE two year coast to coast OPT coverage. Additionally, replace the turbo(s) during the overhaul and you are eligible to take advantage of the 3+1 OPT Program to get up to 4 year coverage.
HEAVY DUTY & MEDIUM DUTY CAT REMAN ENGINE REPLACEMENT
Replace your worn Heavy Duty/Medium Duty Cat engine and receive an instant credit of $750.00 on your service invoice. Do It Yourself installations of Cat REMAN engines qualify for a post credit of $750.00. *A qualified core is a requirement for both options.