Foley Calendar Photo Contest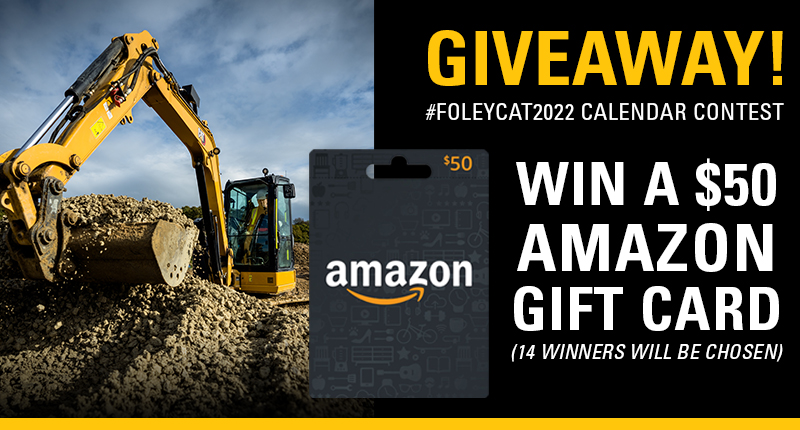 CALLING ALL PHOTOGRAPHERS!
It's that time of year again! We are looking for your best shots for the 2023 Foley Calendar. Do you have what it takes to make it? Enter your Cat® or Allied Equipment photo in the #FoleyCat2022 Calendar Contest to win! 14 Winners will be chosen. You may submit as many photos as you'd like, but there will only be 1 winning photo per person. See official rules below for more information.
HOW TO ENTER:
Email high resolution equipment photo to JennaRose Caruso, JCaruso@foleyinc.com

Photos must be taken HORIZONTALLY
Please include your full name, company name, address, email and contact number.

Upload photo to Facebook or Instagram
Use hashtag #FoleyCat2022
Submit entry by 9/12/22
The official rules of the #FoleyCat2022 Calendar Photo Contest:
ELIGIBILITY: The Contest is open to all Foley, Inc. customers and employees.
The Contest entry period ends September 12, 2022.
**TO ENTER:** Submit your digital photo(s) by emailing them to JennaRose Caruso, JCaruso@foleyinc.com. Include your full name, company name, address, email, and contact number. All information provided by contestants must be complete, true and correct. Contestants must also be willing to let us publish their name. All photographs must be high resolution and taken horizontally. Must upload photo to Facebook or Instagram and use the hashtag #Foley2022.
Entries must only contain Cat or Allied brand rental equipment, such as Genie, Wacker, Toro, etc.. Entries may not contain any people, animals, competitor equipment, profanity, violent images, or illegal materials. Entries containing any inappropriate material will be disqualified. All photos are subject to Foley Inc.'s discretion. Entries not meeting any of these requirements will not be qualified to enter the voting stage. By submitting photos, entrants are agreeing to allow Foley, Inc. to use those images for any marketing purposes (including outside of this contest).
**VOTING:** All eligible contest entries will be entered for voting. We will be choosing the best photos which represent our company as a whole. Winners will be notified via email on or about September 21, 2022. The inability to contact a winner may result in that winner's disqualification and the selection of a substitute winner from among all remaining eligible entries.
**PRIZES:** The top 14 entries will be have their photos featured in our 2023 Calendar. They will receive additional copies of the calendar along with a $50 Amazon gift card. Prizes will be awarded within sixty (60) days after winner verification. No prize substitution or transfer is permitted. Only one prize per winner.