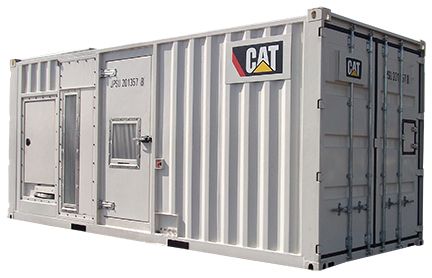 Cat® Microgrid Installation at Tucson Proving Ground Wins 2017 Commercial & Industrial Generation Award From Power Magazine
Cat® Microgrid Installation at Tucson Proving Ground Wins 2017 Commercial & Industrial Generation Award From Power Magazine
For Worldwide Release: August 25, 2017
Release Number: EEPR1117
PEORIA, ILL. – Caterpillar Inc. today announced that the microgrid installation at its Tucson Proving Ground won the inaugural Commercial & Industrial Generation award from POWER magazine.
For more than four decades, POWER magazine has annually awarded the top performers in power generation in a variety of categories. New this year, the Commercial & Industrial Generation category sought to recognize onsite, self-generation facilities that do not primarily sell into a wholesale market. As a part of the award win, the Tucson Proving Ground microgrid was featured in a three-page spread in POWER magazine.
"We added solar photovoltaic (PV) panels to the existing generator sets at Tucson Proving Ground in order to reduce our dependence on diesel fuel and align with Caterpillar's sustainability objectives," said Rob Schueffner, global microgrid sales manager for Caterpillar's Global Power Solutions Division. "Tucson Proving Ground successfully launched our microgrid solution to the global market and is a great example of a self-generation facility — as noted by POWER magazine."
Cat® microgrid solutions integrate environmentally friendly solar panels, state-of-the-art energy storage, and advanced monitoring and control systems with Caterpillar's traditional line of reliable power generation equipment, including Cat generator sets, switchgear, uninterruptible power supplies and automatic transfer switches.
Caterpillar is a leader in the power generation marketplace with power systems engineered to deliver unmatched durability, reliability and value. The company offers worldwide product support, with parts and service available globally through the Cat authorized service and dealer network. In addition, dealer service technicians are trained to service every aspect of Cat equipment.
For more information, visit www.cat.com/powergeneration or e-mail cat_power@cat.com. To interact with other power generation professionals in our online community, register at http://forums.cat.com/powerperspectives.
# # #
About Caterpillar
For 90 years, Caterpillar Inc. has been making sustainable progress possible and driving positive change on every continent.  Customers turn to Caterpillar to help them develop infrastructure, energy and natural resource assets.  With 2016 sales and revenues of $38.537 billion, Caterpillar is the world's leading manufacturer of construction and mining equipment, diesel and natural gas engines, industrial gas turbines and diesel-electric locomotives.  The company principally operates through its three product segments – Construction Industries, Resource Industries and Energy & Transportation – and also provides financing and related services through its Financial Products segment.  For more information, visit caterpillar.com. To connect with us on social media, visit caterpillar.com/social-media.
CAT, CATERPILLAR, BUILT FOR IT, their respective logos, "Caterpillar Yellow," the "Power Edge" trade dress as well as corporate and product identity used herein, are trademarks of Caterpillar and may not be used without permission.
©2017 Caterpillar
All Rights Reserved
Original article from Caterpillar.com. To view original article, click here.