Caterpillar to Enter Utility Vehicle Market
Caterpillar to Enter Utility Vehicle Market
For Release in North America: October 2017
Release Number: 548PR17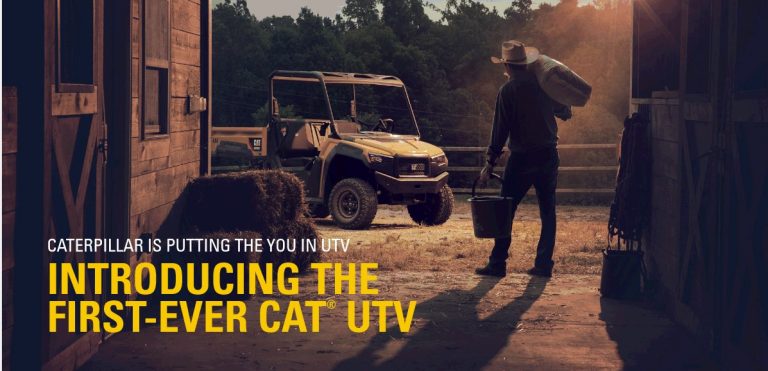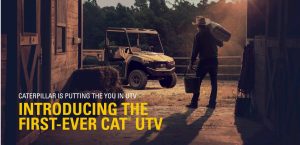 Caterpillar announces plans to enter the utility vehicle market. The company has entered into a manufacturing and supply agreement with Textron Specialized Vehicles Inc., and will offer UTV models sold through participating Cat® dealerships starting in 2018.
"We are excited about our introduction of the first-ever Cat UTV models.  We look forward to offering a vehicle specifically designed to serve the needs of our existing as well as new customers," says Steve Schoening, product manager. "Cat utility vehicles will offer exceptional performance and stability at full load, superior reliability, and a quiet, spacious operator environment."
The new Cat UTV models were developed in collaboration with Textron Specialized Vehicles Inc., a division of Textron Inc. Textron Specialized Vehicles Inc. (TSV) manufactures utility vehicles and equipment to serve numerous industries, marketed under a number of brands. TSV product lines include Cushman utility vehicles, Textron Off Road side-by-sides and ATVs, Arctic Cat snowmobiles, Jacobsen professional turf equipment, and E-Z-GO golf carts.
Featuring a rugged steel cargo bed, the new UTVs from Caterpillar reliably handle up to 1,000 lb (450 kg) of material and tools, and they offer 2,000-lb (900-kg) towing capacity. The UTVs also provide ample headroom and legroom for tall riders.
"Cat UTVs offer easy-to-access service points for maintenance, and customers can rely on the unmatched service and support offered by participating Cat dealers to keep their UTVs working at peak performance," adds Schoening.
Note to Editors: Caterpillar rolls out products and services in each of its territories at different time intervals. Although every effort is made to ensure that product information is released only after Caterpillar has received confirmation from our dealer network, our plants, and our marketing subsidiaries that products and services are available in the relevant region, editors are kindly requested to verify with their local dealer for product availability and specifications.
CAT, CATERPILLAR, their respective logos, "Caterpillar Yellow" and the "Power Edge" trade dress, as well as corporate and product identity used herein, are trademarks of Caterpillar and may not be used without permission.
©2017 Caterpillar All Rights Reserved