Caterpillar Introduces New Line of Cat® Portable Generators in US & Canada
Caterpillar Introduces New Line of Cat® Portable Generators in US & Canada
For Release in North America: October 2016
Release Number: 504PR16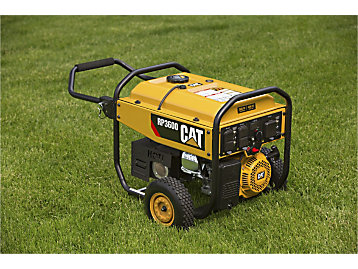 Caterpillar is expanding into the home and outdoor power category with the introduction of the Cat® RP Series of portable generators. The RP Series is designed to provide reliable, convenient power for both professional contractors and retail consumers. The North America product launch includes four standard models, ranging from 3.6 to 7.5 kW as well as California-specific variations.
The RP Series is now available in the US and Canada via a select number of regional and local retailers and traditional Cat dealers that are part of the new Home & Outdoor Power sales and service network.
Caterpillar engineering teams based in Illinois and Northern Ireland designed the new portable generators guided by extensive testing of competing generators as well as research to identify the design and usability features that customers value the most. The resulting generators include premium features ideally suited for landscape contractors—who often require portable power for landscape maintenance and construction, snow removal and storm response.
Easy to use, rugged and safe
The RP Series generators are easy to use. Everything needed to operate the generator is easily accessible in one convenient, lighted control panel. A multi-function display enables users to toggle between lifetime running hours, session running hours, power output and run time to easily monitor generator performance and to determine when it's time to re-fuel or service the unit. To power multiple devices, the RP5500, RP6500 E and RP7500 E have multiple outlets, both 120V and 240V.
Two models of the RP Series are available with a lithium ion battery-start option. The battery delivers three-times longer life than the standard battery provided in competitive models. The RP Series generators also feature a compact design—up to 4 inches shorter than comparable competitive models—and a low center of gravity to reduce tipping. The design makes maneuvering easier, even on hills and uneven ground, and the generators take up less space in truck beds and storage locations.
The Cat portable generators are built for reliability and durability. The solid steel frame and enclosed roll cage protect generator components from damage. Bundled wires are tucked away in the frame, ensuring wires won't snag or pull loose when moving in and out of storage and vehicles. Solid, never-flat wheels eliminate punctures on job sites. The generators also feature automatic shutdown when oil levels drop too low to protect the generator from damage.
The RP Series make best use of safety systems to help protect people and machines. GFCI protection, covered outlets and circuit breaker protect against electric shock and generator overload. Automatic voltage regulation (AVR) generates clean power that won't damage delicate tools or appliances. And an extra-large fuel tank runs a generator for as long as 17 hours (varies by model and load). A recessed fuel well catches drips to prevent fuel spillage on the floor or hot engine.
Caterpillar is expanding the home and outdoor power portfolio and anticipates additional product launches in 2017. For more information on the new generator line, including where to buy, visit: http://www.cat.com/homeandoutdoorpower
   # # #
CAT, CATERPILLAR, their respective logos, "Caterpillar Yellow" and the "Power Edge" trade dress, as well as corporate and product identity used herein, are trademarks of Caterpillar and may not be used without permission.
©2016 Caterpillar All Rights Reserved 
Article courtesy of Cat.com
View original article here