Caterpillar Sponsors OCEARCH, Performing Global Shark Research on the Ocean
Caterpillar Sponsors OCEARCH, Performing Global Shark Research on the Ocean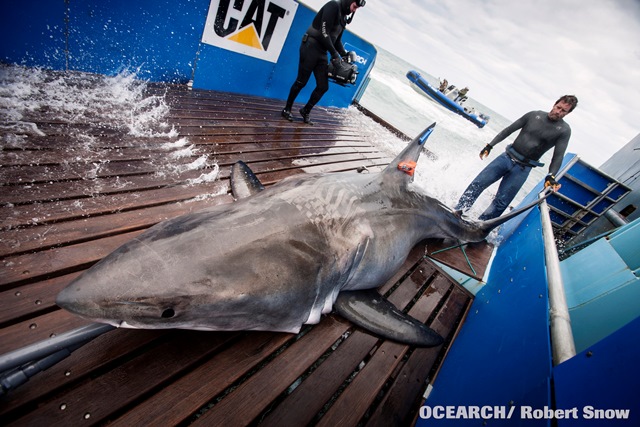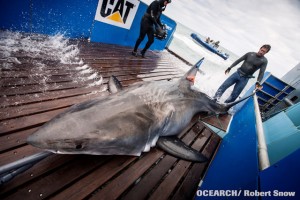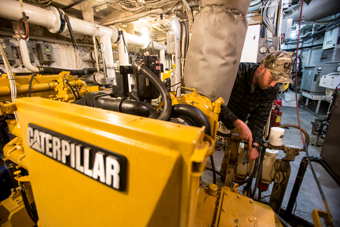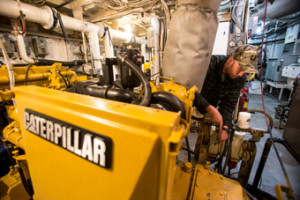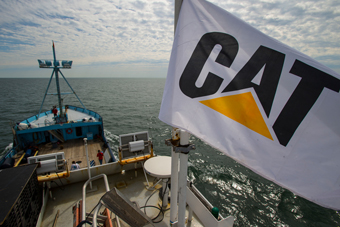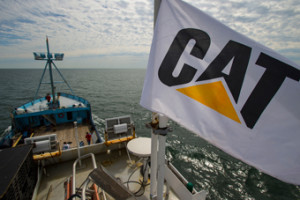 Earlier this year, Caterpillar and OCEARCH agreed to a multi-year partnership to help propel the OCEARCH organization's global research on sharks. OCEARCH has led 16 expeditions to safely research the breeding, feeding, migration and birthing patterns of these ocean creatures.
"Most people think sharks are invincible," said OCEARCH founder Chris Fischer. "But they are in real danger*. We must find a sustainable path forward because sharks play a crucial role in maintaining balance in the delicate oceanic ecosystem. Now, thanks to the generous sponsorship of Caterpillar, we can continue our critical research expeditions that generate the data needed to inform policy makers, students and the general public on this issue."
Fischer's vessel, the MV OCEARCH, already relies on Cat® power in the water. The boat with its team of scientists and crew runs on two Cat engines and has three Cat generators on board that power an at-sea laboratory, custom-built hydraulic lift and 55,000-pound capacity research platform with the capability of handling 5,000-pound sharks.
"OCEARCH's significant work is advancing our knowledge and sustaining the waters that are so vital to people and economies around the world," said Tom Frake, Caterpillar vice president with responsibility for the Marine and Petroleum Power Division. "The fact he's a loyal Cat customer is an added bonus. We're proud to associate our two brands, which share common values, high levels of success and a commitment to sustainability."
Because OCEARCH's work occurs in waters around the globe, Fischer understands and depends on the unmatched support of Caterpillar's network of dealers.
"Seconds matter in our research," said Fischer. "The last thing you want is your power supply to fail when you're trying to tag a two-ton great white shark on the hydraulic lift. If we need a part, I know a call to the local Cat dealer will be answered quickly, and we'll be back in business. The dependability of Cat equipment along with their global dealer network makes them the ultimate global enabler for our research, and we are proud to call them a partner."
"Chris doesn't have to be shown the benefit Caterpillar's business model can bring to his operation—he intrinsically understands the value because he's lived it for years," said Caterpillar Global Brand Marketing Manager Diane Lantz-Rickard. "He believes in our products and support; we believe in the work he's doing for our planet. It's a satisfying match."
OCEARCH embarked on its first Caterpillar-funded expedition on February 23, 2013. After leaving Jacksonville, Florida they spent 20 days at sea conducting critical research on great white sharks with leading researchers such as Dr. Greg Skomal of the State of Massachusetts and Dr. Robert Hueter of Mote Marine Laboratory in Sarasota, Florida.
*The International Union for Conservation of Nature (IUCN) has determined that of the shark and ray species assessed, 30 percent are threatened or near-threatened with extinction.
During the Jacksonville mission, OCEARCH tagged and released Lydia: a 14 ft. 6 in. mature female Great White Shark weighing 2,000 lbs. Lydia was named after the founder of Bradley University, a long-time friend of Caterpillar.
About OCEARCH
OCEARCH is a non-profit organization with a global reach for unprecedented research on the ocean's giants, supporting leading researchers and institutions seeking to attain groundbreaking data on the biology and health of sharks, in conjunction with research on shark life history and migration. The researchers OCEARCH supports work aboard the MV OCEARCH, a 126' vessel equipped with a custom 55,000 hydraulic lift and research platform, which serves as both mothership and at-sea laboratory. In addition to enabling unprecedented research at sea, Caterpillar's support of the OCEARCH vessel and team enables generation of data that is required to complete critical studies as well as educating students and the public through the Global Shark Tracker. More information can be found at www.ocearch.org, including access to the Global Shark Tracker.