Caterpillar Unveils First Hybrid Excavator
Caterpillar Unveils First Hybrid Excavator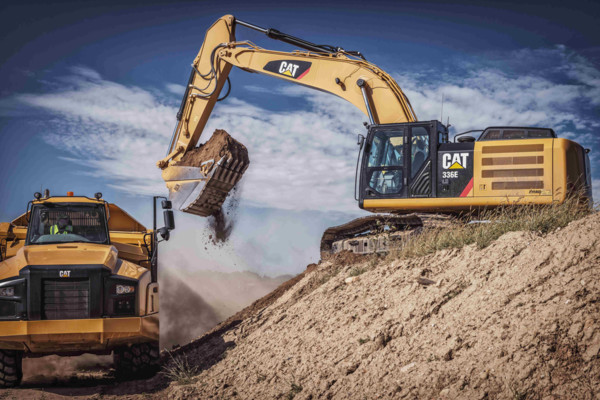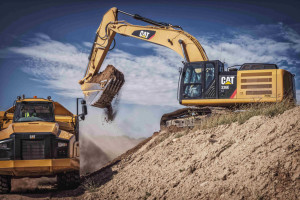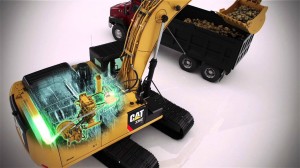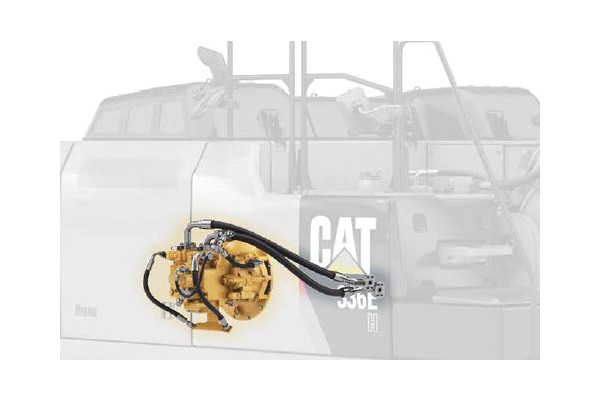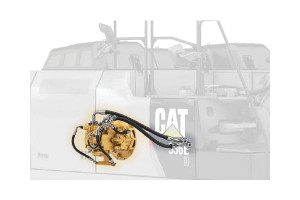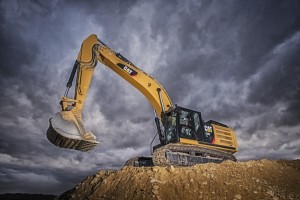 The Cat 336E H excavator centers on an innovative, fuel-saving "hydraulic hybrid" system that captures and reuses energy. Greater fuel efficiency is the net result—as much as 50 percent greater than the 336D. The benefits include lower fuel costs, reduced exhaust emissions and a smaller carbon footprint—all without any compromise in production, reliability, durability or operability in all applications.
The 336E H was unveiled in October 2012, and its order board opened this February with factory shipments beginning in March. According to Ken Gray, global product manager for large hydraulic excavators for Caterpillar's Excavation Division, customers have shown tremendous enthusiasm for the 336E H since the day it was unveiled. "Customer interest has been off the charts," Gray said. "They're not only reaching out to Cat dealers to learn more about the 336E H, they are placing orders. In fact, we received our first signed orders October 17th, the day after the reveal."
Gray also said customers want to know about Caterpillar's plans for expanding hybrid technology to additional excavators. "We're getting a lot of questions about what other models will be available as a hybrid, and when," said Gray. "While I will not divulge our full hybrid strategy, I will say we will have two additional hydraulic hybrid models, the 336F H and 336D H, on the way."
Both the 336F H and 336D H models will have the same hybrid Cat Electronic Standardized Programmable (ESP) pump as the 336E H. The 336F H will feature a Cat C9.3 ACERT™ engine that meets Tier 4 Final/Stage IV emissions standards; the 336D H will feature a Cat C9 ACERT engine designed to meet the needs of customers in those countries with emissions standards different than Tier 4 Final/Stage IV. "We have active development programs for the machines which will follow those two," Gray said. "And we will continue to add appropriate hybrid technology to models where it adds value for customers—where it lowers owning and operating costs to help their businesses succeed. Our objective is to ensure our customers make more money with Cat products than they can with others."
336E H Reduces Owning and Operating (O&O) Costs
According to Gray, no other commercially available technology has higher power density than hydraulics, and that's why Caterpillar selected a hydraulic solution to help its customers achieve substantial fuel savings. "We leveraged our standard Cat hydraulic components to take advantage of economies of scale across our product line, which in turn significantly reduces the cost for our customers to own the 336E H.
Plus they sacrifice nothing in terms of reliability, performance, power, force, speed or production," said Gray. "And it is surprisingly quiet."
336E H Technology Building Blocks
To achieve fuel savings, the design of the 336E H is relatively straightforward, using three building block technologies: 1) Conserve fuel with engine power management via the Cat Electronic Standardized Programmable (ESP) pump, 2) Optimize performance using restriction management via the patented Cat Adaptive Control System (ACS) valve and 3) Reuse energy via the hydraulic hybrid swing, which captures the excavator's upper structure swing brake energy in accumulators and then releases the energy during swing acceleration.
More on the Innovative ACS Valve
Unlike any other control on the market today, Caterpillar's patented ACS intelligently manages the restrictions and flows in the system. As the "brain" of the hydraulic hybrid system, ACS is comprised of an extensive set of algorithms to seamlessly control implement motion with no loss of power. Due to ACS and the system integration with the ESP pump and hybrid system, operators experience no difference in control, hydraulic power or lift capacity.
The independent metering valves of ACS can independently manage inflow and outflow restrictions to and from each circuit of the machine to maximize performance. This restriction management system means no extra valves are needed for in-cylinder flow regeneration of boom, stick and bucket, and it eliminates the fine swing control valve but maintains this functionality. Because it's integrated with the hybrid swing system, it allows transparent, smooth operation for higher productivity from operators. In addition, the warm-up control of ACS automatically warms the hydraulic oil and valve system in cold weather for improved performance and longer component life, which also helps reduce customers' owning and operating costs.
Fuel Savings and Return on Hybrid Investment
Customers can expect the 336E H to use up to 25 percent less fuel compared to a standard 336E and up to a 50 percent improvement in fuel efficiency compared to a 336D in a wide variety of operating conditions. All three of the technology building blocks, 1) Conserve, 2) Optimize and 3) Reuse, are integrated together to maximize fuel savings in a variety of applications. Precisely when customers will recoup their initial investment in a 336E H depends on fuel prices, a customer's specific application and the number of hours the machine operates in a year. Assuming today's fuel prices and a production application for a 336E H, Caterpillar estimates customers can realistically expect to see a return on their investment for the hybrid excavator model in as little as one year, with 18 months as typical.
Testing and Validation
Caterpillar has been conducting stringent testing to validate fuel burn, controllability, reliability and performance of the 336E H and its technology building blocks. Field-proven, durable Cat hydraulic components served as the foundation for the machine's innovative design.
"We have tested these machines extensively, following the same processes that have produced the most reliable Tier 4 excavators in our industry," Gray said. "We have run our normal, stringent durability testing at a machine level and put the machines through our customary millions of lab cycles to validate components and systems, including extreme vibration and temperature conditions." Gray added that the 336E H has been meeting or exceeding all performance expectations, including the heightened expectations of customers who rely on their Cat excavators for high production.
Randy Peterson, advanced technology development manager for implement & steering systems, said, "Essentially, we threw every challenge we could think of at this machine to ensure its reliability for our customers, and customers have responded with very positive comments. Customer operators are reporting how reliable, fast, responsive and powerful the machines are. They're also telling us that they're amazed at how quietly the machines operate."
Peterson also said the results from 336E H machines running at customer locations in California are "more than impressive." The customers are using the machines in a variety of applications like trenching, truck loading, contouring and heavy lifting. He said, "These machines have been running for more than nine months, and the fuel efficiency they're achieving is nothing short of remarkable." According to Peterson, fuel savings over the customers' current, non-hybrid machines in the same size class is 20 to 35 percent with improved productivity. The customers are also complimentary of the control and responsiveness of the hybrid machine.
At its Peoria Proving Grounds, Caterpillar tested the 336E H in 90° and 180° same-level truck loading, trenching and bench loading. The tests proved that regardless of applications, customers can expect to use up to 25 percent less fuel compared to a standard 336E and up to a 50 percent improvement in fuel efficiency compared to a 336D. This result is a testament to the three building block technologies working together to save fuel—even when swing energy is low.
Engine, Fuel and Undercarriage
The 336E H uses the Cat C9.3 ACERT engine, which is designed to operate efficiently on ultra-low-sulfur diesel fuel or a B20 bio fuel blend. Generous hydraulic flow in the implement circuits and a high main relief pressure generate high hydraulic horsepower. This means the 336E H can handle buckets as large as 3.33 cubic yards (2.55 m3), as well as a variety of work tools from shears and multi-processors to hydraulic breakers and rippers.
The heavy-duty extended-length undercarriage of the 336E H and its 5.4-ton (4.9-m) counterweight combine to form an exceptionally strong work platform for digging, lifting and attachment use. And the heavy-duty reach boom can be paired with either a 10.5-foot (3.2-m) stick or a 12.8-foot (3.9-m) stick.
Additional Features
The 336E H provides a quiet, comfortable operator environment, which ultimately results in higher operator productivity. Air suspension and heated seats are available, joystick controls are adjustable to suit operator preferences, including monitor-selectable pattern changing. The machine also has an automatic climate-control system to continually maintain a comfortable environment.
The 336E H is designed for ease of serviceability, with features like ground-level access to major maintenance points, electric fuel system priming pump, remote fuel tank drain to evacuate water and sediment, and a fuel level indicator to help avoid overfilling. Among its many safety features, the 336E H includes a cab-integrated roll-over-protection structure (ROPS), anti-skid surfaces, programmable halogen lights, upper and lower windows that store easily, a large skylight and rearview camera system.
336E H Hydraulic Excavator Specifications
For more information:
Call: 732-885-3000
Email: info@foleyinc.com
336E H Hydraulic Excavator Specifications
Operating weight, max.

82,000 lb. (37 200 kg)
Rated power, net (SAE)

308 hp (230 kW)
Max. dig depth, std.

24 ft. 7 in. (7 490 mm)
Max. dig depth, long

26 ft. 10 in. (8 190 mm)
Hyd. flow, max.

150 gpm (570 L/min.)
Hyd. pressure, main

5,076 psi (35 000 kPa)
Max. pressure

5,366 psi (37 000 kPa)