910 Compact Wheel Loader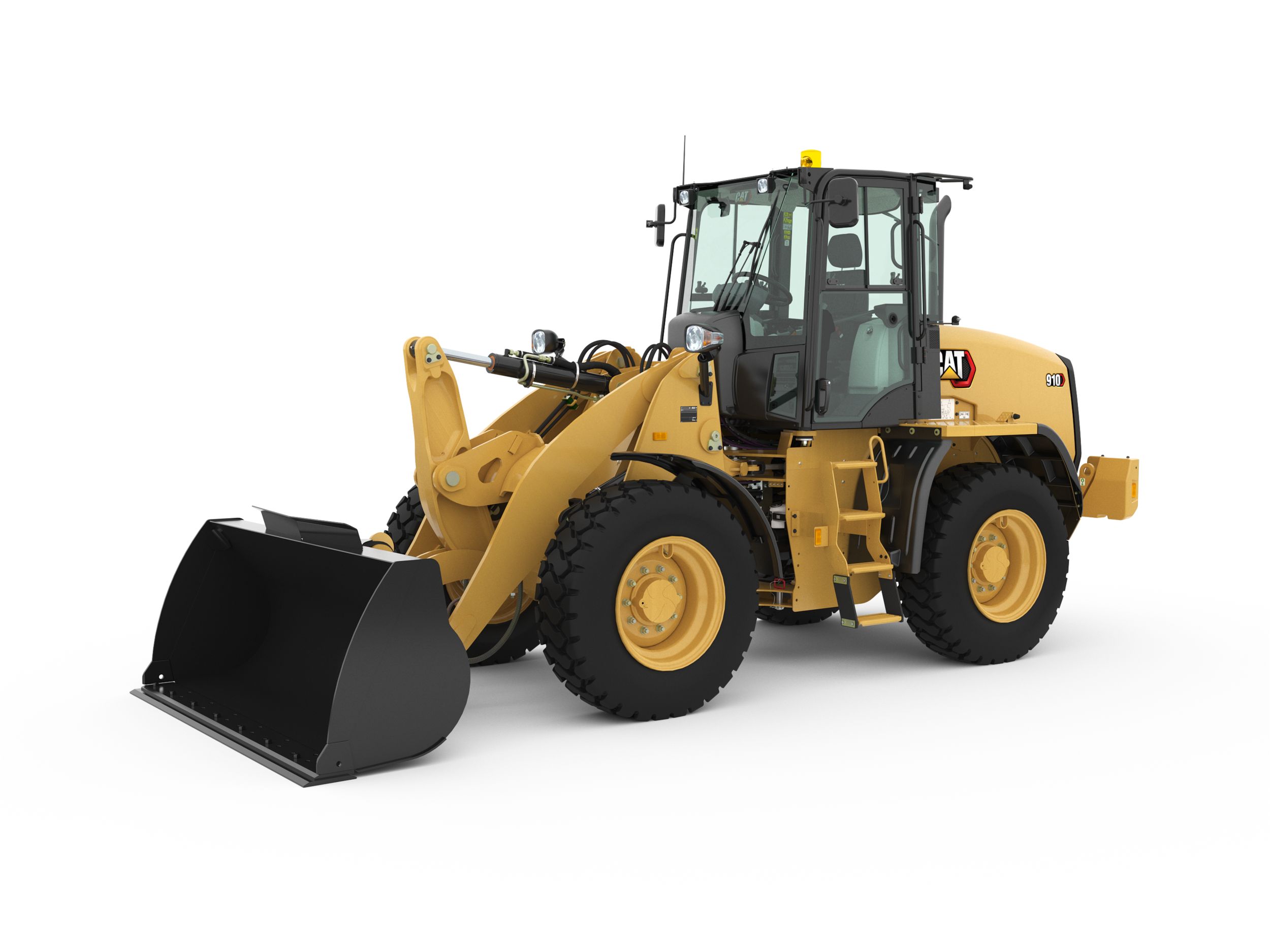 Rated Net Power

2200 r/min

Maximum Gross Power

1800 r/min

Rated Net Power

99 HP

Maximum Gross Power

112 HP
Rated Net Power

2200 r/min

Maximum Gross Power

1800 r/min

Rated Net Power

99 HP

Maximum Gross Power

112 HP

Rated Net Power

98 HP

Maximum Gross Torque

335 ft·lbf

Maximum Gross Torque

332 ft·lbf

Maximum Net Torque

329 ft·lbf

Maximum Net Torque

327 ft·lbf

Displacement

220 in³

Bore

3.85 in

Stroke

4.72 in

Engine Model

Cat C3.6

Emissions

Engine meets Tier 4 Final/Stage V emission standards.

Note

Net power advertised is the power available at the flywheel plus front drive implement pump when the engine is equipped with fan, air cleaner, muffler and alternator.

Maximum Gross Power

2350 r/min

Maximum Gross Power

111 HP

Rated Net Power

99 HP

Maximum Gross Power

110 HP

Maximum Gross Power

111 HP

Maximum Gross Power

110 HP
Bucket Capacities

1.3-3.5 m3 (1.7-4.6 yd3)

Bucket Capacities

1.3-1.9 m³ (1.7-2.5 yd³)

Bucket Capacities

2.5-3.5 m³ (3.3-4.6 yd³)
Operating Weight

18102 lb
Maximum Working Pressure

2683 psi

Steering Articulation Angle

40 °

Steering Cycle Times

3.2 s

Maximum Flow

17 gal/min

Number of Steering Wheel Turns

3.75 turns
Hydraulic Cycle Time

1.4 s

Hydraulic Cycle Time

12.5 s

Maximum Working Pressure

3408 psi

Relief Pressure

4931 psi

Hydraulic Cycle Time

2.2 s

Relief Pressure

3046 psi

Hydraulic Cycle Time

5.2 s

Maximum Flow

32 gal/min

Relief Pressure

3046 psi

Maximum Flow

24 gal/min

Maximum Flow

24 gal/min

Hydraulic Cycle Time

3.7 s
Service Refill Capacities
Cooling System

5.7 gal (US)

Fuel Tank

43.6 gal (US)

Hydraulic System

25.9 gal (US)

Hydraulic Tank

14.5 gal (US)

Transmission

0.8 gal (US)

Note

DEF used in Cat SCR systems must meet the requirements outlined in the International Organization for Standardization (ISO) standard 22241-1.

Axles

2 gal (US)

Axles

2 gal (US)

Engine Crankcase

2.6 gal (US)

Diesel Exhaust Fluid

4.8 gal (US)
Note

*Creeper Control allows speed control from a stand still up to 10 km/h (6.3 mph). The Creeper Control will only work in Range 1.

Forward and Reverse

25 mile/h

Forward and Reverse

12.5 mile/h

Forward and Reverse

6.3 mile/h
Note

In certain applications, the loader's productive capabilities may exceed the tire's tonnes-km/h (ton-mph) capabilities.

Standard Size

15.5 R25 L2 XTLA

Other Choices Include

17.5 R25 L2 XTLA; 15.5 R25 L3 XHA2; 17.5 R25 L3 XHA2; 17.5-25 L2/L3 SGL; 17.5-25 L3 HRL D/L-3A; 17.5 R25 L2 Snow

Note

Caterpillar recommends that you consult a tire supplier to evaluate all conditions before selecting a tire model.

Note

Other tire choices are available. Contact your Cat dealer for details.
ROPS

ISO 3471:2008

FOPS

ISO 3449:2005

Note

The declared dynamic operator sound pressure levels per ISO 6396:2008*, when the cab is properly installed and maintained, is 77 dB(A).

Note

The labelled sound power level for the CE marked configurations when measured according to the test procedure and conditions specified in 2000/14/EC (as amended by 2005/88/EC) is 103 dB(A).

Note

Cab and Rollover Protective Structures (ROPS) are standard in North America and Europe.

Note

*The measurements were conducted with the cab doors and windows closed.
Front

Fixed; Locking differential (standard)

Rear

Oscillating ±11 degrees; Locking differential (Standard)
Recyclability

95%