YOU CAN'T FAKE CAT QUALITY
No matter when or where Cat® Filters are purchased they have the same consistent high quality. Because Cat Filters are made better, they provide consistent performance to protect your engine, drive train, and hydraulic systems. While other brands may fit, Cat Filters offer the superior quality and protection you need to maximize your engine and other component system's life.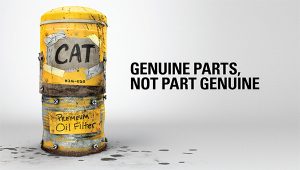 ALL FILTERS ARE NOT THE SAME, CAT FILTERS HAVE:
• Acrylic beads to prevent pleat bunching
• Spiral roving for greater pleat stability
• A nylon center tube to prevent metal contamination
• Molded end caps to prevent leaks
THE DIFFERENCE IS CLEAR – CAT®FILTERS ARE BUILT BETTER
When you look inside a genuine Cat filter the difference from other brand name filters is obvious. Our advanced design features maximum filtration efficiency and protection so you get the most out of your machine. Our filters are specifically designed, without compromise, to provide consistent performance quality to protect your Cat machine and improve your bottom line. Replacing your "off brand filter" with a genuine Cat Filter is easy.
View or purchase filters online 24/7, or contact Foley with any questions on how to purchase the right Cat filter for your equipment.