When you look at the many filter options on the market, you'll find that you can't imitate Cat® quality. Cat filters provide excellence consistently, no matter when or where they are purchased. Since Cat filters are better, they provide top performance to protect your hydraulic systems, drive train and engine.
Our advanced design has maximum protection and filtration efficiency, so you get the best performance out of your machine. Cat filters will improve your bottom line and protect your machine without compromise.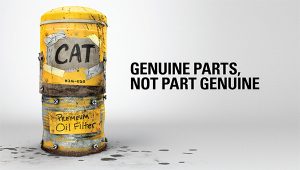 Cat filters have:
A nylon center tube for preventing metal contamination.
Acrylic beads for preventing pleat bunching.
Molded end caps for leak prevention.
Spiral roving for better pleat stability.
Our Cat Filters for Sale
Foley, Inc. has a wide selection of filters available from Caterpillar®, including:
Oil Filters
Cat engine filters protect the machine's engine from contaminants that can compromise performance. They'll help keep your motor and oil supply clean between your service appointments to decrease downtime. We have three Caterpillar engine filter options:
Standard efficiency: Provides reliable filtration for Cat equipment.
Advanced high efficiency: Has higher contamination control and holding capacity to meet emissions requirements.
Ultra high efficiency (UHE): The best contamination control across applications. It is also an exceptional clean-out filter after service work.
Fuel Filters
Fuel filters prevent oil clogging while keeping out dust, rust, dirt and other small debris other brands of fuel filters leave behind. A quality Cat fuel filter will enhance fuel flow and protect engine components so the machine can offer great performance. Foley, Inc. has many fuel filter options in our supply:
Standard efficiency: Offers normal filtration for your equipment.
Advanced high efficiency: Provides the best performance and fuel economy for diesel engines, offering the capability to remove particles as small as four microns.
Fuel water separators: Removes all free water and most emulsified water to prevent rust buildup in system components like the fuel tank and lines. These filters will also extend the life of your fuel filters and injectors.
Coolant conditioner filters: Prevents damage like erosion, cavitation and corrosion in your fuel components.
Air Filters
Our OEM air filters protect critical engine parts and operator health. Contaminants and airborne irritants can affect the well-being of your machinery, and Cat air filters will mitigate this risk while boosting engine life and equipment performance.
Foley, Inc. has two air filter efficiency options for engines:
Standard efficiency: Filters contaminants for normal duty applications.
UHE: Offers a higher level of filtration for intense work.
We also carry multiple filter efficiency choices for the cabin:
Standard efficiency: Prevents contaminants from entering the cab during normal duty work.
High efficiency: Offers a higher capacity for dusty applications.
Activated carbon: Has a fast absorption rate for odorous environments.
Lower restriction: Maintains standard filtering performance while allowing more air into the cab when there is poor environmental airflow.
Hydraulic and Transmission Filters
Cat filters for the hydraulic and transmission systems will ensure cleanliness while protecting vital components. Our filter options include:
Standard efficiency: Offers normal filtration for general applications.
Advanced high efficiency: Prevents new contaminants from entering the system during maintenance and protects against wear.
UHE: Removes the smallest particles for optimal contamination control.
Fire-resistant UHE: Has the same qualities of UHE filters with media that stands up to fire-resistant hydraulic fluid.
Contact Foley, Inc. About Our Cat Filters for Sale
Foley, Inc. has all of the equipment filters you need. View or purchase filters online 24/7 or contact Foley, Inc. with any questions on how to buy the right Cat filter for your equipment.