Equipment Guide for Landscaping Businesses
Equipment Guide for Landscaping Businesses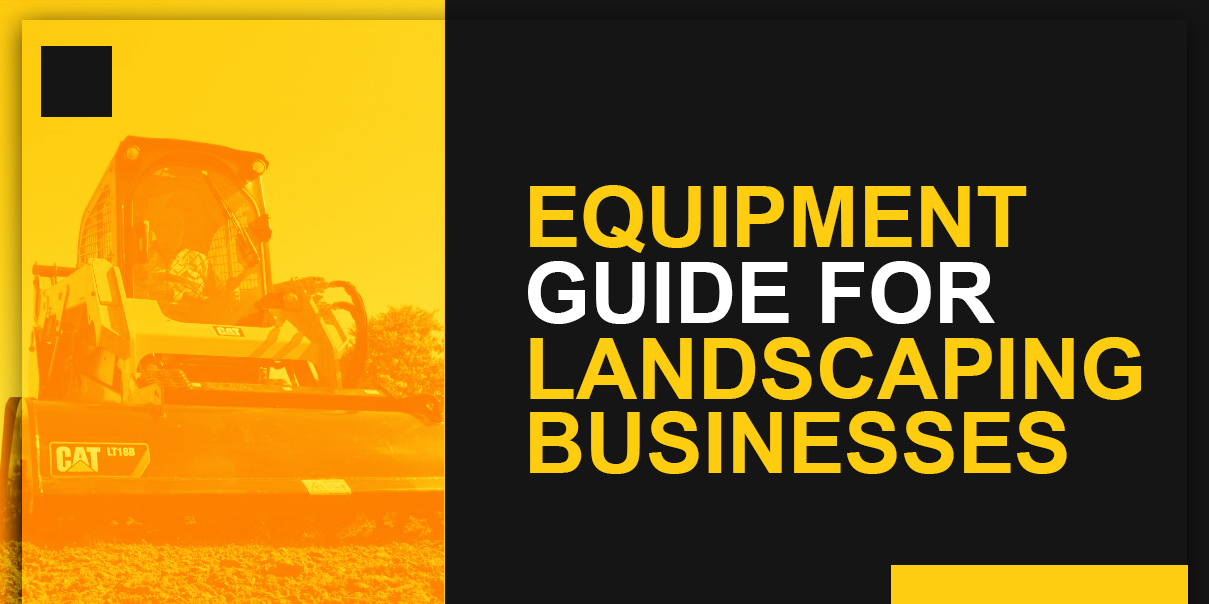 It has been proven that landscaping can add a significant amount of value to a home or business. Considering the value of the landscaping industry, it is no wonder these businesses are doing so well. In fact, for the last six years, the landscaping industry has grown by an average of 4.7 percent annually.
Be Equipped for a Changing Industry
The industry is not only growing — it's evolving. As landscaping jobs get bigger, so does the equipment needed. Today, many landscapers rely on heavy machinery to help them get the job done. You may be asking, "What landscaping equipment should I buy?" In this guide to landscaping equipment, we will take a look at the types of landscape equipment your business needs to thrive and meet your clients' landscaping needs. We'll discuss what each of these pieces of equipment is used for, and we will also look at some attachments you can add to your machinery so you can be ready for any job. Finally, we'll discuss the reasons to buy or to rent equipment. This guide will serve as your all-encompassing resource for the equipment you need, and how to get it, for your landscaping business.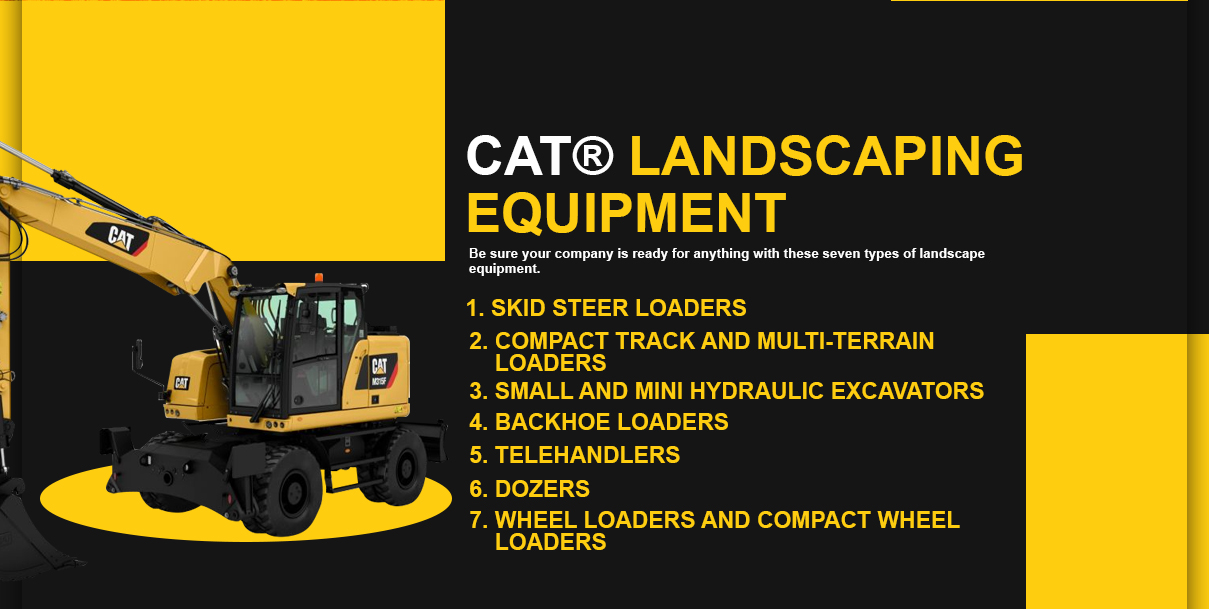 Cat® Landscaping Equipment
Be sure your company is ready for anything with these valuable types of landscaping equipment options:
1. Skid Steer Loaders
The phrase "good things come in small packages" is certainly true when it comes to skid steer loaders. Skid steers are known for their agility, versatility and compact size. Cat skid steer loaders are especially impressive in their power and hydraulic capabilities and are easy and fuel-efficient to operate. They can be used for many different landscaping tasks, especially when equipped with various attachments. For example, skid steer loaders can be used to haul materials like gravel, mulch, pavers, plants and more around a jobsite or to load it into the bed of a truck. They can also be used to prepare soil by grading, trenching and digging holes. Because skid steers are so versatile and can easily navigate small areas, they are especially helpful for residential or smaller commercial jobs.
2. Compact Track and Multi-Terrain Loaders
Compact track and multi-terrain loaders are similar to skid steer loaders in that they are surprisingly powerful and versatile for their compact size. However, unlike skid steers, compact track and multi-terrain loaders don't have wheels — they are track-based. Cat compact track and multi-terrain loaders are equipped with a suspended rubber track undercarriage which allows them to navigate a variety of terrains. They are especially useful if you're working on soft terrain, and you don't want your equipment to tear up the ground as it moves. This feature makes these particular loaders an asset to landscapers. If some of your job sites have soft terrain, a compact track loader or multi-terrain loader will be your best friend. These machines can be used for a whole host of jobs including hauling materials, digging and leveling soil.
3. Small and Mini Hydraulic Excavators
Excavators are the best equipment for digging and trenching. These machines move with an undercarriage and have a bucket attached to the end of a boom and stick. If you have to dig holes or trenches, plant trees, install water features or do hardscaping of any kind, an excavator can be a very helpful tool to help you get the job done efficiently. Cat small excavators and mini hydraulic excavators are both great options to consider. The mini hydraulic excavator is especially handy in confined spaces.
4. Backhoe Loaders
If some of your jobs are larger in scale, a more compact loader may not be enough. Another extremely versatile machine that can tackle larger jobs is a backhoe loader. Backhoes are strong machines that can easily move large objects or high volumes of materials. They are valuable for loading as well as trenching, especially when the ground is hard. Many experienced landscapers consider backhoe loaders to be the most versatile machine on any jobsite. Having a backhoe loader as part of your equipment fleet can eliminate the need for several other machines. Cat backhoe loaders set the industry standard for ease of operation and level of performance, versatility and efficiency.
5. Telehandlers
Telehandlers — also called telescopic handlers, teleporters and boom lifts — are valuable for their ability to both lift and reach. They have a large capacity for hauling landscaping materials like gravel, mulch, paver stones and more. Depending on the model you choose, some Cat telehandlers have a lift height of over 55 feet. If you find yourself with a job where you need to lift materials, a telehandler is invaluable. For example, the recent "green roofs" design trend requires landscapers to move materials atop buildings to create attractive rooftop gardens.
6. Dozers
Bulldozers, often just called dozers, are powerful track-based machines equipped with a large metal plate that can be used to push materials like soil, sand, gravel and more. It is the perfect piece of equipment for clearing and grading land. Bulldozers use wide rotating twin tracks that decrease pressure on the ground by distributing the dozer's weight. This allows dozers to navigate areas with soft terrain. Cat dozers come in a wide range of sizes, so you can choose one that makes sense for the jobs your landscaping business typically takes on, whether those be small, residential jobs or large-scale, commercial ones.
7. Wheel Loaders and Compact Wheel Loaders
As the name suggests, wheel loaders are loaders that move with wheels as opposed to tracks. Wheel loaders are heavy-duty machines that can be used for digging, grading, loading and hauling all sorts of materials or debris. They also have lift, which can be helpful in certain scenarios. If a traditional loader is larger than you need for your operations, consider using a compact one. Cat compact wheel loaders offer the same features as big loaders but are easier to navigate in smaller areas.
Getting the Most Out of Your Equipment With Work Tool Attachments
To get the most out of your heavy machinery, consider what jobs your landscaping business typically tackles and choose work tool attachments to help you get the job done. Cat has a myriad of attachments to choose from, so we've put together this guide to landscaping attachments to consider for your business:
Renting vs. Buying Equipment for Landscaping Companies
When discussing heavy equipment, a common question is whether it's better to rent or buy. The answer depends on the scale of your landscaping business and the types of jobs you take on. Renting and buying both have their advantages and disadvantages, but there are times when one option makes more sense over the other.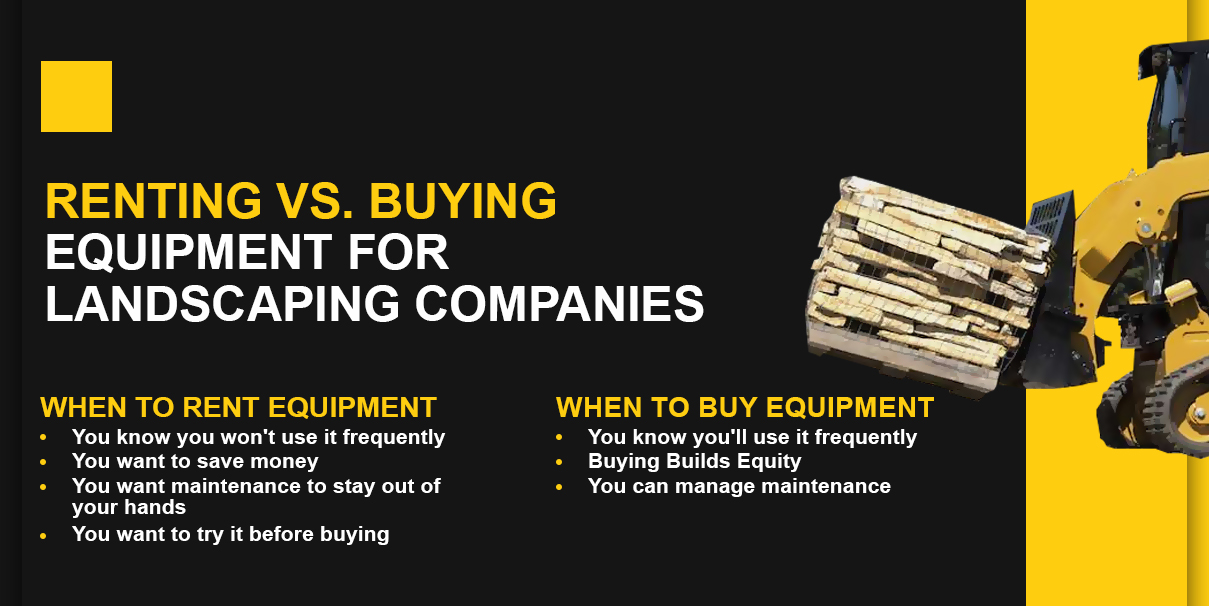 When to Rent Equipment
You know you won't use it frequently: For example, if you rarely take on jobs large enough to warrant using a wheel loader or dozer, then you'd be better off renting these machines when the need arises.
You want to save money: Renting provides cost-effective access to equipment you only need every so often to perform jobs outside your usual scope. If a company needs a project-specific piece or if it has a niche project, renting becomes worth it.
You want maintenance to stay out of your hands: Renting is a great option if you want your equipment's maintenance to be taken care of by your rental company.
You want to try it before buying: If you are considering buying a piece of equipment, renting the equipment first can be a helpful way of seeing what the equipment can do for you and whether it's worth owning.
When to Buy Equipment
You know you'll use it frequently: Ask yourself what landscaping equipment you need on a regular basis. If you find yourself doing a lot of digging or trenching, for instance, you should consider purchasing an excavator. If you use a piece of equipment enough, your investment will pay off.
Buying Builds Equity: Purchasing a piece of equipment is a long-term investment that sets you up for success and growth in the future. By investing in equipment you'll increase the overall value of your business through invested equity.
You can manage maintenance: One downside of purchasing equipment is that it's now up to you to keep it well-maintained. When you purchase equipment, make sure you have a plan for maintenance, whether you do it in-house or outsource the job, to ensure your equipment runs efficiently and your workers stay safe.
One great option for landscaping businesses is to purchase different types of landscape attachments to use with a single piece of heavy equipment. This can help you turn one piece of equipment into much more.
The Cat Advantage
Established in 1925, Caterpillar® has long been a trusted source for durable, reliable equipment for a variety of industries. Today, Caterpillar is the largest machinery manufacturer in the world. Our reputation for excellence remains as the company works to innovate new ways of making their equipment help you do what you do best — better. Caterpillar is continually drawing on advanced technologies to make equipment safer to use, more productive and more efficient. With our unparalleled reputation, you can count on Cat equipment to get the job done.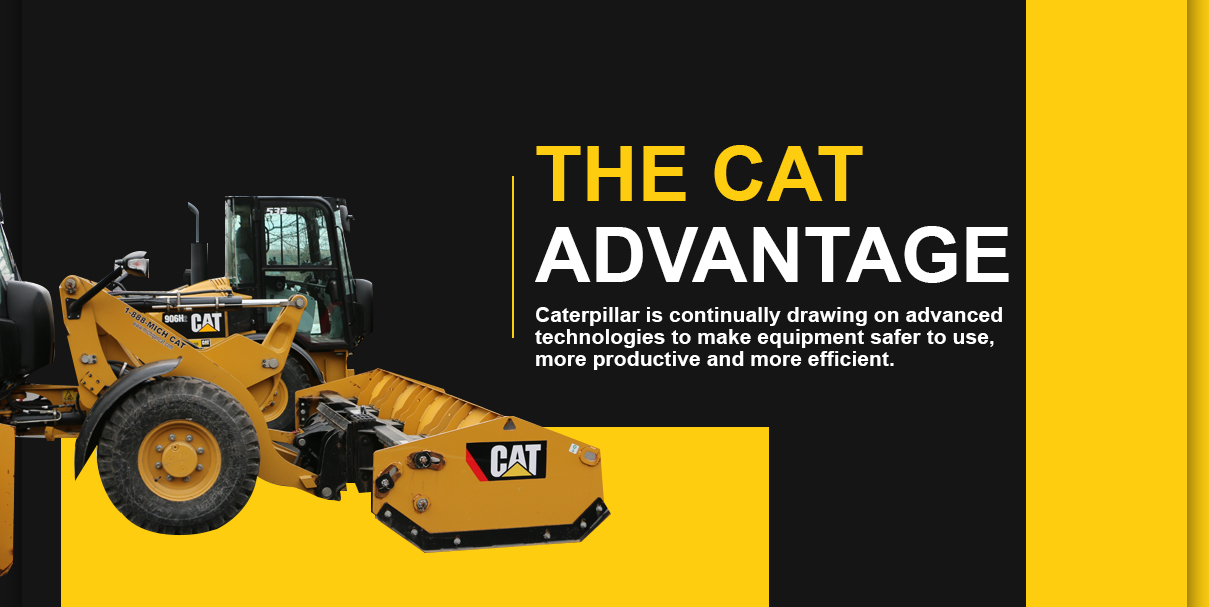 Count on Foley, Inc. for All Your Equipment Needs
Whether you want to buy new or used equipment, rent equipment, rent or buy parts or have your equipment serviced, you can trust Foley, Inc. to meet your equipment needs. We serve a large customer base in New Jersey, eastern Pennsylvania, northern Delaware, Bermuda and Staten Island. We carry the full line of Cat products and can help you choose the best products for your business. If you're interested in renting equipment, you can take advantage of our short-term rental, long-term rental and rent-to-buy options.
If you're interested in any of our services or want to learn more, call us at 732-885-5555 or toll-free at 877-726-7663, or contact us online. We are happy to discuss options with you and answer any questions you have. We are here to equip you to be the best landscaper you can be.