Newest Cat® Truck, the CT680, Delivers Class-Leading Combination of Durability, Comfort & Style
Newest Cat® Truck, the CT680, Delivers Class-Leading Combination of Durability, Comfort & Style
The Cat® Vocational Truck line continues to grow to meet customer needs with the addition of the CT680, a Class 8 set-forward-axle model built to tackle today's most demanding jobs while setting new standards for comfort and style.
The third vocational truck offered by Caterpillar, the CT680 features a rugged exterior, attractive automotive appearance, spacious and ergonomic cab, and vocational-specific engine and transmission. Its set-forward axle, parabolic taper leaf suspension, tuned cab air suspension system, and premium sound insulation and trim combine to deliver industry-leading ride quality.
"Customers told us they wanted a truck they could work hard," said Dave Schmitz, Vocational Truck Product Manager. "The CT680 is as rugged as they come—built for heavy loads, hard jobs and harsh environments—but it still delivers shift-long comfort and a stylish appearance. Its bold design will set our customers apart from the crowd."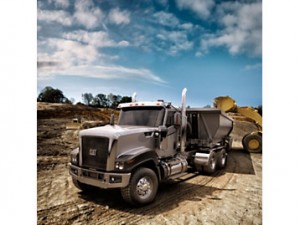 Rugged, stylish exterior
Purpose-built for heavy-duty work, the CT680 stands up to big loads and tough applications without sacrificing comfort and appearance, thanks to automotive styling and class-leading materials, fit and finish. Customers can choose from truck or tractor configurations and two exterior trim levels—L and LG—addressing different styles and serviceability needs.
The CT680L features a three-piece Metton hood, three-piece chrome bumper and three-piece chrome stainless grille surround, as well as composite halogen headlights and incandescent park/turn lights. The CT680LG comes with a one-piece fiberglass hood, three-piece black bumper and integrated fiberglass grille surround, along with sealed-beam halogen headlights and LED park/turn lights.
A dual external air cleaner option—for efficient air management even in dirty, dusty applications—is also available.
To keep service time to a minimum, the CT680's modular components—including the grille, grille surround, bumper and fender extensions—can be replaced individually. Key service points like coolant, washer reservoirs and air filters are easy to access, and customers can quickly replace headlight bulbs and windshield wiper blades without tools.
Comfortable, productive cab
The CT680's wide, spacious interior is packed with features that deliver all-day comfort, productivity and safety. The ergonomic dashboard and center stack make it easy for drivers to read gauges through the steering wheel. Tuned cab air suspension, premium grade sound insulation, and a durable routing and clipping wire system help ensure a smooth, quiet ride.
Drivers can choose from multiple seat options, including the Cat Comfort Seat. The tilting, telescoping steering column with a leather-wrapped steering wheel comes standard. There's plenty of room for paperwork and log books in easy-to-reach side compartments, back-panel storage and oversized side pockets. Overhead, under-dash and adjustable map lights illuminate work areas, and HVAC controls and vents are easy to access and positioned for optimum air flow.
To keep drivers and those around them safe, the CT680 features a curved, sloped, wraparound windshield—in a one- or two-piece design—that offers an uncompromised view of the road. Large, heated, cowl-mounted mirrors with integrated turn signals also enhance all-around visibility. A generous door opening, three-point grab irons and skid-resistant steps allow for safe entry and exit.
Vocational-specific engine
Powering the CT680 is a Cat CT Series Vocational Truck Engine with horsepower ratings from 410 to 475, peak torque ratings from 1,450 to 1,700 lb-ft and the flexibility to match power and performance to specific jobs and operating conditions. A highly efficient Selective Catalytic Reduction (SCR) solution, with upgraded in-cylinder technology and proven aftertreatment, meets emission requirements.
The CT Series Engine's durable, compacted graphite iron block reduces weight by as much as 200 pounds compared to standard iron—allowing customers to increase payloads, efficiency and profit. A single Electronic Control Module and fewer electrical connections help reduce diagnostic and maintenance time, and a fluid-free head gasket eliminates the risk of coolant leaking into engine oil or exhaust gases entering the cooling system.
Productive, easy-to-operate transmission
Featuring six forward speeds and one reverse, the Cat CX31 Automatic Transmission delivers rugged durability, smooth shifting and optimum power. It boasts the industry's highest power-to-weight ratio, full power shifting and quick acceleration to boost productivity. Ideal speed and torque combinations help improve fuel economy, and two side PTO locations and a Cat exclusive rear PTO enhance versatility and serviceability.
The automatic transmission is simple to learn and operate, making it easier for customers to find, train and retain productive drivers. Since drivers don't need to operate the clutch or remove their hands from the wheel, it also enhances jobsite safety. Other options for the CT680 include a variety of manual transmissions and the Ultrashift® Plus Vocational Transmission built by Eaton.
Performance-enhancing technology
The CT680 comes standard with Caterpillar's comprehensive asset and fleet management tool, Product Link™. Customers can use this tool and the accompanying VisionLink® web interface to track fuel use and costs, location, working versus idle time, preventive maintenance schedules and more. Fault code or suspicious movement alerts can be sent via email or text message to help keep downtime to a minimum.
Also available are an optional Vehicle Infotainment System and a Bendix Tire Pressure Monitoring System.
"If you have heavy loads to haul or hard work to perform, and you want to do it in comfort and style, then the CT680 is your truck," Schmitz said. "You get the rugged durability and dealer support you expect from Cat, plus a premium work environment for the driver and best-in-class styling, materials and serviceability."
Like the Cat CT660 and CT681, the CT680 is backed by bumper-to-bumper service at more than 400 Cat dealer locations across North America.
More information about the CT680 and the rest of the Cat Vocational Truck line is available at www.drivecat.com.