G16CM34 Gas Engine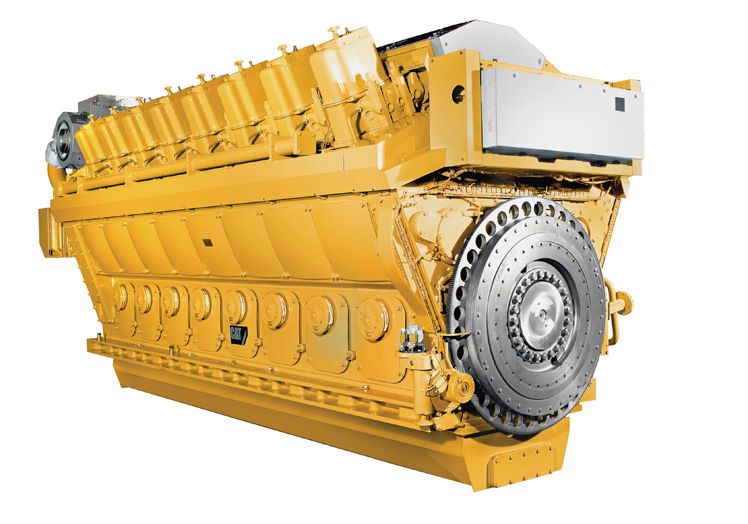 Minimum Rating

8180 HP

Maximum Rating

8180 HP

Emissions

U.S. EPA SI NSPS Site Compliant Capable

Displacement

610 L (37,209 in3)
Minimum Rating

8180 HP

Maximum Rating

8180 HP

Emissions

U.S. EPA SI NSPS Site Compliant Capable
Displacement

610 L (37,209 in3)

Displacement

610 L (37,209 in3)
Compression Ratio

11.4:1

Compression Ratio

11.4:1
Aspiration

Turbocharged-2 Stage Aftercooled

Aspiration

Turbocharged-2 Stage Aftercooled
Governor and Protection

Electronic (ADEM™ A3)

Governor and Protection

Electronic (ADEM™ A3)
Rotation (from flywheel end)
Rotation

Counterclockwise
Flywheel Teeth

408

Flywheel Teeth

408
Weight

82000 kg
Oil Change Interval

7500 hrs

Oil Change Interval

7500 hrs
Stroke

420 mm

Stroke

420 mm
Bore

340 mm

Bore

340 mm
Rotation from Flywheel End
Rotation from Flywheel End

Counterclockwise
Weight

82000 kg
Air Inlet System

Turbocharger Inlet Adapter - provides a flexible connection between engine mounted turbocharger inlet and customer inlet air piping
Air Filter Units - Two air filter housings for remote installation, one per turbocharger, are designed for normal environmental conditions. Each filter housing contains six (6) dry filter elements. A single filter housing with twelve (12) filter elements is offered as optional
Air Intake Silencer – an in-line tubular air silencers designed for 30 dB(A) noise reduction

Cooling System

The engine includes an auxiliary skid that combines the cooling system and lubrication system functions. The standard cooling system separates the High Temperature (HT – includes JW) circuit from the Low Temperature (LT – includes 2nd stage of aftercooler) circuit. Thermostatic valves are included for each circuit. Two-stage charge air cooler splits heat load between the HT and LT circuit, reducing the heat load to the LT system, minimizing cooler costs. The lube oil system includes a automatic filter, plate and frame oil cooler, an engine-mounted gear-driven lubrication pump, and an electric motor-driven pre/post-lubricating pump. A pneumatically actuated thermostatic valve (controlled by the engine control panel) controls the lube oil temperature. All components mounted on a single baseplate with drip pan for pollution control. Interconnecting pipe between engine and cooling water/lube oil skid are by customer. Engine controls are by customer.
Set of Flexible Connectors at the engine for cooling water piping

Crankcase Ventilation Systems

Design includes multi-stage oil remover with metal elements and paper filter
Capacity – 340 m3/h (200 scfm)

Cylinder Block

One-piece design for strength and rigidity
Underslung crankshaft reduces weight and provides easy access to bearings for service
Dry cylinder block (waterless) offers reduced repair times and increased strength
Crankcase pressure relief devices
Designed for block or skid mounting

Cylinder Head

Individual cylinder heads with two inlet and two exhaust valves per cylinder
Water-cooled exhaust seats to increase life
Nitrided valves with automatic rotators

Drive Coupling

A torsionally elastic high damping steel spring coupling is provided. The TVA study with up to eight compressor load cases is included.

Engine Controls and Instrumentation

The engine utilizes the ADEM A3 engine management system for speed regulation, individual cylinder detonation control, closed loop air/fuel ratio control, engine monitoring and protection. Electronically controlled pneumatic actuated valves control the main and pilot fuel gas pressure. System also includes an operator interface for displaying operating parameters and system messages. This system includes a local control panel with PLC for additional engine management and protection. Protection provided by this system includes: - Engine control panel with PLC and operator control interface - Floor-standing enclosure with window kit for touch screen - Supplied local control panel includes space to incorporate compressor PLC, which can be displayed on same screen

Exhaust Gas System

- Two front-mounted (non-flywheel end) turbochargers designed for constant pressure supercharging - Variable geometry turbochargers will provide optimal air-fuel ratio control through a wide operating range by controlling its own manifold pressure - Exhaust gas pipe manifold with one expansion joint per cylinder; connection allows easy maintenance and quick cylinder head removal

Flywheels & Flywheel Housings

A flywheel with starting ring gear is shipped mounted, cover/guard not included.

Fuel System

Gas Regulating Unit – independently controls the gas supply pressure to the main combustion chamber and pre-chamber. The skid is certified for Class 1, Division 2, Group D hazardous location.
Set of Flexible Connectors at the engine for main chamber and pre-chamber piping

Lube-Oil System

The lube-oil part of the auxiliary skid includes the following components:

Painting

The engine is painted Cat yellow, other colors can be provided. Caterpillar Motoren's standard paint system will be used.

Starting System

Equipped with turbine-type air starters (TDI) uses compressed air or natural gas for engine starting; 1,034 kPa (150 psi) minimum air pressure. Rear mounted.
Set of Flexible Connectors at the engine for start air/gas piping
Barring Device Controller – handheld controller with hoses and oiler

Testing

Each engine is factory tested before shipment from Kiel, Germany. Test reports will be provided as part of the standard documentation.

General

Flexible Coupling – flexible coupling between engine and driven equipment (compressor)
Barring Device Controller – handheld controller with hoses and oiler
Torsional Vibration Analysis (TVA) of up to eight (8) load cases
Air Inlet System

Inlet air Pre-heater – required for inlet air temperature below -20°C (-4°F)

Exhaust Gas System

Exhaust Ventilation System – purge the entire exhaust gas system to maintain gas concentration below ignition point reducing the risk of exhaust gas explosion. The skid is certified for Class 1, Division 2, Group D hazardous location

General

Bearing Temperature Monitor – to monitor temperature of the main crankshaft bearings and the connecting rod big end bearings. Engine Special Tools – set of special tools for GCM34 engines.