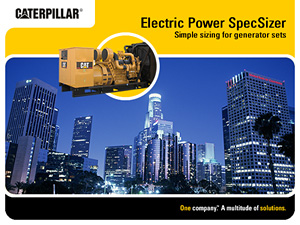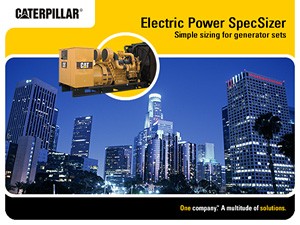 SpecSizer is a free, PC software tool that allows users to select the most appropriately sized diesel generator set for virtually any electric power project. Users can size for their power needs with generator sets as small as 14KW or as large as 4000KW, and the SpecSizer tool can parallel up to 25 generator sets. Users input the details of the on-site power required including voltage, load demand, load types, duty application, maximum ambient temperature, altitude, EPA emissions and more. As a result, this software tool allows users to determine a truly customized and comprehensive power solution.
SpecSizer is also equipped with features such as the 20-Step Wizard tool that uses program logic to calculate the smallest possible generator set along with the least number of load scenario steps, which provides an optimal rating and footprint that minimizes costs. SpecSizer allows users to make load step changes to any user-defined criteria on the load scenario tab to assess possible sizing results. Check out this SpecSizer sample screen for a representation of how the selection process appears.
Why is it useful?
SpecSizer takes the guesswork out of accurately sizing a generator set for specific user load qualifications and needs. A mountain of research went into providing a sizing program with accuracy, which is the number one priority. The recommendations are based upon accurate, comprehensive algorithms, data and analysis. SpecSizer's ability to evaluate eighteen load types, including uninterruptible power systems (UPS), motors, pumps, air conditioners, elevators, lighting and others, makes it comprehensive for the generator set sizing process. It reduces time and costs with the click of a button and allows users to size and specify the smallest generator set to fit an application. Its multiple features also provide sales support information, create guide specifications and offer printable sizing reports related to the generator set as a system inclusive of transient response performance derived from actual factory tests. SpecSizer has even been translated from English into seven other languages to serve users who speak Chinese Mandarin, French, German, Italian, Portuguese, Russian and Spanish.
The SpecSizer software has revolutionized generator set sizing by simplifying the process. Not only does it include filtering processes to align the generator set selection with available options, it also provides web links and tools, such as volts/hertz optimization, percent of intermittent motors, and percent genset capacity used (EkW) to help with analytical and strategic decisions. One of the web links even provides the precise spec sheet you need for your job specification.
In addition to the generator set sizing analysis, SpecSizer provides the aforementioned guide specification in a concise, editable text document format that is dynamically linked to any program-selected or user-selected generator set. This is important because a user can produce a guide specification with Project Sizing Report and Transient Performance Report for any manually selected generator set populated on the Generator Set Selection tab. The Project Sizing Report provides engine, alternator and generator set technical data, and the Transient Performance Report provides the selected generator set's transient response at 25% load change increments up to a full load. These reports can be distributed electronically as a single PDF file.
For More Details Contact Foley Today