The Foley Construction Shop
Foley Construction Shop Layout
Foley's Construction Shop has 16 speciality shops to ensure we can provide all the solutions for your equipment.  Take a look at our shop layout to view the different areas and what we offer.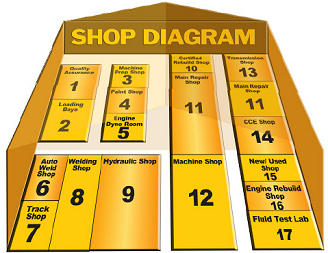 1 Quality Assurance
Final Inspection: performed by lead technician after repair
Operational Checks: verify that repairs were completed and machines can return to work
2 Loading Bays
Loading Assistance: yard crane and forklift are available to lift or tow equipment; assistance and equipment for loading or unloading machinery also provided
Preliminary Incoming Inspection: verifies the customer's problem or complaint and provides information to the Main Shop
3 Machine Prep Shop
Equipment Washing: high-pressure washing equipment and steam pressure washer are available to remove excess dirt, debris and other difficult materials prior to repair
Paint Shop Prep: machine exteriors are sanded and taped before painting to ensure a high-quality finished product
4 Paint Shop
Paint Work: specializing in all makes and models of equipment and any paint combination
Sandblasting: available for machines with a harsh exterior
5 Engine Dyno Room
1,000 HP Taylor Dyno: performs diagnostics
Computerized Engine Management System: monitors critical pressures and temperatures
Closed Loop Cooling Tower: properly manages engine temperature during critical break-in process
6 AutoWeld Shop
Idler & Roller Rebuilds: re-welding and rebuilding to like new condition
Disassembly/Assembly Bench: accommodates track adjuster springs
Abrasive Resistive Material (ARM) Application Bench: enables custom applications that prolong ground engaging tool life
7 Track Shop
Custom Track Service (CTS) Diagnostic Tools: monitor performance and predict wear
Track Disassembly/Assembly: Six Sigma-certified computerized torquing equipment ensures proper assembly
Wolf 200-Ton Press: accommodates all makes & models
8 Welding Shop
MIG & TIG Welders & Plasma Cutting: support welding and fabrication
Brazing & Silver Solder: services are available
Custom Fabrication: sheet metal and pipe fabrication also available
9 Hydraulic Shop
Cylinder Repair: all makes and models accommodated
Custom Fabrication: re-rod capabilities
Cylinder Exchanges
Pressure Checks: rebuilt cylinders are pressure checked on a 2,800 PSI bench upon completion of repair
10 CAT Certified Rebuild Shop
Two Levels of Rebuilds Available: CAT Certified Powertrain & Complete Rebuilds performed
Testing: over 350 tests performed on rebuilt machines
Rebuilding: machines are stripped and 3,500 to 7,000 parts are replaced or reconditioned
Updates: all critical updates are performed and machines are rebuilt to like-new condition
11 Main Repair Shop
Troubleshooting and technical analysis is performed on your machine to determine the best course of action for an economical and efficient repair
Real time technical information with accessibility to Product Engineers
Contamination control measures employed to minimize harmful exposure of critical systems
12 Machine Shop
Machining Capabilities: three different lathes, milling machine and spray welding equipment are capable of almost any repair
Lapping Bench: enables leveling and scratch removal
Line Boring Machine: bores center and bucket pins, machine frames, etc.
13 Transmission Shop
Critical Tolerance Rebuilds: restores transmissions, torque converter and final drives
Computerized Test Bench: ensures high-quality results
14 Compact Construction Equipment Shop
Specialized Repair Area: dedicated for smaller equipment
15 New/Used Prep & Repair Shop
Custom Configuration & Installation: work tools installed and machines prepared to customer specifications
Final Assembly & Performance Check: new and used machines inspected prior to delivery
16 Engine Rebuild Shop
Engine Disassembly/Assembly: accommodates all engine types and models
Emissions Upgrades: available for unregulated engines
Fuel Injector System Capabilities: rebuilds and testing performed
17 Fluid Test Lab
Fluid Analysis: all equipment undergoes detailed analysis of all fluids including engine, cooling and hydraulic
Reports: clear, concise reports include trends and recommendations
Personal Alerts: notify customers of any critical issues to help avoid catastrophic failures