The Cat® 299D2 XHP Land Management Compact Track Loader
The Cat® 299D2 XHP Land Management Compact Track Loader is a superior, purpose-built machine solution for customers involved in demanding vegetation-management applications, ranging from mulching, brush-cutting, vegetation control, and mowing. This segment-focused machine delivers the advantages of efficiency and economy in specific applications, including site preparation, utility right-of-way clearing, vegetation management for fire prevention, railroad maintenance-of-way, agriculture, and forestry.
The 299D2 XHP Land Management machine's powerful Cat C3.8 engine, rated at 110 gross horsepower (82 kW), combines with its high-flow/high-pressure auxiliary hydraulic system—40 gpm @ 4,061 psi (150 L/min @ 28 000 kPa) for a calculated hydraulic-horsepower rating of 94 (70 kW)—to ensure optimum performance when powering high-production, hydro-mechanical attachments, such as mulching heads and industrial brush-cutters.
Design details
To provide longer intervals of uninterrupted work, the 299D2 XHP Land Management Compact Track Loader has a 58.1-gallon (220 L) fuel tank, which is 80 percent larger than the tank on standard 299D2 XHP models and sized to provide and estimated run time of 11 to 12 hours.
This machine is also factory-equipped with seal and cover components designed to restrict debris and other material from entering the engine compartment and lower frame. A debris deflector channels any material created by rotating attachments away from the front of the cab for added safety.
In addition, certain engine and emissions components incorporate special parts and covers, designed to deter debris from collecting on the components, and large frame-access panels provide easy access to aid in routine cleaning. A turbine-type pre-cleaner ejects dust, dirt, and debris from engine-intake airflow before it reaches the filter, thus extending air-filter service life.
The 299D2 XHP Land Management model also comes factory-equipped with components that provide guarding to protect front and rear LED work lights, work-tool coupler area, work-tool electrical harness connections, and auxiliary-hydraulic quick-disconnect fittings from impact and debris that are often hazards in land-clearing applications.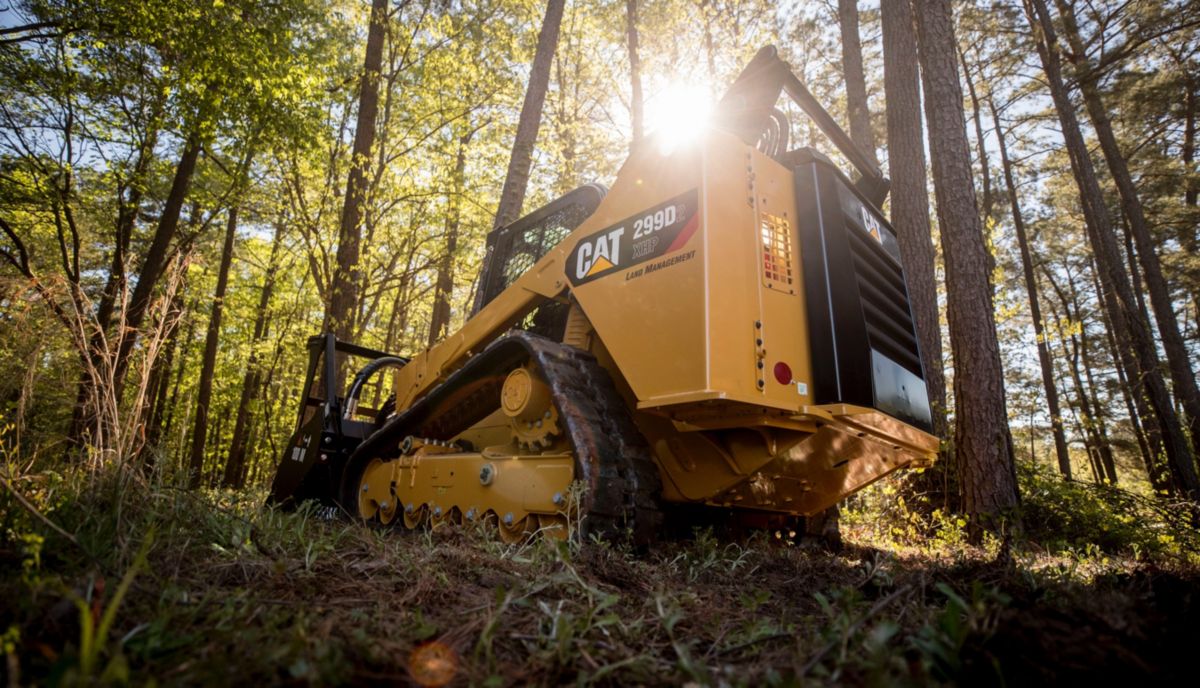 Operator Station
The 299D2 XHP Land Management machine also features a one-piece, sealed, pressurized cab design to keep the operator's environment clean and quiet. Operator comfort/convenience features include a premium, heated, air-suspension seat with independently adjustable armrest/joystick-control positions, integrated full-color display for machine operating information and performance adjustments, rearview camera, and integrated Bluetooth radio with microphone. A bracket in the cab accommodates a five-pound fire extinguisher bottle.
The 299D2 XHP Land Management model includes a full-color, 5-inch, LCD Advanced Display monitor that enables on-screen adjustment of implement response, hydrostatic-drive response, creep-control speed, ride-control-activation speed, language preference, and gauge layout. The electronic instrumentation includes fuel level, DEF (diesel exhaust fluid) level, hydraulic and engine-coolant temperatures, and tachometer.
For added operating safety and security, the rearview camera provides high-resolution images of difficult-to-see areas behind the machine, thus expanding the operator's field of vision for enhanced job-site awareness. The Advanced Display also provides a coded theft-deterrent system.
Additional Features
The cooling system's hydraulically driven demand fan operates only when required, saving fuel and reducing sound levels. The reversing fan clears intake screens and can operate in both automatic- and momentary-purge modes. A battery disconnect adds to machine security and allows isolating the battery when servicing the machine or when storing the machine to minimize battery drain.
The 299D2 XHP Land Management Compact Track Loader uses a torsion-axle-type undercarriage-suspension system that allows independent vertical movement between the frame and undercarriage. The system distributes loads and absorbs shock and vibration that can occur when operating in uneven underfoot conditions, thus isolating the frame and providing a smoother ride for operators and protecting the machine from unnecessary stress. Standard two-speed travel and an electronic hand/foot throttle system (with decelerator pedal) further increase operator control, especially when using hydro-mechanical attachments.
The 299D2 XHP Land Management machine provides ground-level access to all daily and routine service points, including engine air cleaner, fuel filter/water separator, engine oil check, engine oil fill, hydraulic oil fill and hydraulic filter.
299D2 XHP LAND MANAGEMENT SPECIFICATIONS
Operating weight, approximate
12,752 lb. (5 784 kg)
Tipping load
12,429 lb. (5 638 kg)
Rated operating capacity: 35% of tipping
4,350 lb. (1 973 kg)
Rated operating capacity: 50% of tipping
6,214 lb. (2 819 kg)
Ground pressure
5.9 psi (40.5 kPa)
Travel speed, max.
8.3 mph (13.3 km/h)