DID YOU KNOW…
Every piece of your sophisticated hydraulic system plays an important role in keeping your machine at top performance.
When your hydraulic system isn't performing it's best, you may lose up to 20% machine efficiency and not even realize it. That equates to a day of lost production per week! Caterpillar® designs and manufactures hydraulic components to work as a system to meet the unique demands of Cat® equipment. High quality materials, carefully controlled manufacturing processes, and the industry's most rigorous testing help Cat hydraulic components deliver maximum performance and value over the life of equipment.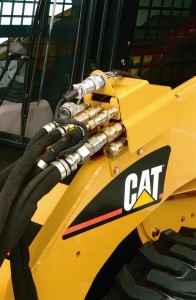 Cat Hose and Couplings dispel the notion that "a hose is a hose." Since Caterpillar began designing and manufacturing its own hose products in the late 1960s, Cat Hose and Couplings have earned a global reputation for offering superior hose performance and reliability, often exceeding industry requirements to assure top performance.
Cat Cylinder Rods are typically induction hardened to deliver the optimum balance of strength, surface finish and impact resistance. Greater resistance to denting and bending helps extend seal life and keep dirt and other contaminants from  entering the system.

Cat Pumps and Motors are built to tight tolerances and are 100% tested to match stringent Cat Hydraulic System performance and endurance requirements.
Cat Cylinders are bore skived and roller burnished for optimum sealing performance and cylinder seals feature proprietary materials and continuously
improving designs matched to Cat hydraulic system needs.
Cat Valves are precision machined to deliver superior performance and operator control and Cat Filters are engineered to deliver superior system protection, helping you obtain maximum component life.
Would you like to know more about keeping your hydraulic system in top shape?
Contact us today! We'd be happy to discuss the options available to you or schedule your equipment for the service you would like.