How to Create a Contingency Plan and Prepare for Power Outages
How to Create a Contingency Plan and Prepare for Power Outages

Jump To Sections:
Power outages can occur from various situations, such as overwhelmed power distribution systems during extreme heat or knocked down power lines due to natural disasters. Because of this, businesses of all sizes need to have a power outage contingency plan to minimize the damaging effects of lost electricity. This is especially true of businesses in areas with higher chances of malfunctions and severe conditions.
Learn more about creating an emergency response plan and how to prepare your business operations for power outages.
How Power Outages Impact Businesses
Most businesses cannot operate without power. Having an outage can have serious impacts, including the following:
Data loss: Lost power can interfere with servers and cause damage to computer systems that contain important information. Data loss can lead to further disruptions and complicate operations.
Downtime: Every business knows that downtime means lost revenue. Outages can cause financial and sales interruptions. Employees cannot work without power and overall productivity is likely to plummet. If customers cannot access your website or come to your storefront, you could lose customers and revenue.
Damage and risk: Severe storms or natural disasters can cause costly damage to equipment and inventory. Without power, there is an increase in the risk of injury as well.
Increased operating expenses: Between repairing damages and finding the proper rental equipment, power outages can be costly for your business. Keeping operations afloat during an outage can negatively impact your budget, especially if you are underprepared.
The Importance of Having an Emergency Power Plan
Contingency planning is vital for minimizing the losses associated with an emergency power outage. The following are the three main reasons it is important to have a plan of action in case the unexpected happens to your business:
Safety: Employee and customer safety should always take priority during any sort of emergency. Having a contingency plan will help keep more people safe from the dangers of severe weather and outages. When everyone knows what to do and where to go, they're more likely to stay protected.
Operations: A power outage can take a serious toll on business operations. Having a backup plan can help get processes back on track sooner and reduce downtime. Your business can continue operating and fulfilling your customers' needs if you have a plan in place to counteract outages.
Expenses: Disruptions caused by power outages can cost a business a lot in operational costs and losses. When you have a contingency plan, you can budget better to anticipate the costs of needing backup power sources and addressing damages caused by severe weather or the outage itself.
How to Create a Contingency Plan and Prepare for Power Outages
Businesses need to know how to prepare for power outages. The following can help you find ways to minimize damages with contingency planning for disrupted electric power.
1. Develop a Preparedness Checklist
Creating a contingency power plan starts with developing a checklist of all your most important assets.
In the event of severe weather or power failure, you need to identify the most vulnerable equipment and materials quickly so you can protect them. A preparedness checklist may include the following assets:
Welding machines
Generators
Heavy equipment
Workboats
Computers
Fuel tanks
Work vehicles
Cranes
Compressors
A preparedness checklist can give businesses some direction for what they need to protect and keep them from forgetting about safeguarding important assets around a power outage frenzy.
2. Determine Your Electrical Load
Before securing the right backup generator for your facility, you have to know your electrical load. During an outage, there are a few different ways to restore power. Depending on what your business needs and what loads are critical for your operations, you can decide on different power sources.
If you want to keep your entire facility operating, you must know your aggregate electrical load. If you are interested in priority power for only your most critical operations, then you will need to prioritize individual loads.

Common critical loads include the following:
Production machinery
Computers and servers
Process controls
Heating, ventilation and air conditioning
Compressed air systems
Pumps
3. Prepare to Secure Assets
Securing your assets should be part of any power outage emergency response plan. During an outage, you should take extra measures for property or inventory you cannot relocate to reduce the possibility of damages.
If there is impending severe weather, begin by determining the supplies you need to keep your assets secure. Some of these supplies may include the following:
Banding material
Anchors
Blocking
Tie-downs
Locks
After your business gets the needed security supplies, you'll want to organize them so you can access them quickly to protect your assets as fast as possible. You may also want to implement training leading up to severe weather to show staff how to tie down or secure various pieces of equipment and materials.
4. Know Your Facility
Understanding your facility inside and out is an important factor of emergency power planning. Be sure you know the location of the following ancillary equipment and accessories: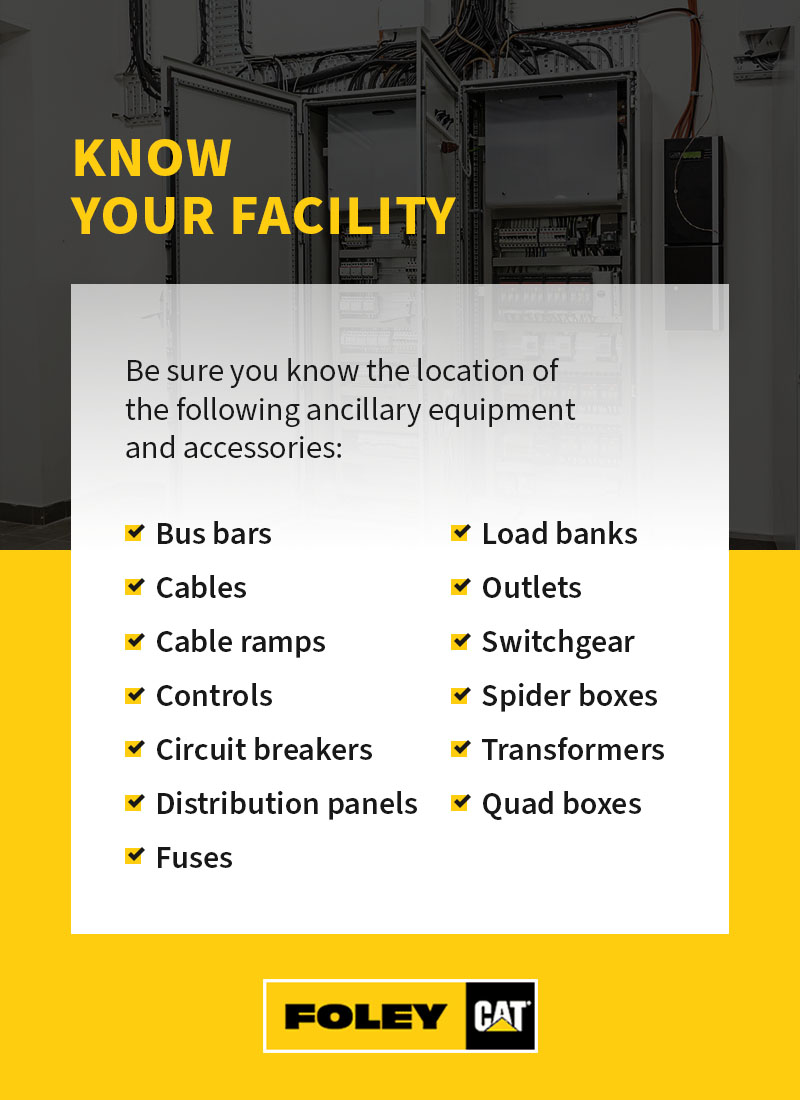 Bus bars
Cables
Cable ramps
Controls
Circuit breakers
Distribution panels
Fuses
Load banks
Outlets
Switchgear
Spider boxes
Transformers
Quad boxes
You should have a plan to connect to generators and know how you will route the cable from the generator to your building.
Identify all connection points and consider installing panels for attaching generators in case of an emergency. You will also want to determine your fuel tank capacity and create refueling plans.
5. Back up Your Data
While many companies use the cloud to back up and store data, others still store their data on local networks and on-site hard drives. This approach can be cheaper and provide greater security from outside cyberattacks, but it can be a major problem when a power outage happens. If outages or other damage occurs to your electronics, you risk losing your data.
Those with financial and client data on their computers may experience major setbacks if this information is lost. To prevent data loss and keep invaluable information secure, you can look into cloud services that allow you to store your data on the internet, keeping it from being lost in damage to your computer systems.
Besides protecting your device from damage, placing your data on the cloud can also help employees work from home, as they can access needed information off the internet.
If you have documents in physical form, you may even want to scan them and place them in digital form to protect them. Even with the documents scanned, you may want to keep the originals safe. You can invest in waterproof containers to seal the documents in to prevent water damage.
6. Conduct Damage Assessment and Theft Prevention
After a storm hits or a natural disaster occurs, it's crucial for you to take steps to rebuild and get your operations back up and running. One of the first things you'll have to do is conduct a damage assessment and identify potential hazards, such as the following:
Damaged electrical panels
Downed power lines
Damaged structures
You can also look for areas or items prone to theft. Loose tools and broken windows can leave you open to robberies. Try to do your best to resecure facilities to prevent theft. Additionally, you should document the damage for insurance purposes and for planning safe cleanup procedures.
7. Find a Trusted Supplier
One of the most important aspects of a successful emergency response plan is having a trusted generator rental company to rely on.
A quality supplier has well-maintained and pre-tested equipment available to you. They will likely have rental units that meet your load requirements and should be able to deliver rentals to your facility promptly. You will also want to find a supplier with qualified staff who will assist you with turnkey service and technical support.
A trusted supplier should have the following:
Spare parts in stock
Ancillary equipment in stock
Flexible financial options
24-hour customer service
Once you have a reliable supplier, your team should conduct a dry run in which you ensure every person and business in your contingency plan can successfully carry out their responsibilities.
How to Choose the Best Generator Rental in an Emergency
One of the best pieces of equipment you can have in the case of a power outage is an industrial emergency backup generator. Though each industry may have specific types of contingency plans for outages, power generators are almost always a key part of any disaster preparedness plan. Since you'll likely be looking for a generator in preparation for power failures, you should know how to find the right generator for your needs.

While you try to decide which generator is right for you, remember these important factors for your contingency plan:
Necessary wattage: As you search for a generator, do some research on the amount of wattage your facility uses. You can find this wattage information by looking at old utility bills, using an ammeter to measure peak usage, or calculating via square footage. The generator you choose should have the wattage required to provide enough energy at your company's peak usage.
Type of powered equipment: You may not want to power your entire facility and, instead, only want to power specific areas or pieces of equipment. If this is the case, research the pieces of equipment or areas to find how much wattage they typically use daily.
Reserve power capacity: You don't want to have barely enough power to meet your peak usage. A power surge or increased demands are possible and could cause problems if the generator can't handle it. As you choose a generator, make sure it has some reserve power.
High voltage: Generally, it's a good idea to look for higher voltage in generators. The higher the voltage, the stronger the electric current the generator creates.
Phase type: You'll often see either single- or three-phase generators. A single-phase generator only provides one current of fluctuating power. Due to its limited capacity, it's often better for residential purposes. In contrast, a three-phase generator creates three separate currents that combine to form a stable power source. This more stable power makes three-phase generators the popular choice for industrial applications.
When thinking about getting a generator rental, also consider the option to trade in a used piece of equipment for cash. Foley, Inc. buys and sells used power system equipment so you can conveniently trade in your current generator. We serve the following territories:
New Jersey
Eastern Pennsylvania
Northern Delaware
Staten Island
Foley, Inc. makes it possible to sell your old pieces of equipment and receive a quick payment that you can use for your next purchase. With us, you can find the right generator set that works with your budget so your business can prepare for whatever happens next.
Benefits of Emergency Generator Rentals
As you consider investing in emergency rental generators, you should be aware of their advantages. Power can sometimes be taken for granted, but in times of hurricanes or other natural disasters, power's value becomes much more apparent. In 2012, Hurricane Sandy did $65 billion in damage and left residents in the Northeast without electricity for days and weeks, illuminating the need for emergency generators.
When a region loses power, it can be devastating to a company's ability to stay productive and provide clients with high-quality service. Generators can solve many of these problems by providing power in times when grids are down.
Below you can find some of the top advantages of using industrial emergency power generators:
1. Keep Facilities Illuminated
If your facility gets hit with a blackout, your staff or any other people on the premises may be more susceptible to injuries sustained from tripping or falling. These injuries can be especially harmful if your facility has lots of sharp tools or is more than one story. You can set a generator to turn on in these situations, providing enough energy to power lights and help people safely make their way out of your facility.
2. Prevent Revenue Losses
It's no surprise that when you don't have power, it's a lot harder to generate revenue. While most businesses can't expect to be profitable or do much business during an outage, many hope to get back to normal as fast as possible to minimize revenue losses. If you don't have power, it's going to be difficult for many staff members to complete their duties and start bringing money into the business.
You can minimize revenue losses when you use a generator rental for emergencies. While your power provider begins to fix damaged power lines and get power back to you, a generator can get your equipment, computers and other electrical devices working again, allowing your company to get back to work faster.
3. Power Crucial Services
Sometimes, businesses and organizations can't afford to lose power. For example, a hospital needs to be up and running even in the worst storm. A power outage could be disastrous for hospital patients, especially those who need urgent care. Other times, a company may need to produce supplies the community needs after an outage. These companies cannot wait for the power to come back on.
A business that needs to stay operational amid power outages, no matter the category, should turn to industrial emergency generators. These generators can provide the needed power for a section or the entirety of a facility.
4. Prevent Food or Product Loss
If you operate a business that handles food products or items like pharmaceuticals that need to stay cool or warm, you need Cat® industrial emergency generator rentals to keep your products safe.
Power can get knocked out during a storm, and without a generator, this may also knock out your refrigeration or heating capabilities. If the power is down for a significant amount of time, your products can spoil and cost your company greatly.
Let Foley, Inc. Make Your Contingency Plan Simple
Developing a contingency plan doesn't have to be overwhelming. Foley Power Systems offers free emergency power facility assessments to determine the size of the emergency generator for your facility. We proudly serve customers in eastern Pennsylvania, northern Delaware, New Jersey and Staten Island.
Our contingency planning worksheet can help you through the basics of creating a plan that works with your business, and our rental equipment makes responding to an emergency simple. We give your business installation considerations and pricing based on the equipment that works best for your application.
Interested in learning more about how we can help? Contact Foley, Inc. today!
let
Foley, Inc.

make Your Contingency Plan Simple

Our contingency planning worksheet can help you through the basics of creating a plan that works with your business, and our rental equipment makes responding to an emergency simple.

Contact Us