Cat® Extended Service Coverage Can Save You Thousands In Covered Repairs to Your C4.4 Engine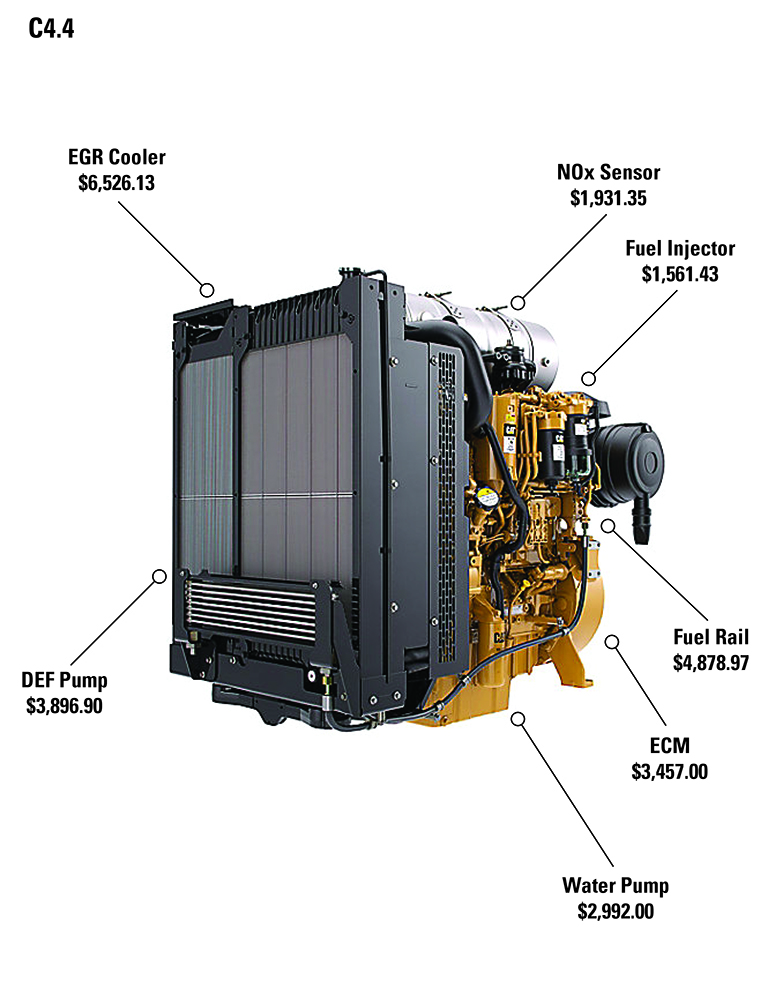 ESC Benefits
Protect your investment with coverage for parts and labor expense on covered components (less any applicable deductible)
Avoid unexpected repair costs caused by unscheduled repairs
Get back to work fast with engines performing at their best
Make sure repairs are done right the first time with factory-trained technicians using genuine Cat parts
Return your industrial engines to its original operating specifications, meeting all requirements for safe use and environmental compliance
Choose from multiple levels of coverage to fit your budget
Combine ESC with a Customer Support Agreement for complete maintenance and repair protection
| | | | |
| --- | --- | --- | --- |
| COOLING SYSTEM | PLATINUM2 | AIR INDUCTION & EXHAUST | PLATINUM2 |
| Thermostat Housing | ✓ | Exhaust Manifolds, Studs & Gaskets | ✓ |
| Water Manifold Housing | ✓ | Inlet Air Heater Relay | ✓ |
| Jacket Water Precooler | ✓ | Intake Manifold | ✓ |
| Jacket Water Pump | ✓ | Turbocharger(s) | ✓ |
| Thermostat | ✓ | Air-to-Air Aftercooler Cores | ✓ |
| Radiator & Fan | ✓ | Muffler/Exhaust System | ✓ |
| | | Exhaust Guards | ✓ |
| | | Diesel Oxidation Catalyst | ✓ |
| FUEL SYSTEM | PLATINUM2 | SHORT BLOCK | PLATINUM2 |
| Steel Fuel Lines | ✓ | Cylinder Block | ✓ |
| Fuel Shutoff Solenoid | ✓ | Crankshaft | ✓ |
| Fuel Injectors | ✓ | Connecting Rod Assembly | ✓ |
| Fuel Transfer Pump & Housing | ✓ | Piston, Wrist Pin, Retainer Clip & Piston Rings | ✓ |
| Fuel Priming Pump | ✓ | Idler and Timing Gears | ✓ |
| Fuel Transfer Pump | ✓ | Accessory Drive | ✓ |
| LUBRICATION SYSTEM | PLATINUM2 | CYLINDER HEAD | PLATINUM2 |
| Pan, Pump Cooler | ✓ | Cylinder Head | ✓ |
| Crankcase Breather | ✓ | Intake & Exhaust Valves | ✓ |
| Engine Oil Pump Drive | ✓ | Valve Mechanism |  ✓ |
| Prelubrication Pump | ✓ | Camshaft, Camshaft Bearings, Key, Gear | ✓ |
| ELECTRIC SYSTEM | PLATINUM2 | FRONT & REAR COVERS | PLATINUM2 |
| Control Module (ECM) |  ✓ | Front Cover/Plate/Housing/Gears & Gaskets |  ✓ |
| Sensors: All Engine Sensors |  ✓ | Vibration Damper |  ✓ |
| Wiring Harness & Connectors |  ✓ | Flywheel Housing & Gasket |  ✓ |
| Starter | ✓ | Crankshaft Front & Rear Seal | ✓ |
| Engine Alternator | ✓ | | ✓ |
| OPTIONAL AFTERTREATMENT COVERAGE | PLATINUM2 | | |
| Diesel Particulate Filter | ✓3 | | |
| Selective Catalytic Reduction | ✓3 | | |
1 This Coverage Matrix is for reference only and does not represent a complete list of covered components. For additional information, please reference the appropriate ESC contract.
2 Platinum level coverage covers all as-shipped consist from the factory with Cat part numbers. Some exclusions may apply.
3 Recent emissions-compliant engines or generator sets may be equipped with a Diesel Particulate Filter (DPF) and/or a Selective Catalytic Reduction (SCR). We offer coverage at an additional costs on these emissions components.