Undercarriage Track Repair
Undercarriage Track Repair & Service Options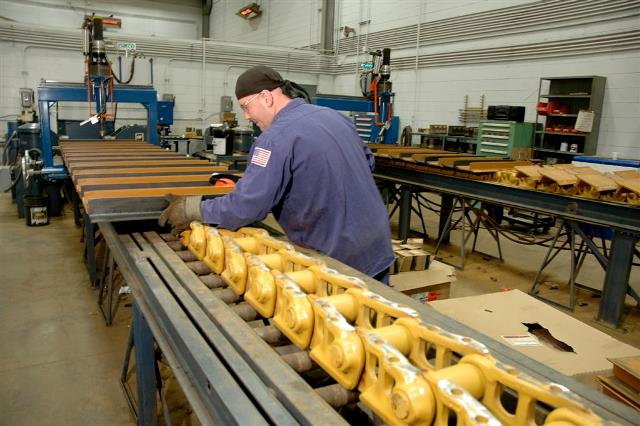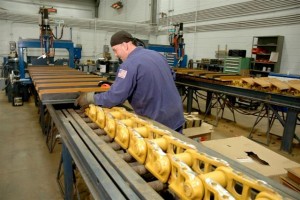 Heavy construction equipment like bulldozers, compact track loaders and excavators rely on the undercarriage for support when traversing rugged terrain. Tracks are an essential component of an undercarriage system, as they propel the vehicle over rocks, debris and other obstacles in its path. In rough applications, a machine's undercarriage bears the most wear and tear. It's one of the most valuable and vulnerable components on your machine. It's no surprise that undercarriage maintenance accounts for an estimated 50% of all fleet repair budgets.
Call Us Today:
Undercarriage tracks are complex systems comprised of a variety of parts and components such as track links, shoes, pads, rollers, sprockets, idlers, thrust rings, stepped bushings, rigid seals and pins. The failure of any of these items can prevent the efficient operation of your machine and keep you from achieving your productivity objectives.
The Importance of Reliable Undercarriage Track Repair Service
In order to keep your equipment up and running, we recommend regular undercarriage service as an essential part of your preventive maintenance plan. Regular inspections are an opportunity to spot potential problems before they become more serious. In addition to identifying damage, preventive maintenance also helps your undercarriage perform its best on a day-to-day basis.
Call Foley, Inc. for Your Track Undercarriage Repair Needs in NJ and Beyond
Foley, Incorporated offers a broad range of undercarriage services, cost-reducing tools and maintenance options designed to help you get the most from your undercarriage. As the authorized Cat® dealer for New Jersey, eastern Pennsylvania, northern Delaware, Staten Island and Bermuda, we specialize in Cat equipment undercarriage track repair for late-model and older units, as well as machines from other leading manufacturers. Our expert technicians have access to state-of-the-art tools to perform high-quality work on your undercarriage system.
Specific examples of our heavy equipment track repair services include:
Custom Track Service (CTS) Diagnostic Tools: monitor performance and predict wear of the tracks and links
Track Disassembly/Assembly: certified computerized torquing equipment ensures proper assembly
200-Ton Track Presses: accommodates all makes and models
Track Roller Re-shelling: disassemble bottom and carrier rollers and add a new shell, seals and bearings
Idler Re-shelling: disassemble front and rear idlers and add a new shell, seals and bearings
Idler Welding: disassemble rear and front idlers, weld up shell, reassemble with new seals and bearings
Shoe Re-grousing: weld new grouser bars to worn track shoes
Pad replacement: Upgrading worn track pads
Wet Bushing Turn: completely disassemble track, rotate bushings 180 degrees to use unworn side. Restore to lubricated joint
Sprockets: Replacing worn or damaged sprocket segments
Types of Undercarriage Repair Foley Offers:
Heavy Duty Extended Life System Undercarriage
Its all about moving material more efficiently.  Cat Heavy Duty Extended Life System Undercarriage with DuraLink will tackle the most rigorous terrain. And Caterpillar warranty, Undercarriage Assurance Programs, and global Cat dealer support ensure responsive service and long life.
Field proven Positive Pin Retention (PPR) track design
Larger diameter bushing gives 25% more wear life for high abrasion applications
Higher bushing core hardness for slower wear rate
Uses existing D8 and D10 Heavy Duty idlers, rollers, track guides, track shoes, and hardware
Different pitch sprocket segment required
Crowned link for reduced link scalloping and improved ride late in wear life
Longer pitch DuraLink allows for direct compatibility with SystemOne equipped machines
Easily retrofitable on non-SystemOne machines
Available for D8 and D10 Track-Type Tractors
Heavy Duty
Heavy Duty tracks are designed for medium-size machines with an elevated sprocket operating in demanding work environments. Heavy Duty tracks feature stronger links, pins, and bushings that significantly offset the effects of high-impact loads and underfoot conditions.
Moderate-to-high impact applications
High abrasion
High hour utilization
Fixed bushing design, ability to perform wet turn
General Duty undercarriages are designed for low-to-moderate impact applications. General Duty is well-suited in situations with lower link roller system wear life, and provides the right balance of performance and value.
Low-to-moderate impact applications
Low abrasion
Low hour utilization
Fixed bushing design
Our rubber tracks allow you to customize your Cat® multi terrain loaders, compact track loaders, or mini excavators to your work and your terrain, improving traction, reducing machine wear, and increasing operator efficiency. We should know — we rigorously test every rubber track for fit and performance.
We offer a wide range of options and choices and competitive pricing policy, whether you purchase Cat or Non-Cat tracks.  Every rubber track tread has a job. For some it's minimizing ground disturbance, others are all about traction. Find the one that fits your needs.
Contact Us to Learn More About Undercarriage Track Repair
If it's time for a Cat undercarriage track repair, let the experts at Foley, Inc. provide the prompt, professional service you deserve. Feel free to contact us online to learn more about our repair service offerings today.