The Cat® Trial #9: PAC-MAN™
THE CAT TRIAL #9 PUTS PAC-MAN™ AND THE GHOSTS BACK ON THE BOARD.
PAC-MAN™ is iconic; one of the most famous video games ever developed. And Caterpillar is bringing it back center stage, 40 years after its release, as only the Cat® Trials can: at a scale of epic proportions! The Cat Trial #9 puts PAC-MAN™  ​and the ghosts back on the board. It brings the virtual world into a live-action version of the popular video game.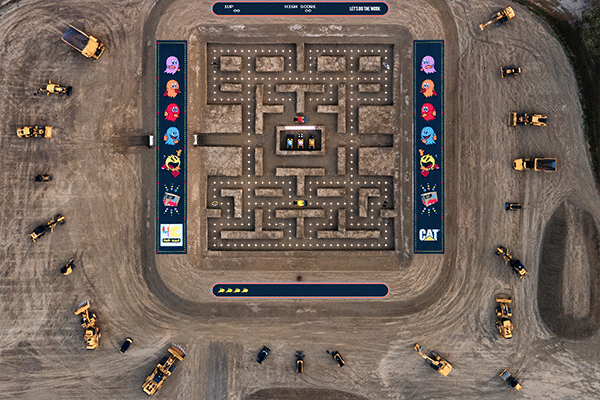 The goal is simple: gobble up all the pellets before the ghosts can get you.The classic, electronic chase scene features some unique power pellets and bonuses that only Cat Dealers can provide. So, you're watching so much more than a reimagined version of the game; it highlights the technology the versatility, the agility and the power you demand in the real world.
BUILDING THE BOARD
Building the Board Before we could start playing, we had to a build life-sized game board. Skilled operators using Next Gen Excavators with Cat Grade 3D, Mini Excavator with new Tilt Rotating work tools and additional Cat gear were up to the task.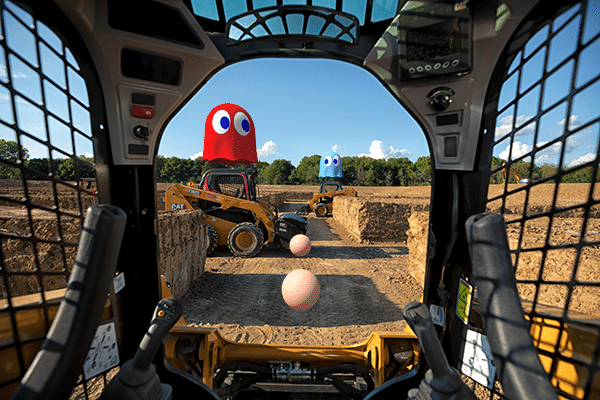 The Cat Trial #9: PAC-MAN™ is an entertaining way to look at some of the most pressing challenges that are part of the everyday realities of your job. We are here to support you and turn your challenges into opportunities that allow you to spend more time doing what you love to do…like playing a video game!
READY PLAYER ONE
The game itself features the important work you do every single day. Just like on the job site, there's a challenge waiting around every corner! The Cat Trial #9: PAC-MAN™ is powered by autonomy and automation—a way for you to be safer and more efficient. Players are using remote controls to operate PAC-MAN™ and the ghosts, just how you'd use it for work in an area where you'd rather not have an operator in the cab. It's all about safety for your crew.