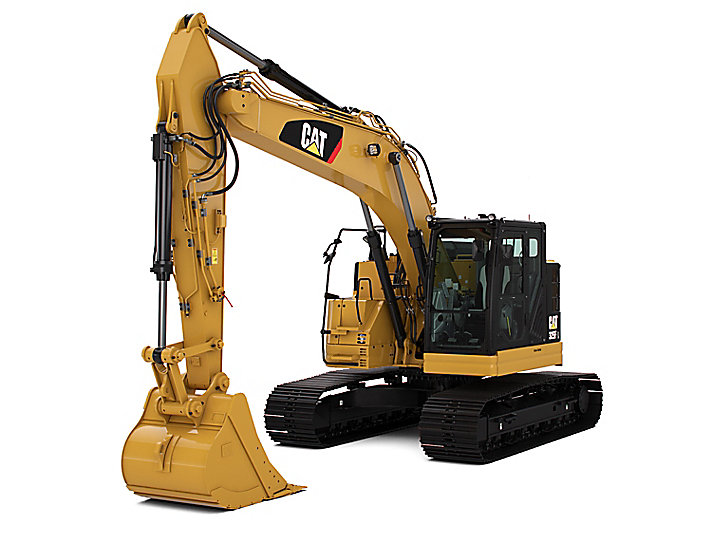 Cat Releases New Compact-Radius 325F L Hydraulic Excavator
Cat Releases New Compact-Radius 325F L Hydraulic Excavator
New Cat® 325F Brings Right Size & Performance To Close-Quarters Work
The new mid-size Cat® 325F is a reliable, durable, highly efficient compact radius excavator built for all your close-quarters work. The machine features a powerful C4.4 ACERT U.S. EPA Tier 4 Final engine that's miserly on fuel paired with a state-of-the-art hydraulic system that's responsive to your every command. Each pull of the "sticks" will feel like a natural extension of yourself, putting you in place to literally move tons of material all day long with tremendous speed, precision, and confidence.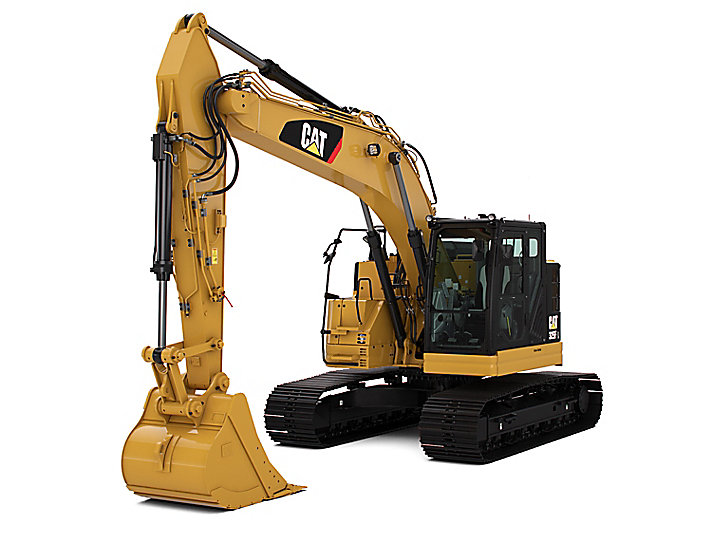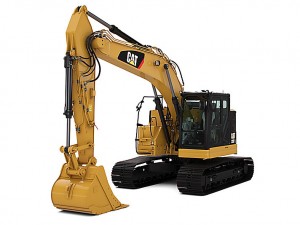 Performance
Compared with its Cat 321D Tier 3 predecessor, the 325F can run on biodiesel up to B20. Based on engineering validation, it will consume up to 22 percent less diesel fuel than its predecessor, with no loss of swing torque and bucket and stick forces. With a maximum lifting capacity of 27, 000 pounds (12 650 kg) at 15 feet over the front at ground level, the 325F exceeds its predecessor model's capacity by 8 percent. It features proven electronic, fuel, air, and aftertreatment components like a maintenance-free diesel particulate filter, and it has isochronous control that automatically manages pump and engine speed for improved fuel efficiency. Boom and stick recirculation valves reduce fuel consumption and speed up cycle times, and a choice of three power modes—high power, standard, and eco—help you more actively manage fuel consumption. A variable-speed fan for less energy consumption and noise, high-ambient cooling capability to work in extreme heat, and altitude capability up to 9,840 feet (3000 m) with no engine de-rating round out the machine's high-performance attributes.
Versatility
The 325F's compact radius design makes it ideal for working confidently in space-restricted areas like road jobs with lane closures and next to buildings or other structures. With a front swing radius of 7'8" (2.34 m) and a tail swing radius of 5'8" (1.72 m), the machine can dig, swing, and dump within a working space of 13'4" (4.06 m). When rotated 90 degrees and working over the side, just 135 mm (5") of counterweight extends beyond the track width, which allows trucks and jersey barriers to be positioned closer to the machine. Bucket linkage is the same as the 321D, which means you can work with the same tools. Plus the new model includes quick coupler lines and circuit compatible with the new Cat Pin Grabber coupler. Using this coupler allows quick attachment changes from the safety of the cab and increases job site flexibility. The combination of a quick coupler, versatile attachments, and a machine built specifically as a tool carrier (with medium, high pressure, and quick coupler lines and circuits) allows you to get the most versatility from your machine.
Comfort
The roll-over protective structure (ROPS) cab is both quiet and comfortable; it has viscous mounts and special lining and sealing to reduce vibration and sound. The 325F also comes with a fully adjustable heated seat, adjustable armrests and joystick consoles for maximum productivity, and an automatic climate control system that will keep you productive all day long in both hot and cold weather. The large LCD monitor is easy to navigate and is programmable in 44 languages. Plus there is abundant storage and auxiliary power for added convenience along with a new radio with auxiliary jack for an MP3 player.
Serviceability
Most maintenance points can be easily reached at ground level. Wide service doors provide access to filters, pressure taps, and ports that are grouped together for convenient and speedier service. The two-piece engine hood comes with gas cylinder assist for easy access.
Durability
The capability to work reliably year after year in severe applications permeates the 325F's design, beginning with a high-pressure fuel system that features a newly designed pump and injectors for optimum combustion and a high-efficiency filtration system for protecting these precision components. The machine uses a modified X-frame design that resists digging and lifting forces for enhanced service life, and its front linkage—robotically welded for optimum strength—ensures long-term endurance and performance. In addition, the 325F's heavy-duty undercarriage uses massive track frames, heavy-duty track rollers, forged carrier rollers, and grease-lubricated track links that significantly extend link life and reduce sound when the machine travels.
Safety
A handrail helps take you to the top of the machine, and anti-skid plating and countersunk bolts help reduce the risk of slipping and tripping. A large expanse of glass in the cab affords all-around visibility, and enhanced job site safety results from the new model's four mirrors and standard rearview camera system. The machine also comes with a full-length firewall to separate the pump and engine compartments. Plus a red-colored, ground-level fuel cutoff switch to shut down the engine in case of emergency can be easily found and reached at the seat base.
Attachment solutions
A wide variety of purpose-built Cat attachments extend machine capability into different industries and job site tasks. The Cat Pin Grabber Coupler assures swapping attachments in quick, boosting productivity. Several different bucket styles are available to meet specific excavating and truck loading requirements. The addition of a thumb, compactor, grapple, shear, pulverizer or hammer makes this machine even more productive and more profitable.
Bottom line: If your work takes you in to tight spaces and you need the absolute best performance at the lowest cost per unit of work that you can possibly get from a 25-ton excavator, take along a Cat 325F. You will glad you did.
325F Product Specifications
| | |
| --- | --- |
|   |   |
| Engine | Cat C4.4 ACERT |
| Net power, hp (kW) | 161 (120) |
| Op. weight, lb. (kg) | 57,115 (25 907) |
| Max. dig depth, ft. (mm) | 22 (6 710) |
| Max. bucket, yd3 (m3) | 2.08 (1.59) |
| Hyd. flow, gpm (L/min) | 113 (428) |
| Relief pressure, psi (kPa) | 5,076 (35 000) |
| Heavy lift, psi (kPa) | 5,512 (38 000) |
| Drawbar pull, lb.  (kN) | 45,591 (203) |
| Track gauge, in. (mm) | 94 (2 380) |
| Tail swing radius, in. (mm) | 68 (1 720) |
| Swing speed, rpm | 11.2 |
| Travel speed, mph (km/h) | 3.5 (5.6) |