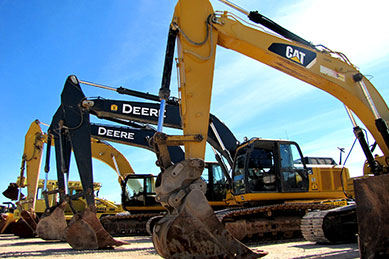 Used Cat® Heavy or Compact Equipment
Whether you need a skid steer loader, track excavator, wheel loader or another piece of machinery, you can trust we have a reliable, low-hour model that'll get the job done.
Advantages of Buying Used Heavy or Compact Equipment
Adding a piece of used equipment to your lineup offers several benefits, including:
Access to low-hour and inspected machinery
Ability to reduce cost of ownership
Opportunity to pay less for quality, like-new equipment
Purchasing used Cat equipment offers additional advantages, compared to machines from other manufacturers. These benefits include:
Safety features: Keep your worksite safe with the standard safety features included with every Cat model. From LED displays and audible warnings to non-slip surfaces and enhanced operator visibility, you can trust your operators and workers will stay safe.
Tool compatibility: Pair your used heavy equipment with your existing attachments to unlock your newest machine's maximum performance and productivity, plus avoid the investment of purchasing new tools.
Accessible operator controls: Avoid operator fatigue and decreases in performance with the comfortable operator controls exclusive to Cat. Features like ergonomic controls and seating keep your operators at their best and your projects moving forward.
Benefits of Buying Used Cat Equipment at Foley, Inc.
Trust, quality and service. That's what you want when you buy used heavy equipment, and that's what our team at Foley, Inc. delivers. When we purchase used machinery to add to our fleet, our goal is to ensure your safety and gauge its quality, which is why we conduct a thorough inspection beforehand.
Our team focuses on the following areas during our inspection:
Cab
Chassis
Engine
Transmission
Hydraulics
Attachments
Tracks or tires
After acquiring used equipment, our team conducts any necessary repairs and then keeps it up-to-date on its maintenance. When you purchase that machinery, you receive its complete maintenance history. Plus, you can take advantage of our multiple financing options.
Buy Used Heavy or Compact Equipment at Foley, Inc.
With more than 60 years of experience, Foley, Inc. has become a recognized and trusted provider of used Cat equipment in the New Jersey, eastern Pennsylvania, northern Delaware and Staten Island areas. Let our experienced and knowledgeable team help you find the perfect used heavy equipment model to add to your fleet by browsing our inventory and contacting us today.
Proudly serving New Jersey, eastern Pennsylvania, northern Delaware and Staten Island!
Tough projects demand the toughest equipment. We understand that at Foley, Inc. That's why we maintain a fleet of used Cat equipment at our stores across New Jersey, eastern Pennsylvania, northern Delaware and Staten Island.