Compact Equipment Specs Comparison
Compact Equipment Specs Comparison

There's a reason that Caterpillar® is the leading equipment brand on the market today, supplying construction companies with compact machinery needed to complete projects. If you're working on a project that requires durable compact equipment, you can be confident that Cat® machinery can get the job done for you. All you have do is look at leading Cat equipment specs and features, and you'll see that the equipment can handle the job.
In addition to knowing Cat equipment specs, you'll want to compare compact equipment specs and features among Cat products and around the industry to make sure you're getting the best piece of machinery for your needs. Having the construction equipment specifications readily available will let you know if you have a piece of machinery that can handle the job's demands and become a mainstay in your company.
Advantages of Using Cat Equipment
Caterpillar has long been an innovator in the compact equipment field, always making itself a leader in the best brand rankings. Their innovation has led to several qualities where you can expect a Cat to be an industry leader. Below are some of the primary benefits of using a Cat and the ways that they differentiate themselves from the competition:
Power:

 When it comes to

 working with smaller equipment

, power is one of the most important qualities. Cat machinery, no matter what type, will come with a variety of power options. When it comes to horsepower, torque and payload ratings, Cat equipment will have you covered.

Durability: As Cat equipment is going to be operating in harsh environments, it is constructed with only the strongest materials available. Basic Cat machinery and their attachments are tough and reliable. For example, the long-lasting loader blades have a reinforced use edge to protect against the wear and tear of their daily operation. All attachments receive unique care to ensure that they each have enough durability.
Technology: Cat has made sure to keep up with the latest technologies to make mini equipment solutions easy and intuitive to operate. For example, the onboard construction technology lets you stay safe, grade with greater speed and hit your target payloads. The telematics data on equipped machines make operation easier and allows companies to get important analytics and use them to improve their operations.
Comfortability: At a long day at the job site, you don't want employees miserable in the cabins of their equipment. Discomfort can often lead to distraction, lower workplace morale and cut-corners. Since Caterpillar knows this, they have designed their machines to be as comfortable as possible. Heated seats, air-suspension seating with an optional high back and airconditioning all make for a more pleasant experience and happier employees. Choosing a Cat over the competition can help you retain employees and attract new ones.
Construction Equipment Comparison
To give more evidence of why Caterpillar is the best construction equipment brand hands down, look no further than the way individual Cat machines compare to the competition. Some of the primary pieces of machinery in use today are excavators, track loaders, backhoes and wheel loaders. Additionally, there is a growing demand for smaller, more compact pieces of equipment, which we'll be covering in the following comparisons. However, Foley, Inc. still carries a full product line.
Below you can find Cat equipment specs and the way those specs compare to other top models in the industry:
1. Mini Excavators
When it comes to examining the specs for compact equipment, it's important to know the capabilities of available mini excavators. As you decide between a Cat mini excavator and the competition, you'll want to have all the facts in front of you. See below for how the Caterpillar 304E2 CR compares to the Kubota KX040-4, one of its primary competitors:

Caterpillar 304E2 CR Vs. Kubota KX040-4
The Caterpillar 304E2 CR has impressive and powerful features packed into a compact design. Its design makes it an attractive option for companies that need power but also appreciate a lightweight build. Some of the main specifications are below:
Net horsepower: 40.2 HP
Max dig depth: 11 feet and 3 inches
Max depth of vertical wall: 8 feet and 5 inches
Operating weight: 8,996 pounds
Bucket capacity: 1.7 to 8.2 cubic feet
Bucket digging force: 8,500 pounds
While the Caterpillar 304E2 is a powerful piece of equipment, how does it compare the competition? The Kubota KX040-4 is one of the primary mini-excavator competitors on the market today. To help you make an informed decision, consider how their specs stand up:
Net horsepower: 40.9 HP
Max dig depth: 11 feet and 3.6 inches
Max depth of vertical wall: 7 feet and 4.8 inches
Operating weight: 9,195 pounds
Bucket capacity: 1.9 to 6.6 cubic feet
Bucket digging force: 9,535 pounds
As you can see, both the mini equipment specs featured are fairly similar. The Kubota KX040-4 has a slight advantage when it comes to net horsepower, bucket digging force and max dig depth. However, the Caterpillar has a much higher bucket capacity, lighter operating weight and higher max depth of vertical wall. The Caterpillar's ability to carry more in its bucket is a key selling point alone, as it can make a job go faster and make your excavating efforts more effective.
At a glance, the similarities between the two can make them seem interchangeable, but the Caterpillar 304E2 CR beats out other models by offering unique features that competitors simply can't match. For the fuel-conscious company, its automatic engine idle shutdown and economy mode leads to reduced fuel consumption and lower costs. Along with fuel efficiency, the Caterpillar 304E2 CR separates itself with its safety features, such as a Top Guard level 1 certification and the Cat Interlock hydraulic lockout system.
2. Compact Track Loaders
If you're considering compact track loaders, you'll want to be using construction equipment that can make truck loading easy. Two of the best compact equipment brands that produce track loaders are Bobcat and Caterpillar, with two of the most popular models being the Bobcat T550 and the Caterpillar 259D3.
Caterpillar 259D3 Vs. Bobcat T550
The Caterpillar 259D3 is one of the most powerful compact track loaders available today. Despite its lightweight design,  you can expect that it can handle your toughest jobs. View some of its main specs below:
Net horsepower: 73.2 HP
50% tipping load:  2,870 pounds
Standard tipping loads: 5,745 pounds
Operating weight: 8,987 pounds
Bucket breakout: 4,965 pounds
When it comes to construction equipment spec comparison, the Bobcat T550 is another major compact track loader available to consumers today. Its specs include:
Net horsepower: 66 HP
50% tipping load: 2,850 pounds
Standard tipping loads: 5,700 pounds
Operating weight: 7,662 pounds
Bucket breakout: 5,470 pounds
The Caterpillar 259D3 comes with a much higher net horsepower, along with greater operating loads and standard tipping loads. The only area where the T550 takes the lead is in bucket breakout and decreased operating weight. Though the T550 has a higher bucket breakout, the greater operating capacity and superior horsepower of the 259D3 make it a more attractive option for many users.
Along the with the 259D3 having an edge with some of its primary specs, it comes with other features exclusive to Cat equipment. For example, it has a high flow hydraulic system for the times when you need max hydraulic work tool performance. Additionally, it features the Cat "Intelligent Leveling" system that gives users tools like a work tool position, work tool return to dig and a dual-direction self-level. With features like this, it's no wonder that so many companies turn to the 259D3.
3. Backhoe Loader
Backhoe loaders are crucial to many worksites and operations. Two of the best compact machinery brands are John Deere and Caterpillar. Both of the companies have backhoe loaders on the market. To give you a clear idea of what these companies provide, you can see a comparison of their two primary models below:
Caterpillar 420F2 Vs. John Deere 310L EP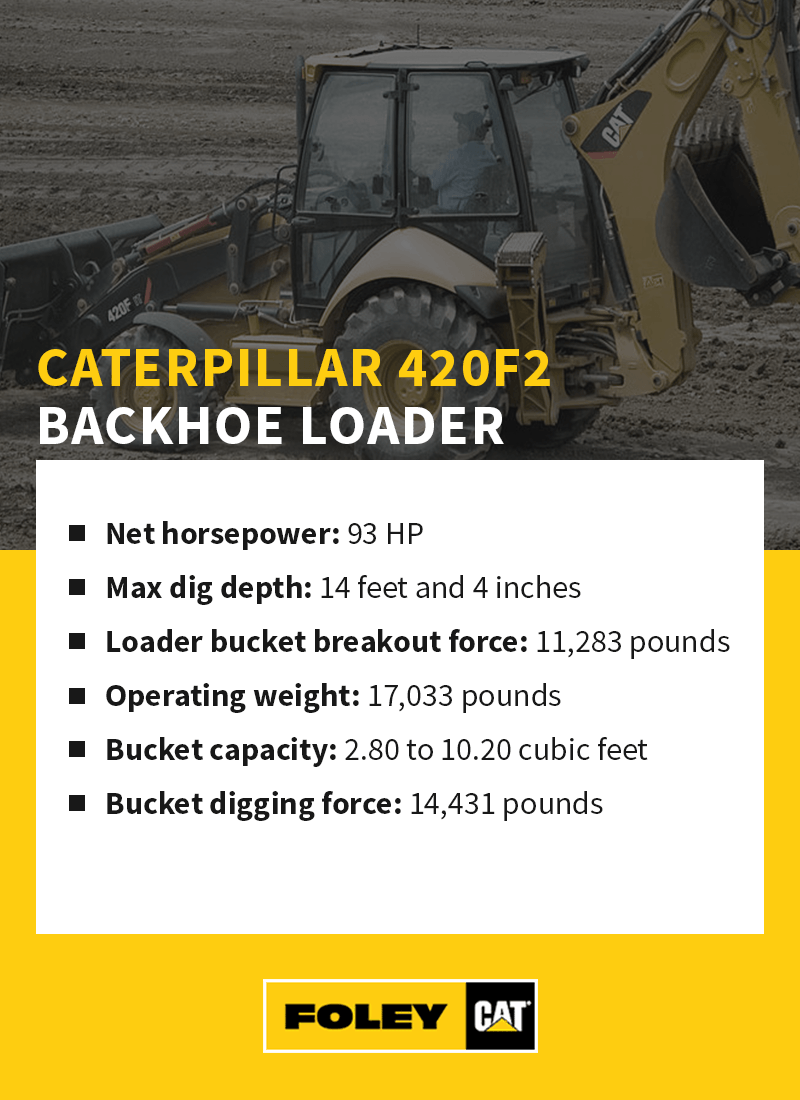 The Caterpillar 420F2 is a leader in backhoe loaders due to the way it blows the competition out of the water with its specifications. The level of digging and breakout force it brings to every job is sure to help you tackle any obstacle. To give you a clearer idea of its power, consider the construction equipment specs that come standard with this Caterpillar backhoe loader:
Net horsepower: 93 HP
Max dig depth: 14 feet and 4 inches
Loader bucket breakout force: 11,283 pounds
Operating weight: 17,033 pounds
Bucket capacity: 2.80 to 10.20 cubic feet
Bucket digging force: 14,431 pounds
In comparison to the Caterpillar 420F2, the John Deere 310L EP offers a comparable dig depth but comes up short in a few key areas. Below you can find its primary specs:
Net horsepower: 69 HP
Max dig depth: 14 feet and 1 inch
Loader bucket breakout force: 9,512 pounds
Operating weight: 13,822 pounds
Bucket capacity: 1 to 1.25 cubic feet
Bucket digging force: 10,844 pounds
The Caterpillar 420F2 offers significantly more when it comes to bucket capacity and digging force, meaning that you can tackle tough jobs with greater speed and ability. Additionally, the Cat 420F2's loader bucket breakout force and dig depth beat out what the John Deere 310L EP can give users. For those who need a backhoe loader for jobs that require greater force and power, the Caterpillar 420F2 is the option to choose.
4. Small Wheel Loader
A wheel loader is crucial for any company that needs to lift and transport significant amounts of dirt or debris from one place to another on the worksite. If you're looking for a micro or small wheel loader, there are a few top options that companies regularly rely on to get the job done. The Caterpillar 926M wheel loader and the John Deere 524L Z-BAR are both regularly used by construction companies and bring unique advantages.

By comparing these two options, you can find a mini loader with specifications that match the needs of your company. Find out more about their specs below:
Caterpillar 926M Small Wheel Loader vs. John Deere 524L Z-Bar
Though the Caterpillar 926M is a small wheel loader, it doesn't sacrifice power. When making a construction equipment spec comparison with other small wheel loaders, you can see just how much value this piece of equipment can offer:
Net horsepower: 148 HP
Operating weight: 28,770
Bucket capacity: 2.5 cubic yards
Bucket capacities, min/max: 2.5/6.5 cubic yards
Breakout force: 22,550 pounds
Dump clearance, full height at discharge: 9 feet and 5 inches
Total cycle time: 9.6 seconds
In contrast to the 926M, the 524LZ from John Deere offers greater breakout force and standard bucket capacity. The primary 524L Z-Bar specs include:
Net horsepower: 152 HP
Operating weight: 28,931
Bucket capacity: 2.75 cubic yards
Bucket capacities, min/max: 2.75/4.0 cubic yards
Breakout force: 24,406 pounds
Dump clearance, full height at discharge: 9 feet and 1 inch
Total cycle time: 12.1 seconds
When comparing the 926M to the 524L Z-Bar, you can see that they offer almost identical horsepower and operating weight. At first glance, their bucket capacities are quite similar as well. However, the 926M pulls ahead with the types of buckets it supports, leading to a maximum bucket capacity of 6.5 cubic yards, far ahead of the 524L Z-Bar's 4.0 cubic yards. The 9.6 seconds cycle time from the 926M also guarantees that you'll get jobs done faster.
The Caterpillar 926M also comes with technological features that separate it from the competition. Like most compact Cat machines, this model includes the Cat Product Link™. With this technology, you can remotely access information about how the 926M is performing in the field. Based on this data, you can find areas of improvement and optimize the equipment's use.
Besides giving you superior data information, the Cat 926M comes with greater fuel efficiency as a result of the machinery's lower maximum engine speed and its incorporation of an intelligent hydrostatic power train. These features mean that you'll have industry-leading fuel savings. When you really need to kick up your power, however, you can turn on a performance mode to increase your hydraulic speed and power to get the job done faster.
Browse

 Compact Cat Equipment From Foley, Inc.

Now that you've reviewed our construction equipment specifications guide and have a good idea of the various compact machines on the market today, consider browsing our vast selection of compact Cat equipment. At Foley, Inc., we have been proud to work with the best construction equipment brand in the industry for more than 60 years and would love to share our vast knowledge with you.

If you have any questions, please free to contact us. A friendly representative will get in touch with you. Once we get in contact, we will work tirelessly to find a solution to your needs.