352 LRE Long Reach Excavation Hydraulic Excavator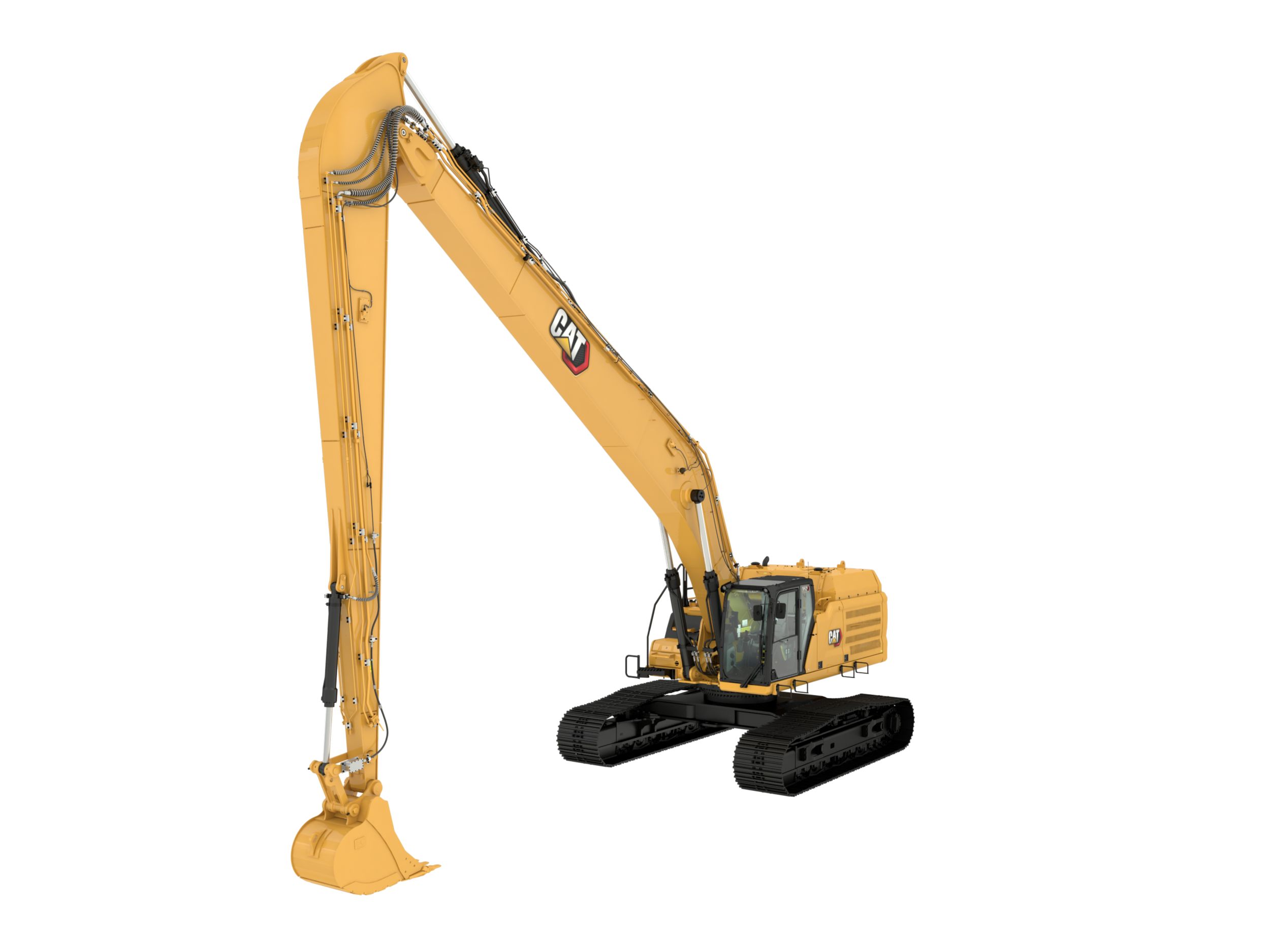 Engine Power

424 HP

Displacement

12.5 l

Engine Model

Cat C13

Engine Power

425 HP
Engine Power

424 HP

Displacement

12.5 l

Engine Model

Cat C13

Engine Power

425 HP

Bore

130 mm

Stroke

6 in
Maximum Flow

147 gal/min

Maximum Pressure

5076 psi

Maximum Pressure

38000 kPa

Maximum Pressure

3771 psi

Maximum Pressure

5076 psi
Maximum Swing Torque

138000 ft·lbf

Swing Speed

5.8 r/min
Operating Weight

128800 lb
Service Refill Capacities
Cooling System

13.7 gal (US)

DEF Tank

12.2 gal (US)

Engine Oil

10.6 gal (US)

Final Drive

4 gal (US)

Fuel Tank Capacity

188.9 gal (US)

Hydraulic System

145.3 gal (US)

Hydraulic Tank

57.3 gal (US)

Swing Drive

2.8 gal (US)
Boom

LRE Boom 11.5 m (37'9")

Bucket

HD 1.19 m3 (1.56 yd3)

Counterweight Clearance

4.7 ft

Ground Clearance

2.3 ft

Handrail Height

11.6 ft

Shipping Height

11.1 ft

Shipping Length

54 ft

Stick

LRE Stick 8.5 m (27'11')

Tail Swing Radius

12.3 ft

Track Gauge

10.6 ft

Track Length

17.6 ft

Track Length to Center of Rollers

14.2 ft

Transport Width

13.2 ft
Bucket

HD 1.19 m3 (1.56 yd3)

Bucket Digging Force

31700 lbf

Maximum Digging Depth

42.8 ft

Maximum Cutting Height

48.2 ft

Maximum Depth Cut for 2440 mm

42.5 ft

Boom

11.5 m (37.7")

Maximum Loading Height

39.4 ft

Maximum Reach at Ground Level

64.4 ft

Minimum Loading Height

7.3 ft

Stick

LRE Stick 8.5 m (27'11')

Stick Digging Force

23380 lbf
Cat Technology

Cat Payload
Cat Grade with 2D
Cat Product Link
2D E-Fence
Work tool recognition
Remote Flash & Remote Troubleshoot

Service and Maintenance

Grouped location of engine & fuel filters
Scheduled Oil Sampling (S.O.S) ports

Engine

Double element air filter with integrated pre-cleaner
4500m (14,760 ft) altitude capability with no engine power de-rating
Biodiesel capability up to B20
Three selectable modes: Power, Smart, Eco
-18 C (0 F) cold start capability
52C (126 F) high-ambient cooling capacity
Remote disable
Automatic Engine Speed Control

Hydrauilc System

Boom and stick regeneration circuit
Electronic main control valve
Automatic swing parking brake
Hydraulic return filters
Two speed travel
Bio hydraulic oil capability
Automatic hydraulic oil warm up
Heavy lift mode

Undercarriage and Structures

Towing eye on baseframe
Variable gauge high wide undercarriage
12.0 mt (26455 lb) counterweight
Grease lubricated track

Boom and Stick

8.5 m (27'11") LRE stick
Bucket linkage, LRE B1 family with lifing eye
11.5 m (37'9") LRE boom

Safety and Security

Rear and right-hand sideview cameras
Lockable fuel drain compartment
Lockable external tool / storage box
RH handrail and hand hold (ISO 2867 compliant)
Ground-level secondary engine shutoff switch
Service platform with anti-skid plate and recessed bolts
Lockable door, fuel and hyraulic tanks
Caterpillar One Key security system
Signaling / warning horn

Cab

Sound suppression
Heated seat with air-suspension
High-resolution 254 mm (10") LCD touch screen monitor

Electrical System

LED exterior lights
Centralized electrical disconnect switch
Maintenance-free 1,000 CCA batteries (x4)

Standard_01

Standard and optional equipment may vary. Consult your Cat dealer for details.

Optional_01

Standard and optional equipment may vary. Consult your Cat dealer for details.
Optional_01

Standard and optional equipment may vary. Consult your Cat dealer for details.

Standard_01

Standard and optional equipment may vary. Consult your Cat dealer for details.

CAB
Engine

-50 C (-58 F) cold weather coolant
Cold start block heaters
Automatic reverse fan

Hydraulic System

Combined two-way auxiliary circuit with direct return
Medium-pressure auxiliary circuit
Quick coupler circuit for Cat Pin Grabber and CW Dedicated
Smart Boom
Auto Heavy Lift

Undercarriage & Structures

900 mm (35") triple grouser track shoes
750 mm (30") triple grouser track shoes
600 mm (24") triple grouser track shoes
600 mm (24") double grouser track shoes

Cat Technology

Cat Grade with Advanced 2D
Cat Grade with 3D

Service and Maintenance

Electric refueling pump with automatic shutoff
Preventative maintenance ready (Quick Evac)

Safety and Security

Boom lowering check valve
Stick lowering check valve
360 visibility