Foley, Inc. Makes Government Rental Easy
Spec with confidence, budget with confidence, buy with confidence. Foley, Inc. and Caterpillar make it easy for governmental agencies to build your RFP with ease, reduce your risk through life cycling cost, and count on Cat as the right equipment for your job.
»  Visit govbidspec to find a bid spec, learn about cooperative purchasing and to build your RFP online.
Cooperative Purchasing Contracts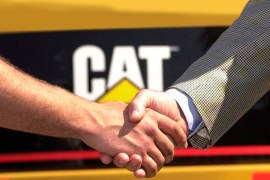 Foley, Inc. is also an authorized dealer for several cooperative purchasing agreements.
» ESCNJ Co-op #65MCESCCPS:  As a member of the ESCNJ, you have access to competitively priced Caterpillar / Olympian generators, new/ used/ rental machines, along with premium-quality priced services.
Bid # ESCNJ  www.escnj.k12.nj.us
» National IPA Contract #120377: For heavy equipment, parts, accessories, supplies and related services including:
Landfill, Construction, Pavement Repair/Maintenance, Material Handling, Vocational Trucks, Worktools, Back-up Power Solutions, Used Equipment and more.
» Contract #T2188:  Parts & repairs for road maintenance equipment including:
Motor graders,  milling machines and excavators, to name a few.
» NJPA Contract #080613-CAT:  www.njpacoop.org
These contracts allow you to skip the formal bid process, leverage established national volume pricing and full line of products, reduce the impact of business office staff reductions and budget cuts and gives you CHOICES- an option you deserve!
For more information contact:
»

 Machine Sales:
»

 Generator Service:

View more information click here: