980 XE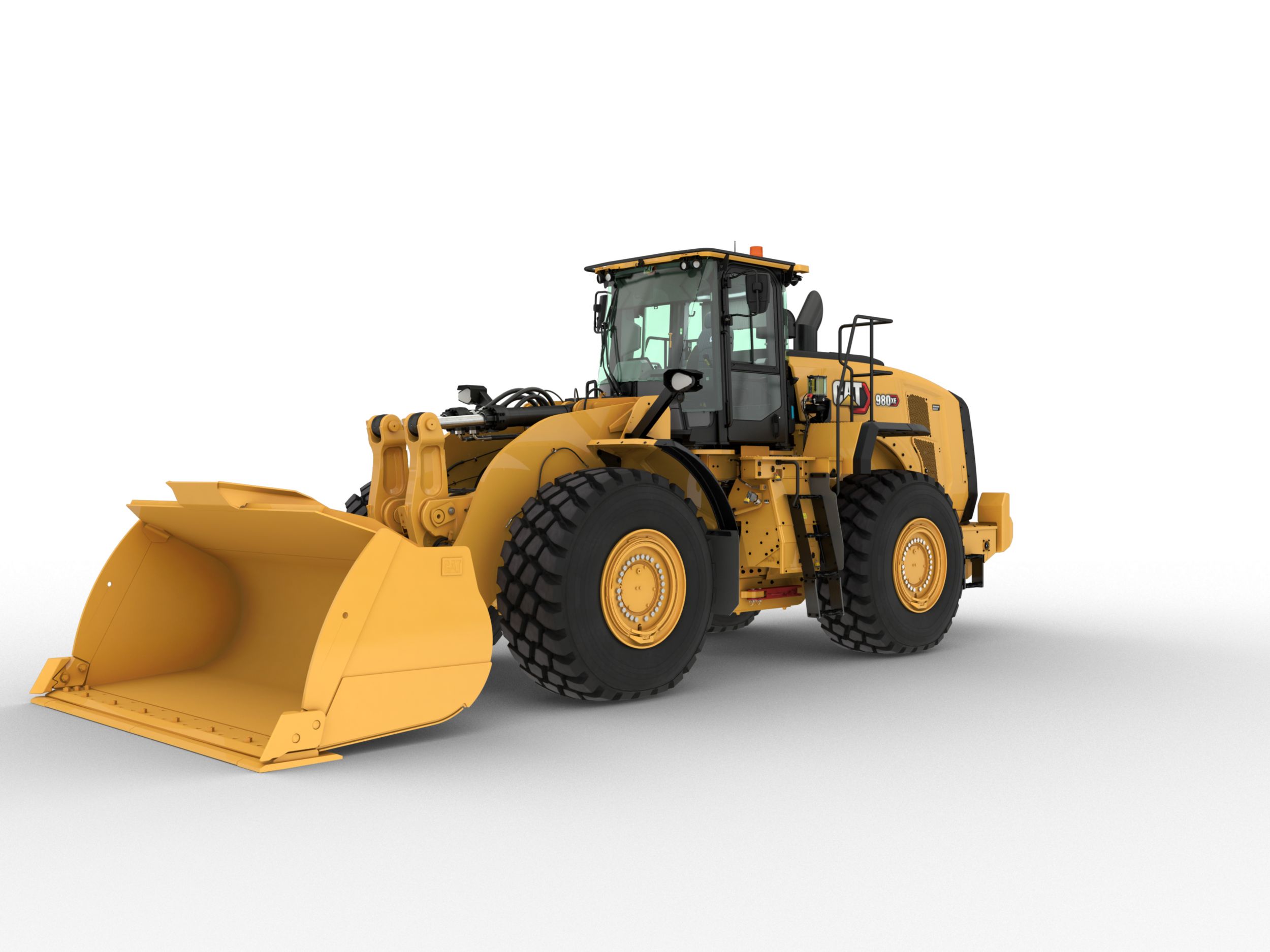 Net Power

393 HP

Engine Model

Cat C13

Operating Weight

66877 lb

Note

Weight based on a machine configuration with Bridgestone 29.5R25 VSNT L4 radial tires, full fluids, operator, standard counterweight, ride control cold start, roading fenders, Product Link, open differential axles (front/rear), secondary steering, sound s
Net Power

393 HP

Engine Model

Cat C13

Note

The net power advertised is the power available at the flywheel when the engine is equipped with fan, alternator, air cleaner, and aftertreatment.

Note

Cat engine meets U.S. EPA Tier 4 Final, EU Stage V, Korea Stage V, and Japan 214 emission standards.

Gross Torque

1627 lb/ft

Engine Torque

1612 lb/ft

Net Torque

1539 lb/ft

Engine Power

420 HP

Gross Power

425 HP

Note

Cat diesel engines are required to use ULSD (ultra-low sulfur diesel fuel with 15 ppm of sulfur or less) or ULSD blended with the following lower-carbon intensity fuels up to: • 20% biodiesel FAME (fatty acid methyl ester)* • 100% renewable diesel, HV
Operating Weight

66877 lb

Note

Weight based on a machine configuration with Bridgestone 29.5R25 VSNT L4 radial tires, full fluids, operator, standard counterweight, ride control cold start, roading fenders, Product Link, open differential axles (front/rear), secondary steering, sound s
Forward

4.4 mile/h

Forward

8.4 mile/h

Forward

14.9 mile/h

Forward

24.5 mile/h

Note

Maximum travel speed in standard vehicle with empty bucket and standard L4 tires with 935 mm (37 in) roll radius.

Reverse

5 mile/h

Reverse

9.6 mile/h

Reverse

18.3 mile/h
Note

For machines in European Union countries and in countries that adopt the EU Directives.

Note

European Union Directive 2000/14/EC as amended by 2005/88/EC.

With Cooling Fan Speed at 70

110

With Cooling Fan Speed at 70

70 dB(A)

With Cooling Fan Speed at Maximum Speed

107 dB(A)

With Cooling Fan Speed at Maximum Speed

75

With Cooling Fan Speed at Maximum Speed

70 dB(A)
Air Conditioning

The air conditioning system on this machine contains the fluorinated greenhouse gas refrigerant R134a (Global Warming Potential = 1430). The system contains 1.9 kg (4.2 lb) of refrigerant which has a CO2 equivalent 2.717 metric tonnes (2.995 tons).
Breakout Force

51008 lbf

Note

For a machine configuration as defined under Weight.

Note

Full compliance to ISO 14397-1:2007 Sections 1 thru 6, which requires 2% verification between calculations and testing.

Static Tipping Load

20965 kg

Static Tipping Load

43432 lb
Service Refill Capacities
Cooling System

13.7 gal (US)

Crankcase

9.8 gal (US)

DEF Tank

5.5 gal (US)

Differential

24.3 gal (US)

Differential

24.3 gal (US)

Fuel Tank

112.5 gal (US)

Hydraulic Tank

40.4 gal (US)

Transmission

20.3 gal (US)
Implement System

4975 psi

Hydraulic Cycle Time

10.1 seconds
Note

All dimensions are approximate and based on machine equipped with 5.4 m3 (7.1 yd3) general purpose bucket with BOCE and Bridgestone 29.5R25 VSNT L4 radial tires.
Centerline of Rear Axle to Edge of Counterweight

8.9 ft

Centerline of Rear Axle to Hitch

6.3 ft

Ground Clearance

1.5 ft

Height

12.5 ft

Height

10.1 ft

Height

12.7 ft

Hinge Pin Height at Carry

2.2 ft

Hinge Pin Height at Maximum Lift

15.7 ft

Lift Arm Clearance at Maximum Lift

13.6 ft

Overall Length

27.5 ft

Tread Width

8 ft

Wheel Base

12.6 ft

Width over Tires

10.9 ft
Dimensions - Standard Lift
Centerline of Rear Axle to Edge of Counterweight

8.7 ft

Centerline of Rear Axle to Hitch

6.3 ft

Ground Clearance

456 mm

Height

3764 mm

Height

3064 mm

Height

3829 mm

Hinge Pin Height at Carry

2 ft

Hinge Pin Height at Maximum Lift

4554 mm

Lift Arm Clearance at Maximum Lift

3881 mm

Overall Length

8155 mm

Tread Width

8 ft

Wheel Base

3800 mm

Width over Tires

10.9 ft
Bucket Range

4.0-14.5 m³ 5.25-19 yd³
Recyclability

98%
Operator Environment

Cab, pressurized, sound suppression
EH implement controls, parking brake
Steering, joystick
Seat, suede/cloth, air suspension, heated
Touchscreen display
Visibility: mirrors, rear-vision camera
Mirrors, heated
Air conditioner, heater, defroster (auto temp, fan)
Sun visor, front, retractable
Sun visor, rear, retractable
Window cleaning platform, front
Windows, front, safety laminated rounded glass

ON-BOARD TECHNOLOGIES

Cat Payload scale
Autodig with Auto Set Tires
Operator ID & machine security
Application Profiles
Job Aids
Controls Help and eOMM

POWER TRAIN

Cat C13 engine
Electric fuel priming pump
Fuel-water separator and secondary fuel filter
Engine, air precleaner
Axles, open differentials
Axles, ecology drains
Transmission, continuous variable
Rimpull control
Throttle lock mode
Service brakes, hydraulic, fully enclosed wet disc, wear indicators
Hill and speed hold on grades
Park brake, caliper on front axles, spring applied-pressure released

HYDRAULICS

Implement system, load sensing with variable displacement piston pump
Steering system, load sensing with dedicated variable displacement piston pump
Ride control, dual accumulators
Oil sampling valves, Cat XT™ hoses

ELECTRICAL

Starting and charging system, 24V
Starter, electric, heavy duty
Lights: halogen, 4 work lights, 2 rear-vision lights
Lights: roading with turn signals

MONITORING SYSTEM

Front dash with analog gauges, LCD display, and warning lights
Primary touchscreen monitor (Cat Payload, quad screens, machine settings & messages)

LINKAGE

Standard lift, Z-bar
Kickouts: lift and tilt
Operator Environment

Door, remote opening system
Entertainment radio (FM, AM, USB, BT)
Entertainment radio (DAB+)
CB radio ready
Seat, leather/cloth, air suspension, heated/ cooled
360° vision system
Cat Detect rear radar system
Dedicated rearview screen
Windows, front, heavy duty, or full guards

ON-BOARD TECHNOLOGIES

Cat Advanced Payload
Cat Payload Printer

POWER TRAIN

Turbine, air precleaner
Radiator, high debris
Cooling fan, reversible
Axles, limited slip differential(s)
Axles, AOC ready, extreme temperature seals
Axles, oil cooler

HYDRAULICS

3rd auxiliary function with ride control
Quick coupler control

ELECTRICAL

Cold start, 120V or 240V
Lights: LED
Warning beacon

MONITORING SYSTEM
LINKAGE
ADDITIONAL EQUIPMENT

Cat Autolube system
Fenders, extensions or roading
Guards: power train, crankcase, cab, cylinders, rear
Biodegradable hydraulic oil
High-speed oil change system
Fast fill fuel tank
Toolbox
Wheel chocks
Secondary steering system, electrical

SPECIAL CONFIGURATIONS

Aggregate handler
Waste and industrial
Forestry, logger