When you're working in the field, a portable air compressor is essential to powering your tools and keeping your crew working. Foley has a number of high-quality air compressors by Atlas Copco and Sulliar for rent from our Piscataway office. Whatever your specific working needs are, we can match you with the model that makes meeting them easy.
Why Rent From Foley?
When you rent an air compressor from Foley, you're getting a reliable, low-hour unit that has been fully serviced to all manufacturers' specifications. Flexible rates are available by the day, week, or month — long-term discounts are also available.
Rental units are tested before being sent out, and they come with all appropriate hookups and accessories. We even offer a rent-to-own program where a portion of your rental fees can be put towards your down payment, making it possible to try a potential purchase out in real-world conditions before making a decision.
Atlas Copco Air Compressors for Rent From Foley
We have a variety of Atlas Copco air compressors available for rent to any operator requiring air power on demand for their jackhammers, impact wrenches, or other pneumatic tools. Lighter and more portable than allied brands, the Atlas Copco compressors for rent at Foley range in power between 185 and 375 cfm — making them ideally suited for light- and medium-duty applications.
Sullair Generators for Rent
Powered by Cat® engines, Sullair portable air compressor packages provide reliable, clean, dry air for almost any application. These powerful, mobile machines range in size from 125 to 1900 cfm (cubic feet per minute, air volume) and come in multiple configurations for maximum flexibility and ease of use.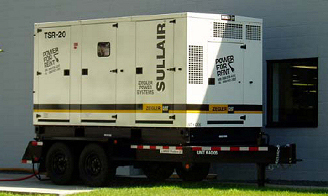 AIR COMPRESSORS & DRYERS
375 CFM
900 CFM
600 CFM
1,300 CFM
750 CFM
1,600 CFM
For more information, please contact Laurie Benninger during business hours: 732-885-3113 or emergency after hours: 732-885-5555.